by
Shooting Illustrated Staff
posted on May 3, 2023
Support NRA Shooting Illustrated
DONATE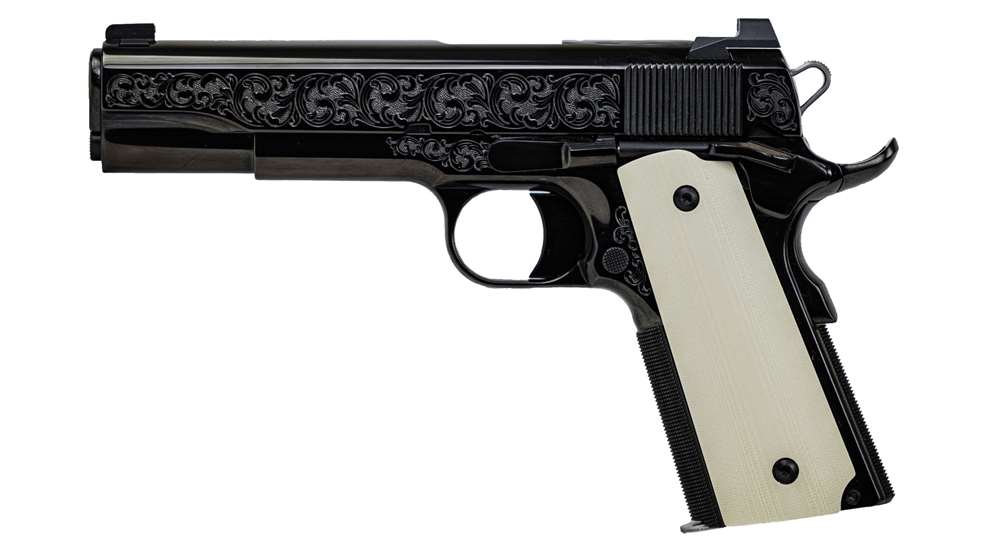 Every year Dan Wesson Firearms releases small batches of heirloom grade, single stack 70-Series 1911 pistols with features and characteristics beyond their already-high quality typical production models. For the year 2023, Dan Wesson is offering its first .38 Super-caliber 1911 pistol.
Though there are many manufacturers of 1911s, only a few combine custom-level fitting, premium parts and clean, elegant lines like a Dan Wesson 1911. The 2023 Heirloom starts with a 70-series frame and slide, forged and then hand-fit for flawless function and outstanding accuracy. Billet alloy steel used in the fire-control system ensures reliable operation and long service life. The Dan Wesson Heirloom is a one-of-a-kind piece,  made with premium parts and is eminently shootable—everything a 1911 should be. This limited production run won't last long
This limited edition .38 Super handgun has a black, high polish finished frame with decorative scrollwork and ivory color stocks which make a sharp contrast with this frame. As with many guns of this couture, the front sight includes a brass bead among other accents. The pistol is outfitted with an upswept beavertail grip safety and a commander style hammer. Although this hand-fit, heirloom quality handgun is aptly decorated and refined, it still offers high performance shooting attributes as well. The medium length trigger reaches most people's finger pad for a precise trigger pull, while the trigger guard itself is undercut for better gripping. The Dan Wesson Heirloom is also fitted with a match grade .38 Super barrel for high accuracy and the magazine well is beveled for swift reloads.
The fact that this handgun is both a Series 70 style pistol and chambered in the historic 38 Super cartridge is a direct connection to its classic predecessors. "Series 70" is the industry term for 1911s made to John Moses Browning's original specifications with the original number of parts. The .38 Super cartridge dates back to the days of the roaring 20s and Great Depression era of gangsters and lawmen. The highly skilled policemen and federal agents of the day typically favored the 1911 pistol, but the .45 ACP cartridge was too slow and did not offer adequate barrier penetration against the steel found in cars of that era. The .38 Super, which is a 9mm round with a longer casing that holds extra powder was the solution, and provide greater muzzle velocity and greater penetration.
For more information on the 2023 Dan Wesson Heirloom 1911 pistol, please visit danwessonfirearms.com.