Whether it's the versatility of its modular design, enabling nearly infinite degrees of customization, or the ability to swap a variety of accessories and parts to the ballistic and economic advantages of a multicaliber conversion, there's no need for a degree in mechanical engineering to understand why AR-platform rifles have captured the attention and hearts of so many firearm enthusiasts. But, aside from its plug-and-play design, virtually all mil-spec-configured variants shares a common and unnecessary Achilles heel—really bad triggers infested with accuracy-robbing characteristics like excessive take-up and grit-laden creep that makes for an inconsistent let-off.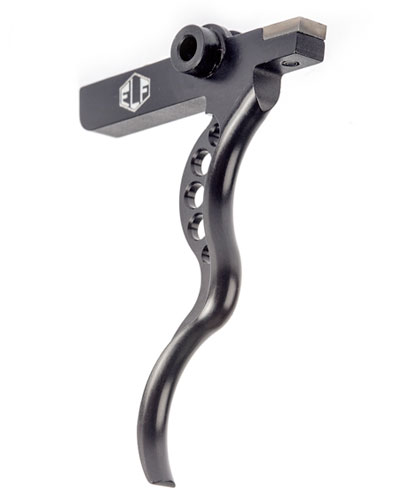 Far from a standard aftermarket black-rifle "bang switch," the Elftmann Tactical: Dual Enhancement Trigger (D-TR) amps up the rifle's wow-factor by creating the illusion of dual triggers arranged vertically in a semi-staggered orientation. The company's website states the inspiration for the design stemmed from the trigger's creator actively participating in paintball for more than a decade, during which he noticed how the guns evolved from having a single trigger to containing double triggers with much lighter pull weights. This fueled his curiosity, wondering why such a design had never been applied to actual rifles. Elftmann then partnered with a respected trigger manufacturer to produce a truly innovative product.
A first glance at the Elftmann D-TR caused my mind to conjure images of the single-shot breechloaders sporting double set triggers utilized by frontier-era buffalo hunters and long-range competitive shooters of long ago. In time, I discovered that comparison wasn't too far off the mark. Yet, unlike Sharps rifles, the D-TR doesn't actually contain double triggers. Instead, it contains a single  that is extended with dual bows formed in the body to resemble two separate triggers. From a design standpoint, a single trigger means one less part to complicate an already battle-proven design. In addition, unlike other aftermarket triggers that utilize proprietary configurations, double-stage configurations and/or set-screws in order to adjust pull weight to achieve a consistent let-off, the DT-R achieves similar results through much simpler means—while remaining compatible with aftermarket or Mil-Spec components.
The light weight, U.S.-made product is made from both aircraft aluminum and hardened steel at critical-wear points. When installed, the upper portion of the DT-R has approximately the same pull weight as a stock-AR trigger. Therefore, when utilizing a standard-weight trigger spring, the average-pull weight of the top trigger is 7 to 7.5 pounds, which isn't bad. But it gets better. The pull weight of the lower trigger is reduced by 55 to 60 percent—the byproduct of the additional leverage. Such a drastic difference is enough to make anyone from Archimedes to the casual AR tinkerer take notice.
While I admit being skeptical of the D-TR's benefits at first, my experience with the product was quite positive. Not only was it easy enough for this gimpy gun writer to install, in the case of my AR, which contains a JP Enterprises Reduced Power Spring Kit, the pull weight of the upper trigger came in at 6 pounds, 8 ounces, and an extremely manageable 2 pounds, 11 ounces on the lower trigger. The presence of the pseudo second trigger didn't affect my ability to quickly access the fire controls or the compromise the ergonomics of my rifle. Similarly, I didn't experience any confusion resulting from the dual bows. When considering their placement in relation with my grip, and given the proximity of my middle finger with the lower bow, the pairing not only seemed logical, but surprisingly natural as well.
When discussing the benefits of the D-TR with Elftmann's Director of Sales Ron Rupert, he informed me the overwhelming majority of people who have used the D-TR eventually resort to using their middle fingers on the lower-trigger bow for single, precision shots, reserving the upper-trigger bow for situations where rapid fire is needed. In fact, Rupert claims the D-TR provides shooters with the ability to shoot 20 percent faster, without experiencing the negative effects of muzzle lift. "It is really pretty simple—it is basic hand mechanics: You have more strength when pulling your index and middle fingers simultaneously, as opposed to just your index finger. This increased strength translates to your ability to pull the trigger faster...We believe that the D-TR is a great solution that allows the AR-15 user to increase the rate of fire, but not to the rate of generating muzzle lift. So, as opposed to a tactical officer using a fully-automatic weapon—we believe that there is an argument that would justify using the AR-15 with our trigger. It is a good balance between speed, accuracy and ammunition management."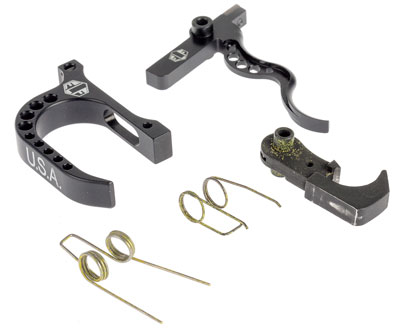 Although, numerous aftermarket triggers abound for AR-platform rifles, the D-TR is the first one I've discovered that solves the platform's inherently bad trigger through the simple concept of leverage. Moreover, not only does its appearance amp up the AR's wow-factor, it  adds an all-new level of versatility to America's favorite rifle by offering the benefits of two triggers in one—without adding to the rifle's parts count.
This product could potentially benefit a wide variety of firearm enthusiasts: from the typical black-rifle collector who scrounges local gun shows looking for the next piece of gear to clamp onto his already-festooned fore-end, to the casual tinkerer looking to improve his skills while bringing his rifle one step closer to perfection. The D-TR could also provide a huge edge to competitive shooters, especially within the highly popular realm of 3-gun with its complex stages that require engaging targets with precision at short, intermediate and long ranges. Of course, AR-platform rifles are also common today within the hunting community, and given the degree of precision required to harvest game in the quickest and most humane way possible, the accuracy-enhancing benefits associated with the D-TR's ability to facilitate an accurate shot at 50 to 60 percent less than the rifle's primary trigger would certainly be a welcome benefit to any sportsman's seasonal pursuits. Then, there are firearm enthusiasts with physical disabilities, whose limited motor skills keep them from being able to successfully running a bolt-action rifle. By the very modular nature of its ergonomic design, an AR-platform rifle may offer a solution, thanks to a wide range of aftermarket components available—including the D-TR—providing a crisp, lightweight and manageable trigger pull for those with limited range of motion and strength. Similarly, the D-TR aids disabled veterans by offering the means to maintain their proficiency with a weapon system with which they are already familiar. Naturally, the D-TR offers a tremendous benefit for current military and law enforcement personnel, as well.
By offering the advantage of having two triggers in one, the Elftmann Tactical: Dual Enhancement Trigger offers a simple solution to the AR-platform's age-old problem of inherently bad triggers, while simultaneously enhancing the overall versatility of making America's rifle, giving it a space-age aesthetic and making it perform even better. MSRP: $239.00; (602) 432-8775, elftmanntactical.com