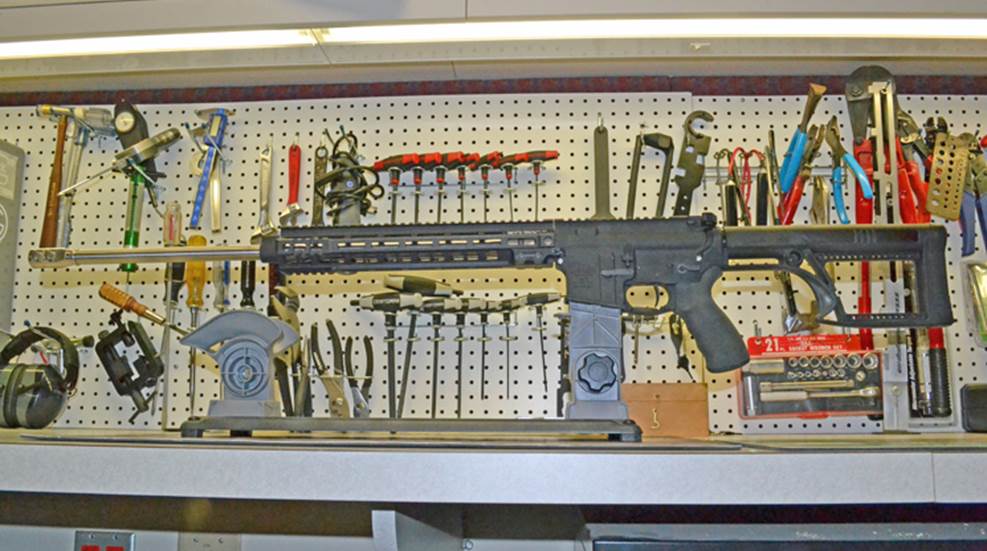 With my 1911 build more than three quarters complete, why would I switch gears and try my hand at building my own AR upper. To borrow (and modify) a catch phrase Carl's Jr./Hardees Most American Thickburger commercial: "Because Gunwriter, that's why."
Actually, it has to do with my desire to transition for a bolt-action to an AR for hunting whitetail deer. I'm looking for something to replace my Ruger .270 Win, which has aided me in putting copious cuts of venison in the freezer and faithfully served as my go-to deer rifle for nearly 20 years.
A combination of my Cerebral Palsy, arthritis, degenerative-disk disease (and, regrettably birthdays) has caused me to contemplate something more maneuverable and modular. Well, you can't get more modular than the AR's plug-and-play design. Last year, I hunted whitetail with my NFA-registered 9-inch AR chambered in .300 Blk, but I want a cartridge capable to delivering ballistics performance of the .270 Win., since I regularly dispatch deer out to 300 yards—a task the shorty AR isn't really capable of. So, I decided to go with 6.5 Grendel, a cartridge with a much flatter trajectory and enough energy to get the job done at that distance—and significantly beyond.
The following entries with chronicle my attempt to build my first AR upper, details as to the selected components and why. My goal is to have it completed prior to this fall's deer season. The good news, unlike some of my previous projects (like making a live-fire variant of the gun from "Man From U.N.C.L.E". or "Star Wars," this time I'm not venturing into uncharted territory. Shooting Illustrated contributing editor, Bryce M. Towsley has written an extensive two-part Handbook on how to build an AR-15 from scratch. Part one details assembling a lower receiver from parts, while the second part tackles assembling the upper portion.
Best of all, I won't be doing so alone. Fellow Associate Editor, Jay Grazio, will be joining be in an effort to build his own upper, and together we'll chronicle our experiences, pitfalls and triumphs along the way.