As part of the current trend to make America's rifle less encumbered and more svelte, many manufacturers of AR-platform receivers offer variants without dust covers. While its merits can be debated, for me the ability to protect the bolt from the unwelcome elements Mother Nature has to offer is important. The necessary parts and tools are listed below:
Parts
Dust cover
Dust cover-hinge pin
Dust cover hinge pin snap-ring
Dust cover spring
Tools
Needle-nose pliers
Brass or plastic hammer
Use pliers to install the small snap-ring on the hinge pin. Tap it in place with the hammer to ensure it is seated. Place the cover upside down on the receiver, making sure the detent pin faces out, and start the hinge pin from the front end of the receiver. The snap-ring should be at the far end of the pin. Be careful not to push the pin all the way through.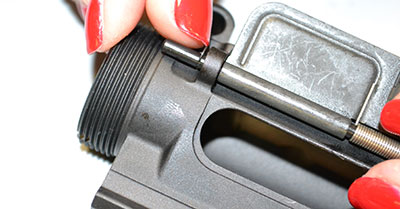 Before installing the dust-cover spring, preload it by turning the long arm a half turn. Hold the spring in the gap between the two hinge-pin housings, maintaining the tension as you push the pin all the way through.

(This proved a bit of a challenge for me—given my lack of fine-motor skills and fused wrist. But, when I noticed Jay was having just as much difficulty placing the snap rings, I felt right at home. Fortunately for both of us, Karie Thomas, our Firearms Inventory Manager came to our aid and made short work of the task.)
Function Check

Make sure the dust cover will close. Then reach through the front of the receiver with your finger and push the detent pin down to open the cover.
The next entry will cover assembly/installation of the bolt-carrier group and charging handle.