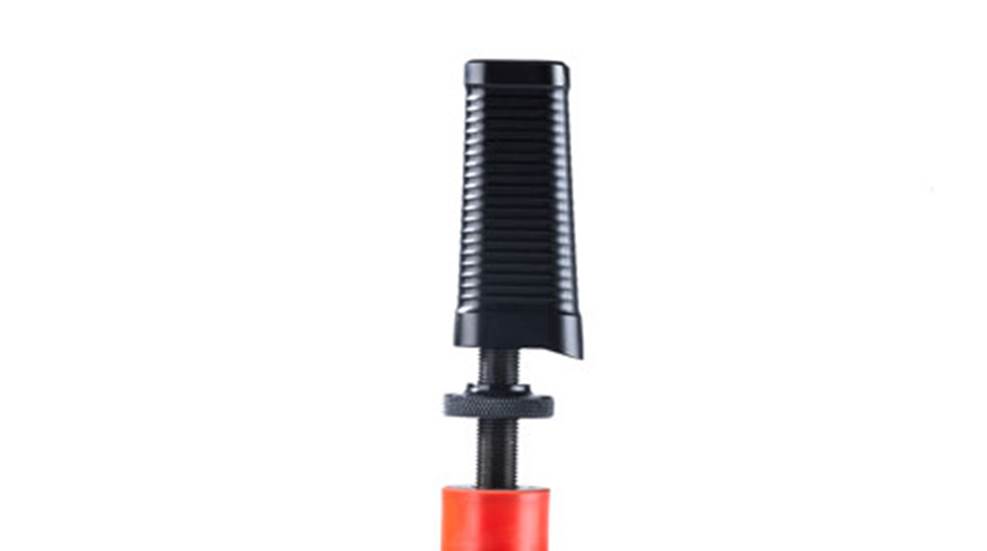 While bipods have become a key component found on most military and law enforcement bolt-action sniper rifles, they, like all other accessories, aren't without drawbacks: They're bulky, add weight to your rifle and become yet another accessory to occupy valuable Picatinny rail space.
For those marksmen who have been searching  for an alternative to sentencing their AR to a life of festooned fore-end flotsam, Pure Kustom offers a solution with the company's Steady Sight, a monopod that mounts inside and protrudes from the rifle's  grip (instead of the traditional location on a stock's toe).
Compatible with OEM DPMS, Bushmaster and Hogue grips, the Steady Sight ships with easy-to-understand directions and takes a matter of minutes to install. Its housing  is machined from 6061 T6 aluminum, and contains a grade-8, 1/2x20 threaded rod that provides 2 inches of travel, with a maximum height of 4 inches on the exterior of the grip. The end of the Steady Sight is topped with a thick polyurethane bumper in order to facilitate the right amount of purchase vital to creating a rock-solid base for precision shooting.
Once installed, adjusting the Steady Sight simply involves unscrewing the threaded rod until the elevation places your sights on target. At that point your options are twofold: You could either put finger to trigger and send rounds downrange to confirm your point of impact, or position the Steady Sight's knurled steel locking thumb nut against the housing's body to secure the elevation adjustment in place for a blend of consistent rapid-fire accuracy.
Some shooters may prefer to use it in conjunction with a bipod, and that's certainly an option. However, by applying the elevation to rear of the rifle, Steady Sight helps keep the stock in your shoulder and maintain an optimal cheek weld, unlike a bipod. As a result, I believe the real benefit of this product is with shooters who prefer sandbags to position their rifles low on a benchrest.
By the same token, hunters or other mobility-craving minimalists should find the Steady Sight as irresistible as the siren's song—enabling them to rest their rifles across their backpacks or go-bags while relegating their contents to essential gear only, keeping everything light.
If forced to nit-pick, I'd prefer if the Steady Sight's bumper was a different color, such as black or OD green in order to blend with the AR's Parkerized finish and today's popular furniture hues, but this is by no means a deal-breaker.
Featuring a lightweight, rugged and non-obtrusive design, the Steady Sight makes each shot count, without burden or compromise.