Backpacking with a rifle can pose a variety of problems, especially space. When you have to fit everything you need to survive into a bag, one starts to evaluate the dimensions of nearly every piece of equipment making the trip. When selecting a firearm for these endeavors, rifles are at a natural disadvantage because of their elongated barrels and, of course, the stock. This leaves us with the question, "how much do you really need?" The answer is boldly illustrated in the CZ 600 Trail. Through a telescopic stock and careful chamberings, the Trail strikes a balance between the potential of intermediate rifle cartridges and the necessary parts that make a rifle a rifle.
Originally intended to be a switch barrel, the Trail was set to launch in a plethora of chamberings. However, after closer evaluation, the Kansas-based manufacturer decided that it was best to keep those barrels put and modified the line only to include .223 Rem. and 7.62x39 mm at present. The manufacturer picked two winners, as this makes an excellent pig-slayer or a godsend of a portable target rifle.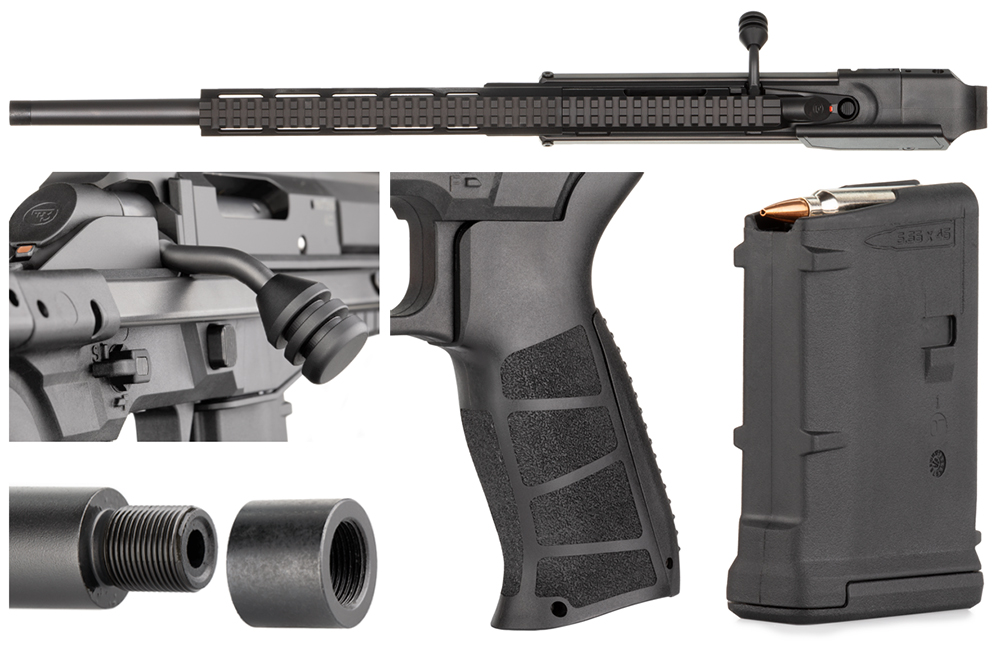 At the core of the Trail is its 16.2-inch, medium-heavy barrel and a retractable stock system that can shrink the footprint down to a length of just 27.2 inches, narrowly skirting an overall length that would place it under NFA restrictions. Deployment is as simple as pressing the tang-mounted button and pulling it straight back to one of three stop points. As it can be fired in the closed position, this technically makes it a four-position stock. In an effort to shave weight, it's built to be as minimalistic as possible, essentially consisting of not much more than two bars, a recoil pad and cheek rest. At first glance, it appears that said rest is reversible, but unfortunately, the Trail doesn't have any provisions for the southpaw in the stock department. I'm not saying that it can't be fired off the left shoulder, I'm just saying it will not be as comfortable. CZ did its best to preserve bilateral operation, even ensuring that the AR-style safety selector and magazine release satisfied both right- and left-handed shooters.
The Trail's bolt system offers lightning-fast cycling for shooters where failure is not an option. As a controlled feed, it supports the cartridge throughout its entire trip from the AR-style magazine to the chamber and out of the ejection port. This system creates fewer snag points and ensures live rounds and fired cases go where they need to go the first time, every time. With the bolt being built to a three-lug pattern, it requires only a 60-degree lift and just enough throw to cycle out the shorter .223 Rem. or 7.62x39 mm cases. Removing it from the action is as simple as pressing down the receiver-mounted release and sliding it out through the rear, which makes for effortless maintenance. 

Like most bolt-action rifles, the Trail doesn't include factory sights. However, unlike many, it comes with an integral Picatinny rail. I liked this move because it eliminates a common failure point that could spell disaster if you are miles away from tools. While this gun is best suited for a scope, additional rail slots can be found down the fore-end, giving you everything needed to install a pair of flip-up iron sights. Aside from a rail, the Trail's fore-end offers 270 degrees of M-Lok slots to deck it out with nearly any accessory you feel fits.
Of all of its features, I was most impressed with the trigger. My first point of trigger evaluation is whether or not it is adjustable, which the Trail met. Bonus points are then awarded if the take-up is adjustable, too, checking off another box. While these features are becoming commonplace, most manufacturers require the removal of the stock to do so. This process requires retorquing the action screws and nearly always alters a zero. CZ built its unit with the hardware on the outside, which means it can be adjusted without undergoing this arduous routine. Lastly, the trigger has a simple, four-position adjust-ment system, which takes away the guesswork of whether your turns were effective. This also provides a level of repeatability not typically associated with adjustable triggers. It came from the factory set to its second lightest value, which tipped the Lyman Digital trigger scale at 2 pounds, 4 ounces. As I put the test sample through its range, I found that I could dial in a break as heavy as 3 pounds, 9 ounces or as light as 2 pounds, 1 ounce. Leaving the trigger set as light as possible, I mounted a Riton X3 Primal 3-15X optic for testing.
Range conditions were fantastic, without so much as a gentle breeze in any direction. As such, I plopped down on a bench, loaded my first rounds, and started a formal accuracy test. Being that my sample was chambered in .223 Rem., the recoil was extraordinarily mild, even without a muzzle device installed. Directing my attention to ergonomics, I found the AR-pattern grip comfortable and familiar. I liked the idea that if I ever changed my mind, I had thousands of others to choose from, as this aftermarket is incredibly vast. I was also fond of the little compartment on the underside, further emphasizing the utility theme of this package. My initial groups were about what I would expect for a rifle of this nature, but it really shined when it was fed the heavier, 77-grain Federal Match fodder. This makes sense given its fast twist rate of 1:7 inches, which generally causes a .223 barrel to prefer heavier (for the caliber) bullets. Peeking down at my chronograph readout, I did observe slower-than-advertised velocities, but at the end of the day, nothing was below a normal range for the cartridge. Moreover, let's be honest, how often does .223 Rem. or 7.62x39 mm leave a barrel much longer than 16 inches? Sure, the Trail is short for potential, but it isn't lacking in its class by any means.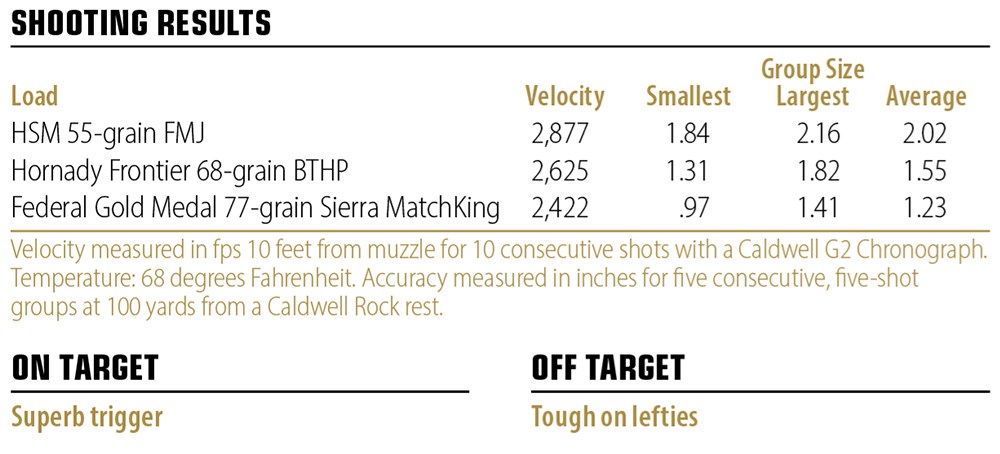 With the paperwork behind me, I tested the Trail in various field positions out to distances in excess of 200 yards. During this portion of the evaluation, I appreciated its lightweight design, as offhand shots were particularly easy to snap off. Running the bolt was also notably simpler than with many other rifles, as it didn't require much space to operate. The entire stroke was smooth, regardless of how it was handled, and it fed, fired and ejected.
Overall, I found the Trail to be well-built and exquisitely thought out for deep-woods utility or a stash rifle to keep in the trunk of your car for emergencies. Its intermediate chamberings make it a delight to shoot, and the threaded barrel allows for adding a muzzle brake or sound suppressor to make it even more enjoyable. Consider picking one up for your next hike, deep-woods hunt, or just to satisfy your "cool gun" quota of the year.