Chances are good, if you're reading this you have several AR-15 magazines lying around. You might even have more than one AR-platform rifle. However, what you don't have is a bolt-action rifle capable of accepting those magazines. Now, you can get one. The Mossberg Varmint Predator (MVP) is the first commercially manufactured bolt-action rifle that accepts AR-15 magazines. (Toview a gallery of photos of the MVP, go here.)
The MVP sports ground-breaking features, partly due to its innovative magazine compatibility and partly due to its design. Building a bolt-action rifle to work with AR-15 magazines is a bit more complex than you might first imagine. For starters, Mossberg had to figure out how to work around a magazine designed to lock in place via a side catch. Then, the company had to devise a solution to feed cartridges from between the narrow feed lips of the AR-15 magazine. Mossberg's solution was pioneering in concept, but from an engineering standpoint, it was practical and reasonably simple.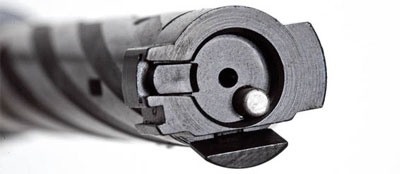 Senior Design Engineer Tim Blazek started with Mossberg's 4x4 action, which is CNC machined from bar stock, and shrunk it down so the ejection port was only 2.16 inches long. This reduced action length and weight. He then devised a polymer bedding block with an integral magazine well fitted with a lever-like magazine release at the front. The bedding block/mag well fits inside the stock and is held in place by the two steel pillars, through which the front and rear action screws pass.
This solved problem number one. The next challenge was to engineer the bolt so it would slip between the narrow feed lips on an AR magazine, reliably push cartridges into the chamber and lock up tight enough to allow the rifle to shoot accurately. This was accomplished by hinging the lower portion of the bolt face so it dropped down slightly and sort of dug the cartridge from either side of the magazine.
Admittedly, this design, which Mossberg calls the Drop-Push Bolt, looks a bit frail. I thought it might not be very rugged and desperately tried to break it during a three-day varmint shoot. But, I failed, and so did several other writers. Cartridges fed slickly out of several different AR-15 magazines. The only hitch in the system was seen with the first two or three rounds from fully loaded 20-round magazines, which required slightly more force to dislodge.
Plain and simple, the MVP works and shoots reasonably well, too. The average for five, five-shot groups, fired with four different loads, was 1.38 inches. Mossberg claims the MVP will deliver MOA accuracy out of the box. The test rifle and I failed to live up to that claim, but came mighty close with DoubleTap's 62-grain FMJ load. With all the .223 Rem. ammunition to choose from, it is hard to imagine several could not achieve MOA accuracy from the MVP.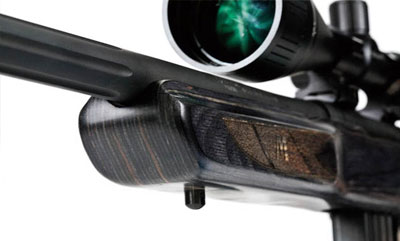 Like most ARs, Mossberg chose to chamber the MVP for the 5.56 NATO as opposed to the .223 Rem. The only difference in these chamberings is how the throat is cut. The longer throat of the 5.56 NATO chamber can hinder accuracy when .223 Rem. ammunition is used. A better choice might have been the compromise chambering known as the .223 Wylde. It sort of splits the difference in throat dimensions.
Two things that make shooting the MVP fun and almost effortless are the configuration of the varmint/target-style stock and the trigger. The stock is cut from a blank of laminated hardwood and boasts a nearly camouflaged appearance. Its wide and flat fore-end interfaces well with sandbags, and the high comb combined with the near vertical pistol grip is very comfortable.
Mossberg wisely chose its Lightning Bolt Action (LBA) trigger, which has a center lever that blocks the sear from releasing the striker unless the lever is depressed, even at the lowest setting. It is adjustable from 2 to 7 pounds and the only tool you need to do so is a screwdriver. The trigger on the test rifle broke crisply and consistently at 2.25 pounds.
Where does the MVP fit into the commercial sales picture? There's no doubt it can excel in the field as a varmint rifle. If you are an AR guy, you should have plenty of magazines lying around that will work in the MVP, making it a great companion rifle.
The MVP might have appeal to law enforcement, too. Smaller agencies cannot afford a dedicated, high-end, sniper rifle or sniper team, but designated marksmen are becoming popular assignments on day and night shifts. Here, a shorter-barreled MVP might fit well, and its operator could share magazines with other officers armed with ARs.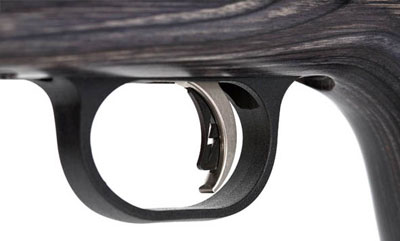 For enterprising shooters who might want a bolt rifle to match an AR in a chambering other than .223 Rem., converting the MVP to work with, say, 6.8 Rem. SPC should be an easy task. The bolt uses a plunger-type ejector like on a Remington 700 and a spring-loaded extractor mounted perpendicular to the bolt face. For the 6.8 conversion, slightly opening the bolt face, tweaking the extractor and swapping barrels should be all that's required. Conversion to a cartridge based on the .223 Rem. case, like the 7.62x40 WT, would only require a new barrel.
Mossberg is offering two versions of the MVP. The standard model comes with scope bases and the package gun comes with a Barska 4-16x50 mm riflescope and a bipod. Both are reasonably priced considering the new engineering involved, and are without a doubt the best bolt-action companion you'll find for your AR. I expect the future will show us varied configurations of the MVP.
Finally, we have an American-made, non-custom, .223 Rem. bolt-action rifle. On top of that, the MVP accepts AR magazines. As if that isn't enough, it's affordable, too. It is the most innovative bolt-action rifle we've seen in a long time.

Manufacturer: O.F. Mossberg & Sons; (203) 230-5300, www.mossberg.com
Action: Bolt-action
Caliber: 5.56 NATO
Capacity: 10+1
Stock: Laminated hardwood
Barrel: 24 inches
Rifling: 6 grooves, 1:9-inch RH twist
Sights: None. Weaver-style scope bases, Barska 4-16x50 mm AO scope and rings
Trigger Pull Weight: 2.25 pounds
Length: 43 inches
Weight: 10 pounds with riflescope and bipod
Accessories: Folding, adjustable bipod
MSRP: $796.50

Don't miss a moment of the action. Subscribe to Shooting Illustrated today!