CrossBreed Holsters has always been a nimble, versatile company. It is often first to market with a holster for the latest pistol or handgun/laser combination, and it doesn't shy away from difficult or unusual projects. Much—if not all—of this corporate culture was a reflection of CrossBreed's founder, the late Mark Craighead.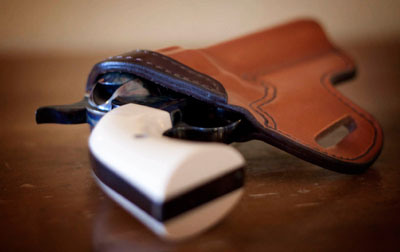 Prior to his death in 2012, Craighead enlisted the help of leather craftsman and holstermaker Jason Winnie to aid in designing an all-leather holster for one of Craighead's favorite historic firearms, the Colt Single Action Army (SAA). In addition to Winnie, Craighead also called on his friend, noted SAA aficionado and Shooting Illustrated Senior Field Editor Sheriff Jim Wilson to provide his expert advice on the desired features for a comfortable, workable and useful fighting holster for the legendary pistol. The result is the new Liberty Cross.
"The Liberty Cross is a variation of a holster that was first designed by Bruce Nelson," Wilson said. "The back belt loop helps to tuck the gun into the body for better concealment. The reinforced holster mouth helps with one-handed reholstering. The molding of the holster helps keep the gun secure without the need for a retaining strap."
Winnie's skill at crafting fine leather goods comes somewhat naturally, as he is renowned holstermaker Don Hume's grandson, and the Liberty Cross's fit and finish are a testament to that family legacy.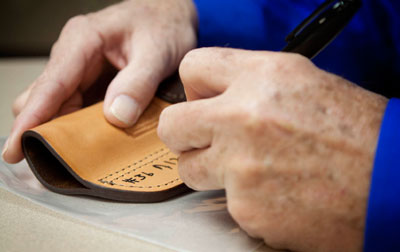 And legacy played an important role in the Liberty Cross mission. "The most special aspect of this holster, for me, is being able to finish a project that Mark started," said CrossBreed's Trent Cooper. "It is our first all-leather holster—our other models are hybrid holsters combining leather and Kydex—and it is also our first model for the SAA."
While the SAA may not be an ideal choice for self-defense in today's world, it still has utility as a fighting handgun. "As a general rule, I don't recommend a single action for personal defense," Wilson said. "However, cowboy-action shooters practice with them a lot and you are going to do your best with the gun you shoot and practice with the most. Also, people who live in rural settings may have to deal with predators of the 4-legged variety; they prefer guns of stouter caliber than the common defense guns, and the single action is a viable choice. Finally, for those who spend a lot of time horseback, there is no safer handgun than the single action. I find that there are a lot of folks who just prefer the single-action revolver over others."
Only 100 Liberty Cross holsters, designed for SAA revolvers with 4 5/8-inch barrels, will be manufactured. Each is numbered and signed by Sheriff Jim Wilson. The Liberty Cross retails for $200 and is available exclusively from CrossBreed Holsters.