Support NRA Shooting Illustrated
DONATE
It wasn't that long ago that a halfway-decent AR-10 rifle would cost you four or five times what an AR-15 would run you, which was two or three times more than your run-of-the-mill bolt action rifle. Now? While even the nicest AR-10 rifles have become more "reasonable" in price than they once were, they'll still cost you north of $2,000.

What's more, AR-10 rifles tend to be pretty hefty, and for lightweight options, prices climb for every ounce shaved. So how does a sub-7-pound AR-10 sound? Now how about one that still costs half as much, if not less than some of those high-end alternatives? Like many projects, if you go the DYI route, you can save yourself a pretty penny. Or 150,000 pennies, to be exact. That's a lot of pennies to pinch, and some serious cash that could get you a great optic to top off the rifle or buy ammo.

First, you have to start with a receiver, of course. So where can you find the most expensive components for the lowest price possible? For a quality AR-10 receiver set, Live Free Armory offers a matched upper-and-lower receiver set for $250. What's more, the company will Cerakote the receiver set in six colors, all free of charge. Made from billet aluminum, the DPMS-pattern set weighs in at 12.9 ounces for the upper receiver and 11 ounces for the lower receiver. The lower also features an oversized, integrated trigger guard while the flattop upper includes M4-style feedramps.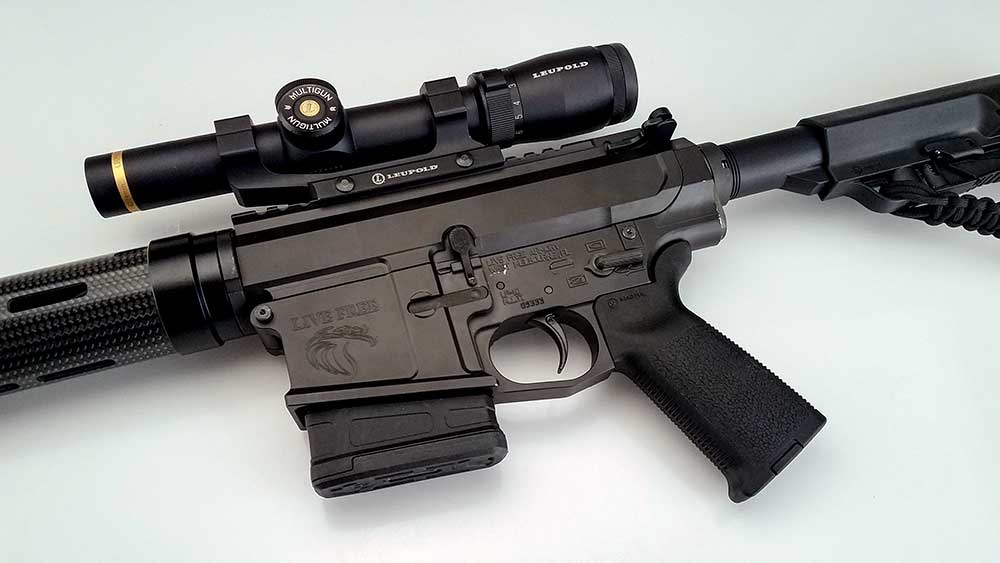 The other expensive part of a rifle is the barrel. Faxon Firearms offers a 16-inch pencil-contour barrel in .308 Win. for $259.00. Nitride-finished inside and out with a 1:10-inch twist, the magnetic-particle inspected barrel weighs 1.78 pounds, making it one of the lightest .308 Win. options available, especially for the price. The muzzle end is threaded and features an 11-degree target crown, to boot.

For this build, and the main component contributing to the lightweight aspect of the rifle, we chose Brigand Arms for its handguards. Built with carbon-fiber, the $264 handguard is worth every penny, considering it weighs a mere 7 ounces, including all hardware components. But make no mistake; this is no lightweight. The carbon fiber can withstand 90 pounds of force applied from any direction, and can handle a load of 600 pounds applied along its length.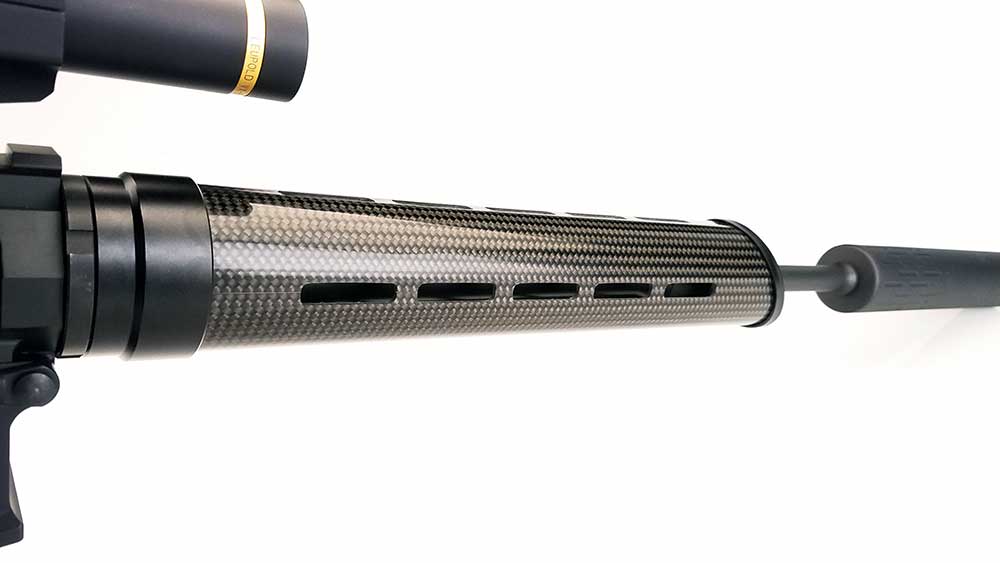 The handguard is also coated to resist both weather and splintering (a feature common to carbon fiber that isn't a problem here). The carbon fiber also resists heat and helps cool the rifle, too. Available in open-structure configurations and closed configurations, rails can be added to both types via backplate accessories or M-Lok slots, depending on the model purchased. The handguards are also available at Brownells if Brigand Arms is out of stock.

In keeping with the lightweight yet budget-friendly aspect of the build, the Mission First Tactical Minimalist Stock with eight feet of woven paracord was a given choice, as it only weighs 6.3 ounces and costs $84.99. The paracord was a no-brainer addition for me, especially considering the cost-benefit analysis. Sure it adds a half ounce of weight and costs 25 bucks more compared to the standard Minimalist stock, but paracord is an incredible tool that I would rather have and not need than need and not have. To each their own.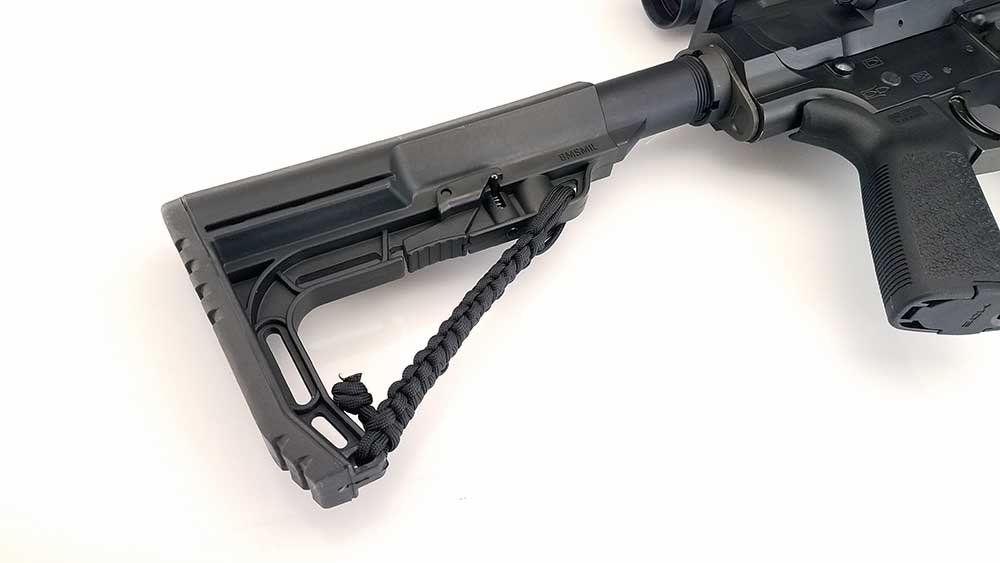 Regarding the smaller components of the build, Aero Precision provided several of the smaller, still-necessary pieces. First and foremost, the BCG. While this collection of parts is another pricey item, Aero's shot-peened, magnetic particle inspected, high pressure tested black-nitride finished unit came in at 18.25 ounces for $215.

Aero Precision was also my best bet to pick up items like the six-position buffer tube kit (10.2 ounces, $64.99), the enhanced lower parts kit featuring a Magpul MOE grip (8.3 ounces, $89.99), the mid-length gas system, consisting of a set-screw style, phosphate-finished gas block (1.6 ounces, 29.99) and a Melonite-treated gas tube (.7 ounces, $15.99), and the black anodized charging handle (1.1 ounces, $29.99). I shopped around quite a bit for the smaller odds and ends, and Aero Precision's components, especially for a one-stop-shopping experience, is hard to beat for both the price and the weight, let alone when looking for the best of both.

Two of the most oft-forgotten components, the forward assist and dust cover from Strike Industries, weighed a total of .6 ounces, and cost $18.95 and $16.95 respectively.

With all of these components, the total weight and cost comes in at… drum roll, please… 6.66 pounds and a total of $1338.85. Even with an optic, the rifle could very well still weigh under seven pounds and cost two-thirds what even the "cheaper" barebones light AR-10s cost, as long as some discretion is used. It just goes to show some DIY work goes a long way.

What's more, if you're willing to shell out a bit more cash, the gun can get even lighter. Personally, I've already thought up a few ways to make this specific rifle weigh more or less around six pounds (titanium, anyone?), but that'll take quite a bit of extra money. The point is, lightweight AR-10s can be had, and not for the arm and the leg it would cost you to buy such rifles.