In February 2018, Browning announced its Hi-Power pistols are no longer in production. "Current dealer inventories will be the last available from Browning for the foreseeable future," the website explains. Supply is scarce, however, because availability to dealers ended sometime in 2017. New Mark IIIs or Standards are easiest to find because they were the last models to come out of the factory.

John Moses Browning's 1911 handgun design and its subsequent 100 years of popularity cast a long and unearned shadow over his subsequent Hi-Power work. When Browning was commissioned by Belgium's FN to create a new military sidearm, the design required an all new approach because he'd sold the 1911 patents to Colt. In 1925, he'd completed the work, and a year later he was dead—making this his last gun design. U.S. patent inspectors approved it in 1927, but FN relied on the expertise of Dieudonné Saive to improve on the locked-breech recoil version. He's credited with completing the project, rightfully so, and the final product included his staggered-cartridge magazine that provided double the capacity of contemporary handguns—a lucky 13.

The single action wasn't without faults, though. In 1928, patents for the Colt Model 1911 expired and some of its features were integrated into the Hi-Power, including the barrel bushing. It was officially adopted by the Belgian military in 1935.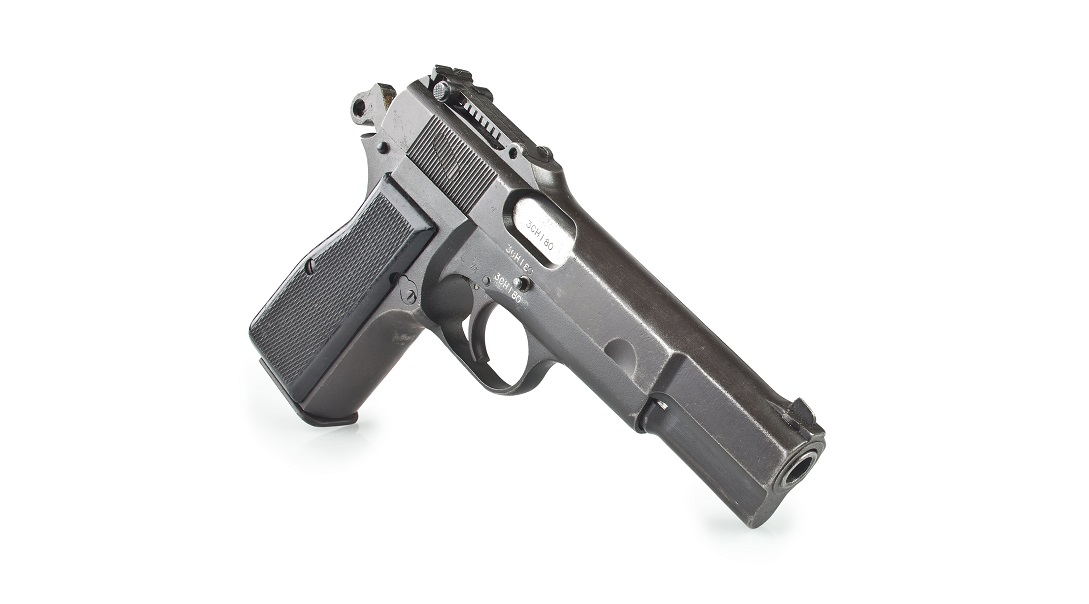 The pistol was battle-tough and fielded by the Allies during World War II. It also came into the hands of Axis forces after the FN factory was taken over by Germany. Canada, in turn, started to produce the pistols to keep supply lines filled during the conflict. It was fielded by the British airborne, the SAS and even the OSS, the forerunner of the modern-day CIA. Some of the firearm's variants are still being used in the global war on terrorism.

Subsequent modifications to some variants included ambidextrous safety, spurred hammer and double-action versions. A 9 mm chambering is most common, but it was also made in .40 S&W.

There's no shortage of modern aftermarket parts or modifications, either. Shooting Illustrated's Richard Mann walked readers through the changes he made to his Hi-Power and why he finally added one to his collection in 2015.

Some sources claim more than a million have been made. The odds are good the figure is greatly higher than that, considering the number of genuine versions that've come out of the FN factory and clones from different countries.

At press time, there was no word if the Belgium manufacturer is still producing the classic handgun. We do know, however, U.S. enthusiasts are going to have a harder time than ever finding one.