Bipods are perhaps the most commonly encountered practical rifle rests. I relied heavily on bipods in my military sniping and continue to use them regularly. They're an excellent tool when sized appropriately for your needs and used correctly.
While bipods provide critical support when prone, they add bulk and weight to your rifle at a time when mobility and stealth may be nearly as important as a solid firing platform. This problem is most apparent in restrictive terrain where vegetation grabs and excess weight remind you gravity still exists. Here are a few observations about three specific bipod types I like.
Harris
The Harris BR models are the most widely used bipods on American rifles and remain at the top of the game for precision work. The most flexible models for tactical shooting (BRM and S variants) allow the rifle to tilt from side to side and have legs with incremental steps that provide ample length and gross angle adjustment. The 45-degree tilt feature eliminates the need to constantly adjust legs when on mildly uneven terrain. Harris bipods are bulky and require a Picatinny rail adapter when no sling stud is present. Multiple leg lengths are available, including 23-inch versions that are tough to carry, but are useful when shooting in tall grass or vegetation. One irksome quality of Harris bipods is their spring-loaded, length-adjustment release buttons tend to press against low lips or ledges when used for support, causing the legs to collapse to their shortest position.
EMA Tactical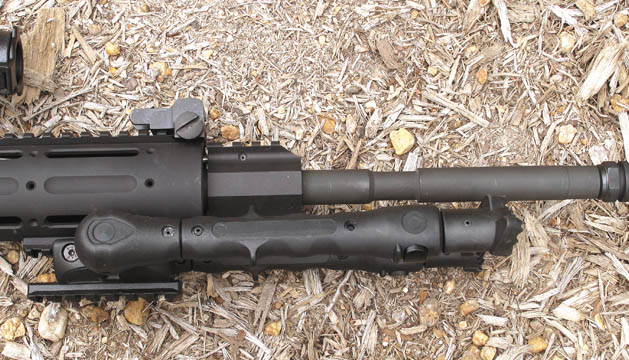 EMA's mostly polymer bipod mounts directly to a Picatinny rail and lowers the rifle's vertical center of gravity (CG) by cradling the fore-end. Rifles become top-heavy when optics, lasers, reflex sights, etc. are mounted above the receiver and bore lines. The lower CG provided by EMA's mount greatly reduces unsupported rifle tipping or unbalanced firing. These polymer supports are very robust and weigh a few ounces more than conventional bipods. The legs have four adjustment positions and fold forward or backward by pulling outward (away from the mount) and rotating. Care must be taken so you don't accidentally remove the leg, as they're interchangeable and will come off if you hit the wrong spot while folding. The EMA bipod has no tilt built into the mount, so legs must be grossly adjusted for side slope. A short section of polymer rail is included on the bottom of the EMA bipod to allow accessory mounting at 6-o'clock. You can install the legs so the length-release button is rearward, eliminating any chance of premature collapse when pushed against a ledge for support.
Grip Pod Systems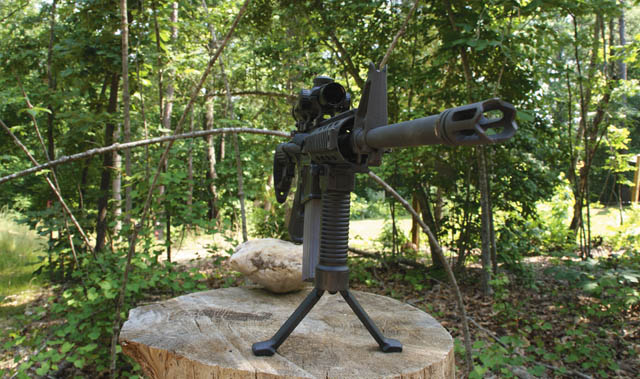 The Grip Pod is a hybrid between a rail-mounted vertical grip and a durable, spring-loaded bipod. Originally designed in an aluminum model—the GPS01—for use on light machine guns, the Grip Pod is the only bipod issued to a full branch of the U.S. military. According to the company website, the lightweight GPS02 has been adopted by the USMC, U.S. Army, USAF, SOF elements, law enforcement agencies and foreign military organizations. I discovered Grip Pods in my final years of service, using one regularly on my last overseas deployment. They work very well for dynamic sniper applications where close quarters battle and precision interdictive fires are mixed into the same mission (a common occurrence). A simple button push extends the spring-loaded legs for a solid firing position. Though the Grip Pod doesn't adjust for side slope, there's enough play in the legs to allow minor tilt corrections. An accessory rail is available for mounting lights or lasers on one or both sides. This biggest negative is it makes a long vertical grip. While it helps to insulate the support hand from an over-heated rifle, you may not want it on the gun all the time. Fortunately, the unit is easily removed via a simple thumbscrew.
Key Points to Remember When Using Bipods
• If your barrel isn't fully free-floated or you have an un-bedded bolt action, the point of impact will likely change when firing on and off the bipod due to pressure changes on the receiver and barrel between different firing positions.
• Avoid anything that attaches directly to the barrel, as any support provided will be offset by erratic, accuracy-reducing pressure on the barrel.
• Freely tilting bipods without friction adjustments tend to be too unstable for precision work.
• Choose a leg-length appropriate for the environment—9-inch legs won't help much in 18-inch tall vegetation.
• If shooting a heavy-recoiling or jumpy rifle, lean into the buttstock and pin the legs against a low ledge or dig them into soft ground to anchor the gun.
• If using a low-recoiling rifle that moves straight to the rear, relax forward pressure on the buttstock and allow a sort of "controlled free recoil."
• Place the non-firing hand in support under the toe of the buttstock and pull the stock rearward when needed.
• Bipods with legs that fold by pushing in one direction only should be mounted to fold forward when possible—mounting them rearward is less obtrusive, but doesn't allow forward pressure to be placed on the rifle.
• Practice with the bipod—don't let the first time you need it be the first time you seriously use it.