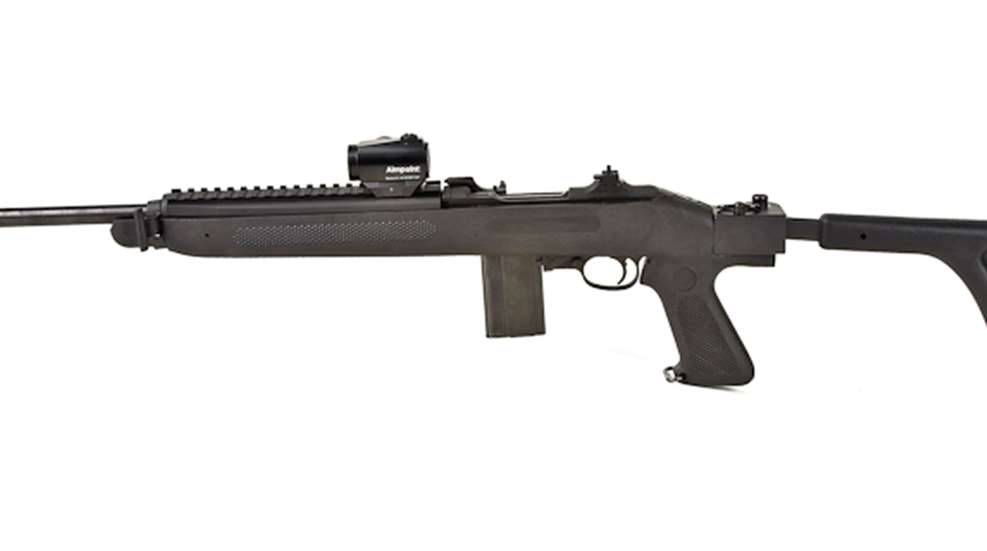 During World War II, more than 6 million M1 Carbines were manufactured, including more than 140,000 M1A1s with a folding stock. If grandpa was one of the lucky paratroopers to be issued the M1A1, a mighty "Currahee!" to him. But he might be in for a shock with the latest update to the carbine. The Auto-Ordnance AOM160 is about as recognizable at first glance to members of the Greatest Generation as class is to Paris Hilton.
Auto-Ordnance, it seems, has seen the writing on the wall: Growth in the tactical segment of the shooting industry is, pardon the pun, explosive. What was cutting-edge, high-speed, low-drag equipment used by the military's elite 60 years ago may appeal to collectors and gun show bargain hunters, but for the younger shooter with some disposable income, it closely resembles kindling. The gun grandpa carried in the bocage doesn't quite fit in with 5.11 Tactical pants, Blackhawk MOLLE vests and other elements of what I refer to as "Tacticalia." Furthermore, an appropriately tacticalized firearm can be accessorized with all sorts of wonderful toys like dot sights, night vision—just about anything your heart desires.
The simplest means of tacticalizing an otherwise un-tactical gun, or for that matter, anything, is to make it black. Auto-Ordnance did just that with the AOM160 interpretation of the venerable M1 Carbine. The gas-operated, semi-automatic action; flat-top bolt; trigger; push-button safety; detachable box magazine; steel 173⁄4-inch barrel and iron sights are identical to the World War II model. The stock, however, is purely modern. Made by noted stock manufacturer Choate, the black polymer variant includes three attachment points for a sling. Raised checkering on the fore-end and pistol grip provide an improved gripping surface—vital when shooting while wearing gloves or in wet conditions.
The side-folding buttstock has also been updated. Instead of double-hinging at the top and bottom as seen on the American walnut stock of yore, the AOM160's folding mechanism is both stronger and easier to use. It has only a single hinge-point and is operated by pressing down on a knurled button on top of the steel trunion. What's more, shooters can enjoy the comfort of a 7⁄8-inch-thick rubber recoil pad rather than the old steel buttplate.
Given that the barrel, action and trigger assembly of the original M1Carbine were all black, combining them with a modern stock yields a tactically pleasing gun. Adding to its overall feel, the AOM160 comes with an attached, mean-looking ventilated steel handguard. Yet for the serious accessory freak, Picatinny rails are an absolute requirement on any firearm. To that end, I swapped the handguard for an aftermarket Ultimak scout-type rail to mount an Aimpoint Micro H-1 red-dot sight.
It's fun to have great-looking toys, but enough with appearances—I wanted to see if the gun shot any different than its reliable predecessor. Let me tell you, the AOM160 shoots every bit as fun as it looks. Shooting at 50 yards with no magnification, the gun performed respectably. My colleague Mark Keefe, editor-in-chief of American Rifleman, shot about the same-sized groups over iron sights with Auto-Ordnance's M1A1 historical recreation. Had I replaced the Aimpoint with a traditional, magnified riflescope, I would have shot much tighter groups. That said, the AOM160 shot just as well as its storied ancestor.
Trigger let-off weight was relatively heavy, 8 pounds, 10 ounces, but heavy, two-stage triggers were common to military arms of the World War II era. The trigger is easily ignored when you're hammering out 15 rounds in mere seconds at some particularly naughty paper. About the only thing not smile-inducing regarding this marvelous gun is the time you'll spend cleaning it after firing box upon box of ammo.
Despite the fact that the esteemed M1 Carbine is unlikely to see combat in American hands ever again, its usefulness remains undiminished. With the AOM160, Auto-Ordnance has produced a carbine that can easily be used for home defense, close-range hunting and about as much fun as you can have on the range with your clothes on. Folded, the rifle is only 271⁄4 inches long, which results in easy portability inside a large hunting pack. Of course, you might prefer to transport this gun in a more tactically appropriate conveyance like an Eagle Industries Discreet Case. At only 5 pounds, 13 ounces, the AOM160 is very comfortable to carry and shoot. Minimal recoil from the .30 Carbine rounds means that any shooter, regardless of his or her tolerance for kick, will enjoy this properly updated hero of a gun.