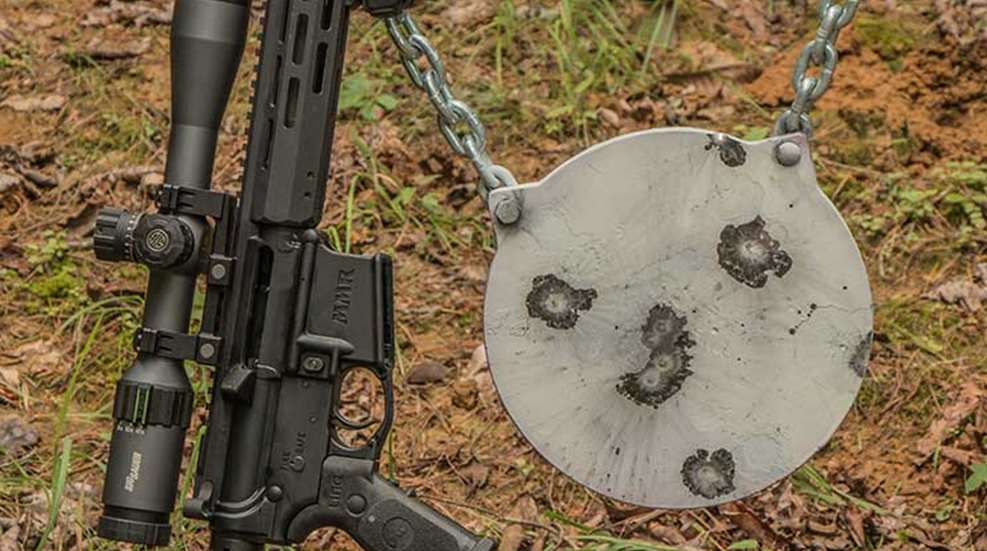 Steel targets are some of the best training tools you can buy. Steel saves you time, because you don't have to walk downrange to assess your shooting. This is especially true of the steel that is static or does not fall over when hit. It's also because, with steel targets, you get immediate feedback. The ring and/or wiggle lets you know you did everything right.
Not all that long ago, the average guy could not afford steel targets. However, thanks to the popularity of shooting sports like cowboy action and 3-gun, manufacturers are now offering affordable steel targets, many of which are very easy to transport and set up. Here are the three I use most often: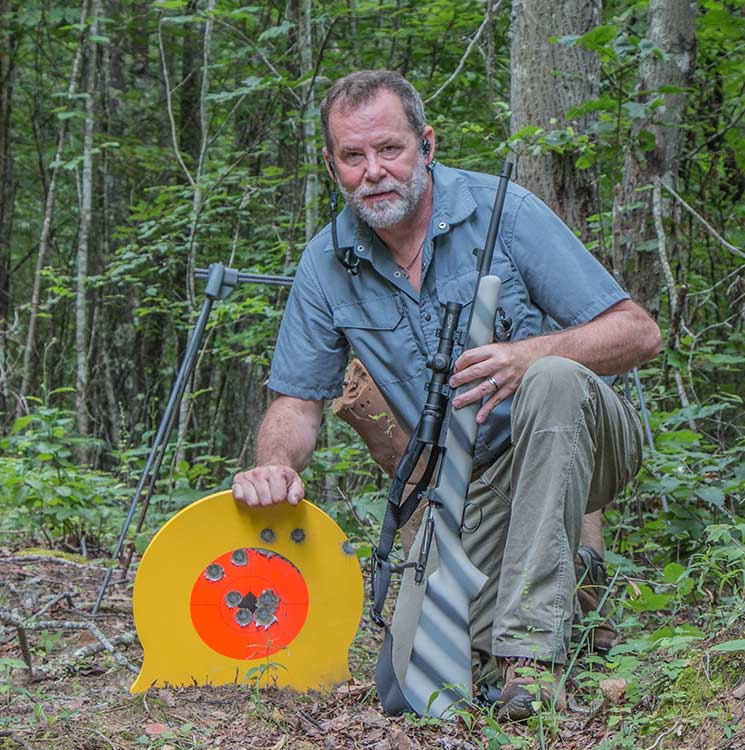 The Mule Kick target is a 15.5-inch, half-inch, AR500 steel plate. What's interesting about this target is the way it's supported. Thanks to an ingenious, innovative and uncomplicated stand, the Mule Kick does not require stakes, elaborate supports or suspension chains. It rests at ground level and rings like church bell when hit.
When the target is set up, it leans forward at an angle to force bullet splatter to the ground. This makes the target very safe. If there's a downside to this target, it's that it sits at ground level. So, if you're shooting in a field, you might need to mow some grass. Alternatively, you can suspend the Mule Kick by the two holes used by the stand.
This is a great target to practice snap-shooting on at 100 yards, and its large enough to be just about ideal for long-range work out to around 400 yards. Suggested retail is $233.40.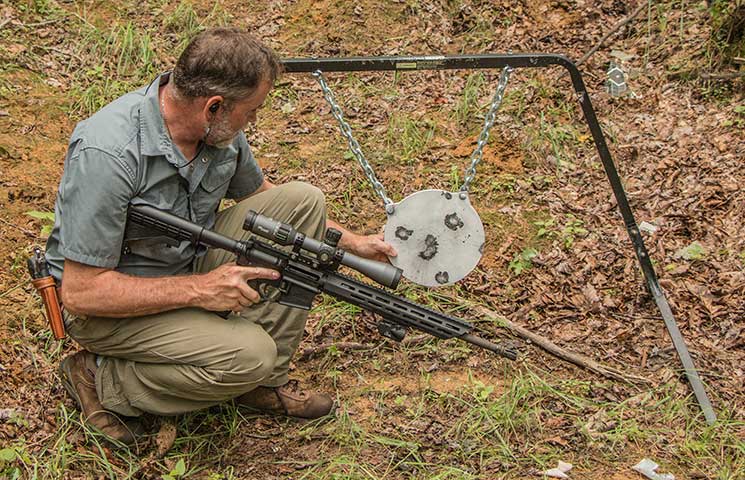 Viking Solutions Complete Gong Target System
Though not as fast to set up as the Mule Kick, the Complete Gong Target from Viking Solutions is still very portable. This is due to its lightweight tubular frame that suspends a 3/8 inch thick, AR 500, six-, eight- or ten-inch plate by chains. This is also one of the most affordable steel targets you can buy. The six-inch version retails for $54.99, the eight-inch for $64.99 and the 10-inch for $69.99.
For hunters, this is great target to carry to deer camp because it's lightweight and can be set up just about anywhere. You can use it to confirm zero or as a confidence-builder during the hunt. It makes for an excellent long-range target because, not only do you get audible feedback, you get visual confirmation of a hit, too.
The downside is that the target frame is not bulletproof. Now, if you're a good shot, that's not a problem. However, errant bullets could potentially wreck the frame.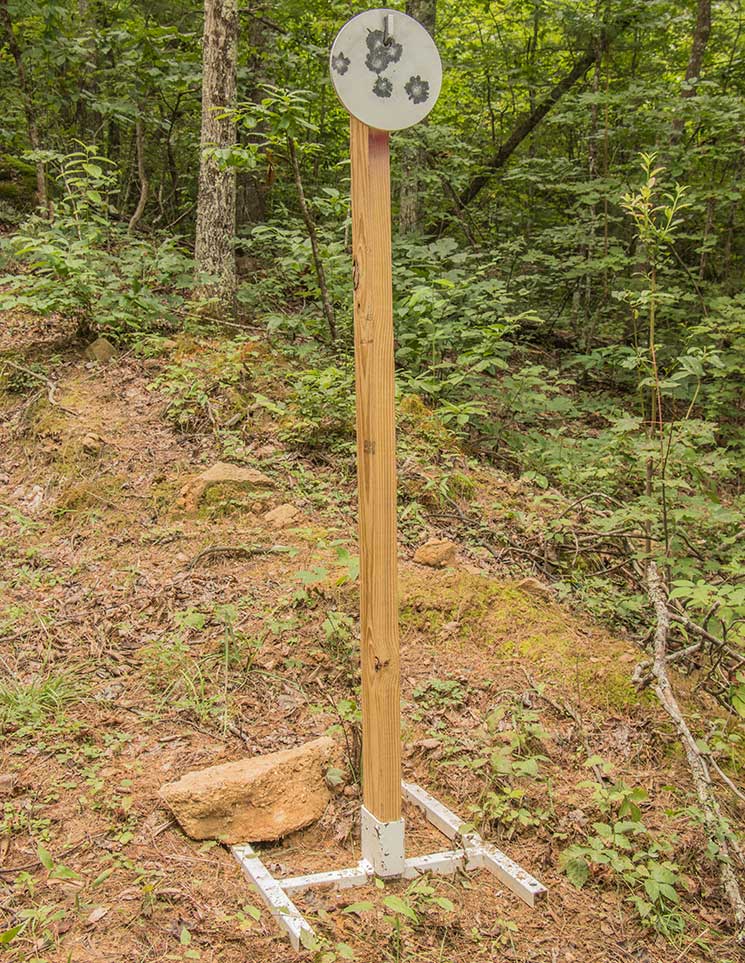 MGM Targets Steel Challenge Plates
My favorite portable steel targets are the Steel Challenge Plates from MGM. The stand for these plates might even be more innovative than that of the Mule Kick or Viking target. You see, these plates are suspended from a hook protruding from a steel cap that fits on the end of a piece of 2x4 lumber. Yeah, eventually you might shoot up the 2x4, but you can just saw it off or pick up another for just a few bucks.
Another interesting facet of this system is that, once you have a stand, hanger and 2x4, you can buy different size plates of eight, 10, or 12 inches. The 18x24 inch plates are great for long-range shooting, and you can even buy a full, half, or C-Zone IPSC silhouette-shaped plates.  This makes the system very versatile and applicable for defensive handguns, tactical and long-range rifle, hunting or basic marksmanship training.
This is the most used steel target I own. The retail price for a stand, hanger, and a single eight-inch plate is $ 144.18. You'll have to supply your own 2x4. An individual 10-inch plate retails for $64.71 and a 12-inch for $80.01.
Steel Shooting Guidelines
Steel targets can provide a lifetime of safe and enjoyable shooting, but you have to use them correctly. Never shoot steel closer than 10 yards with a defensive handgun. With rifles that have muzzle velocities of 3,000 fps or less, shoot them no closer than 100 yards. For magnum rifles, a target distance of 150 or 200 yards is advisable. However, when shooting steel with any firearm, if you can feel a dimple in the steel after the hit, you need to extend the range.