What pops into your head when you hear the name Colt's Manufacturing? Peacemaker? Python? 1911? AR-15? It's doubtful the first (or even second) firearm that would come to mind would be a bolt-action rifle. While Colt has produced a number of full- and semi-automatic rifles over the past hundred-plus years—1895 "Potato Digger" machine guns, Thompsons and BARs (including the famous Monitor) under respective licenses; and, of course, the AR-15—the company has had an on-again, off-again relationship with bolt-actions. Colt offered the Model 57 and the Coltsman bolt-actions in the 1950s. There was a partnership with Sauer & Sohn in the 1970s for a premium turnbolt rifle. At the turn of the millennium Colt produced the Colt Lite Rifle, and in the 2010s Colt  partnered with Cooper Firearms for the M2012. Now, Colt is offering the CBX to claim a piece of the Precision Rifle Series (PRS) pie.





With some previous bolt-actions being cooperative efforts, and with Colt having a working partnership with CZ, it's natural to wonder how much is shared between the companies. Jessica Treglia, director of commercial products for Colt, explained the collaboration thusly. "The relationship with CZ provides enhanced access to R&D resources, allowing both Colt and CZ to have a more robust product roadmap and be faster to market. Colt began development with the CZ 600 design. The two platforms share a bolt. Aside from the bolt, there are no further product synergies, but it allowed us to start somewhere. We took the CZ 600 design and focused on Colt's core competencies and values; safety, reliability, and functionality and created the CBX bolt action rifle. Some of the critical features designed into the CBX include the 2-position tang safety, the flat bottom receiver, user-adjustable trigger, and the thread-in barrel with barrel nut. Each of these features builds upon the expected Colt safety, reliability, and performance standards."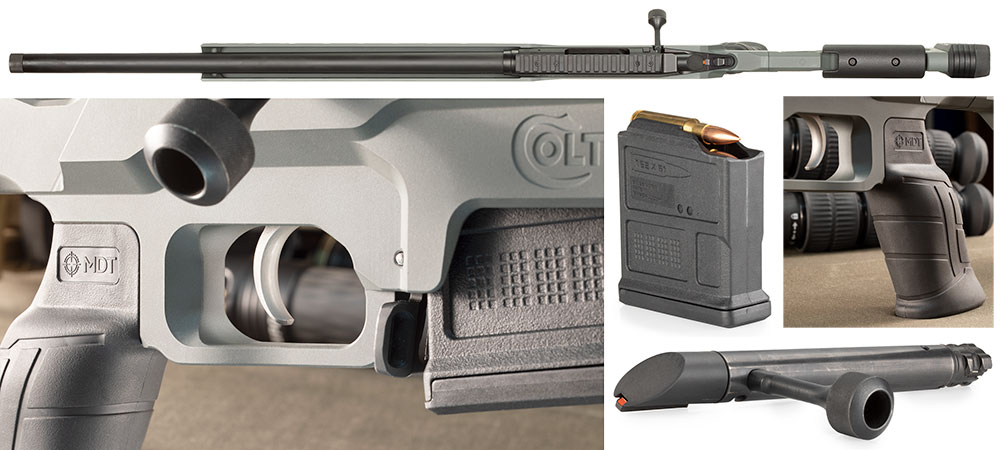 When it comes to customized chassis bolt-action rifles suitable for PRS competition, the rifle field varies anywhere from slightly more than $1,000 to, well, how much do you want to spend? Adjustable lengths-of-pull, cheekpiece height and M-Lok attachment slots are expected; beyond that, though, the sky (and your budget) is pretty much the limit. Colt has opted to keep the CBX on the more budget-friendly side, yet still offers plenty of extras. There's a flat-bottom fore-end for resting the rifle off bags, an ARCA-compatible rail for tripod adjustability, AICS-style removable-box magazine from Magpul and a machined barricade stop among the standard equipment of the CBX. For a precision rifle with an MSRP significantly less than $2,000, this is quite well equipped, indeed.


But, as the old commercial pitchman goes, that's not all. A 60-degree bolt-throw allows for more optic choices and faster cycling rates, while a threaded muzzle allows the attachment of sound-suppressors for quieter shooting. An AR-15-style pistol grip means a world of upgrades is possible, but keep in mind that those grips with oversize beavertails like Magpul's MOE SL grip will need some minor alterations (get out the Dremel!). There are QD sling-mount cups on the fore-end and stock, but it's going to take some dedication to tote the CBX around—it tips the scales at a hefty 10.75 pounds, unloaded. Add in five rounds of .308 Win. in the magazine, and you're looking at combination weighing more than 11 pounds. Obviously, it can be carried, but it's clearly designed for benchrest or prone shooting rather than shooting on the move.

That heft, though, belies its intended use as a PRS rifle. Having that extra weight allows the rifle to really dig in on a bag or improvised rest in addition to soaking up recoil for faster follow-up shots. I've had a few chances to partake in PRS-style competition, and being able to anchor your rig on a non-traditional shooting platform can mean the difference between a fast run and one that's measured with a sundial rather than a stopwatch. Colt has done its homework on setting up the CBX for long-range pursuits, that's for certain.


But, let's take a step back and examine PRS competition. Since we happen to have a sister magazine devoted to competition, I'm going to let John Parker, editor-in-chief of Shooting Sports USA, give us a quick overview: "The Precision Rifle Series is unlike traditional 'bullseye' rifle sports—there is no set course of fire or format, outside of what is perhaps the shortest rulebook in all of competitive shooting. Shooters fire multiple stages from varied positions from both known and unknown distances out to 1,000 yards and often beyond, mostly employing light- to medium-recoiling caliber bolt-action rifles, although the gas-gun options are also popular. Each individual match director has sole discretion over their match, and the different venues also offer unique challenges for match directors to implement innovative stage design. The PRS Production division is geared for newcomers to the sport, with price limits for rifles and optics published in the rules. With the Production rifle price cap set at $3,000 in 2023, the $1,899 Colt CBX bolt-action rifle paired with an appropriate optic is a solid option for any PRS shooter."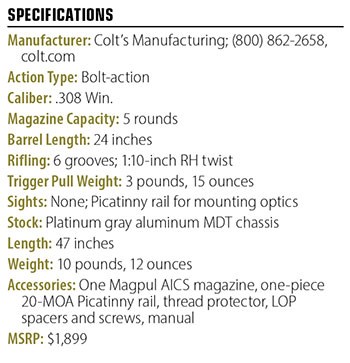 In 2022, at a writer's event for a new Bushnell scope (reviewed in our April 2023 issue), attendees participated in a PRS-style event. We were presented with several target areas, starting at 400 yards and going out to 700 yards for the farthest set of steel targets. We were paired with Bushnell-sponsored PRS shooters and split into two teams, and presented three stages. On the first stage, we engaged targets out to 400 yards and were given time to dial our scopes for elevation as we changed targets. On the second stage, time was a bit shorter but allowed participants to either dial (which is more precise) or use holdovers (which is faster) on targets out to 600 yards. On the last and most difficult stage, targets out to 700 yards were engaged with a "no-touch" rule—we couldn't adjust elevation or magnification. To say that this was a challenging round would be an understatement. Even the professional shooters missed a few targets.
If you're a fan of long-range shooting, there's simply no better way to really challenge yourself than to engage in PRS-style competition, in my opinion. Once targets are out past 300 yards or so, environmental factors start to wreak havoc, and they can be difficult to judge when shooting off a bench. Now, try estimating wind at 600 yards while balancing a 10-pound rifle on an electrical-cable spool and trying to calm your breathing after running into position. If you ever thought you were halfway decent at long-range shooting, PRS competition will seriously disabuse you of that notion. It's a fabulous way to check your gear, though—and having a purpose-built rifle like the Colt CBX goes a long way toward having the right gear. 
I had a chance to try out the CBX at Gunsite Academy ahead of SHOT Show 2023, and while we didn't venture beyond 100 yards, the CBX was impressive. A standard pepper-popper target was presented 100 yards, and not only were center-mass hits boringly easy, but precision shots on the head section were just as possible. Taking a page from "Lethal Weapon" and channeling my inner Martin Riggs, I was able to recreate the "smiley face" with little effort. While there's no substitute for shooting at actual long-range distances, practicing on smaller targets helps hone rifle-shooting skills at shorter ranges. Having a rifle that starts off supremely accurate allows a solid foundation upon which you can build your skill set.



In addition to the accuracy afforded by the heavy-contour, button-rifled barrel and crisp, adjustable trigger, the modularity of the CBX allows it to be customized to the individual shooter and shooting scenario. Four spacers allow length-of-pull to be adjusted from 12.5 to 14.25 inches, the cheekpiece can be raised or lowered to fit precisely and trigger-pull weight can be adjusted from 2.5 to 5 pounds. Once configured for the shooter, the CBX can be steadied a variety of ways: M-Lok slots permit attachment of a bipod, the fore-end is cut with ARCA-rail slots for a tripod, thanks to the flat portion of the fore-end it sits flush on a shooting bag and there's even an aggressive barricade stop for shooting from more dynamic positions. That's a lot of potential, and the only excuse for not wringing the best shooting out of the CBX boils down to that elusive component, the person behind the trigger.
So, is the Colt CBX accurate? Well, the test model we received certainly appears so. All groups averaged less than 1 MOA, with many groups closer to .5-MOA than to 1. Several of the groups had four shots in a large circle with a flyer that increased the group size—all the way to .8 inch. Reliability-wise, everything from 150-grain FMJ practice fodder to 185-grain Match ammo fed, fired and ejected exactly as expected, and all rounds went exactly where they were intended. The "Precision" in the name isn't just marketing hype. The CBX works quite well indeed.
What's the bottom line on Colt's new bolt-action rifle? Well, if you're thinking of getting into PRS-style competition, it's a great starting platform. Even if all you're looking for is a chassis rifle for long-range bragging rights, it'll cover that easily, and without putting that big of a dent in your shooting wallet (comparatively, of course; nearly $2K for a firearm is a hefty slice for those of us not named Bezos). Accurate, customizable and (moderately) affordable? That's a winning combination in my book.