Weighing in at close to 12 pounds without a scope, this is not a rifle I'd want to hump up a mountain. But, as its name implies, this rifle was designed for law enforcement use, which means elevators or short trips up a few flights of stairs rather than extended hikes through rough terrain. And for that—or any use where the rifle won't be carried for long periods—it excels in both form and function. (For more detailed photos of the FNH USA A5 M Special Police Rifle, go here.)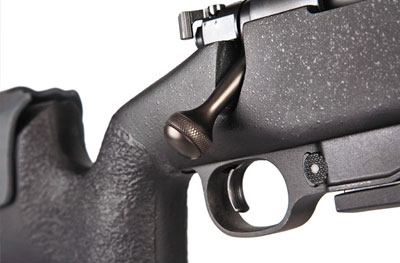 Part of FNH USA's SPR family, which includes four platforms in a variety of finishes, barrel lengths and chamberings, the A5 M SPR is the most tricked out of the bunch. It has a McMillan matte-black fiberglass stock with an adjustable cheekpiece, an almost vertical grip profile, extreme texturing on the gripping surfaces and a wide, tapered fore-end with a flat underside for easy shooting off a rest. If range bags or benchrests aren't in your plans, there is a steel bipod-mounting stud that looks like a traditional sling swivel stud—it isn't. Well, it is, but the stock has four flush-mounted sling attachment points (two on each side of the buttstock and fore-end). This is quite simply the finest precision-style stock I have come across, which is hardly surprising given the source.
The A5 M's action is based on the pre-1964 Winchester Model 70. If you're not into hunting rifles, that is the equivalent of a song based on pre-Sammy Hagar Van Halen. In other words, it's based on what many consider the finest bolt-action ever designed prior to the company's fateful decision to alter it for the worse by bringing in a guy known primarily for his solo work and singing about speed limits. Perhaps I'm mixing metaphors, but the pre-'64 Model 70 is a fine thing upon which to base a bolt gun. Among the kept pre-'64 features are a claw extractor and controlled-round feeding. Blade ejection allows the shooter to control where his spent brass lands, which is great for reloaders.
Made from forged steel, the receiver has a flat surface on the bottom, which provides added surface area for bedding and increased rigidity. A mil-std 1913 rail with a built-in 20-MOA cant is mounted on top for mounting optics. Since the A5 M is available in .308 Win. and .300 WSM, the receiver and action are short-magnum-length models. A very Model 70-esque three-position safety is located where it would be on…a Model 70. The trigger is a two-stage, adjustable variant—my .308 Win. test rifle had a pull-weight of just more than 5 pounds, so I didn't see any reason for adjustment.
The rifle feeds via a detachable, four-, five- or 10-round box magazine in .308 Win. and a hinged-floorplate magazine holding three rounds in .300 WSM. The five- and 10-round variants are known as the Tactical Box Magazine (TBM) and will not fit in the four-round (DBM) model's bottom metal assembly owing to a different latching mechanism. I found the TBM magazine difficult to load at first, but it got easier after a few tries.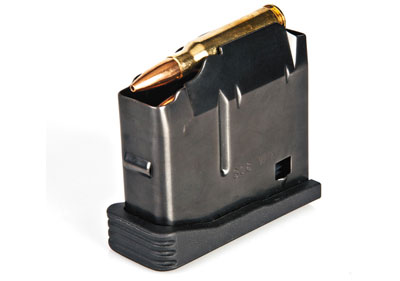 Running the bolt is effortless, thanks to fine craftsmanship and a knurled bolt knob which was easy to grab, even with sweaty hands induced by high temperatures when I tested the SPR. FNH USA is offering the A5 M with either a 20- or 24-inch hammer-forged, fluted, free-floated barrel with a recessed muzzle crown and hard-chromed bore.
You may be noticing a pattern in the features described above. Everything on this rifle was included and designed with one thing in mind: accuracy. The law enforcement sniper may not need to take out an RPG-wielding jihadist from several kilometers, but failing to precisely place a shot could very easily cost innocent lives—perhaps more so than for a military marksman. Therefore, FNH USA's attention to detail on the SPR is vital for the rifle's ability to fulfill its mission.
And the A5 M SPR did not disappoint. I took the rifle to the range with loads from DoubleTap, Hornady and Nosler Custom. The 24-inch barrel seemed to prefer heavier weight bullets, turning in its best averages with 168-grain offerings. Lightweight Hornady TAP bullets shot—for the most part—sub-MOA groups and achieved extremely fast velocities.
No matter the tested load, the rifle performed better than the shooter on a blistering, humid day.
For a role where accuracy is everything, the SPR is supremely able. Matched with a quality scope and a well-trained marksman, it will easily deliver groups beyond what most shooters—myself included—are capable of replicating. Such precision comes at a price, however, with the A5 M running from $2,895 in the DBM configuration, to $3,049 for a 20-inch-barreled TBM model to $3,149 for a TMB with a 24-inch barrel. While that is certainly a chunk of change for a bolt gun, it is actually on the low end for high-quality sniper-style rifles. My one complaint is the $154 price difference between the DBM and TBM models and the $100 difference between the two TBM offerings. That seems like a lot of money for one to six rounds and four inches of barrel, respectively. My advice would be to splurge on the DBM model and recognize that you won't need a 10-round mag because your target will fall on the first shot from this hyper-accurate rifle.
Manufacturer: FNH USA; (703) 288-1292
Action Type: Bolt-action
Caliber: .308 Win. (tested), .300 WSM
Capacity: Four, five (tested) or 10 rounds
Barrel: 20 or 24 inches (tested); fluted, free-floating; hard-chromed bore
Rifling: 4 grooves; 1:12-inch RH twist
Finish: Matte black
Stock: McMillan A5 with adjustable cheekpiece, and vertical pistol grip
Trigger Pull Weight: 5 pounds, 3 ounces
Length: 40 inches (20-inch barrel); 43.5 to 45 inches (24-inch barrel)
Weight: 11 pounds, 5 ounces (20-inch barrel); 11 pounds, 13 ounces (24-inch barrel)
Accessories: One magazine, manual, safety lock, record book
MSRP: $2,895 (DBM), $3,049 (TBM and 20-inch barrel), $3,149 (TBM and 24-inch barrel; tested)