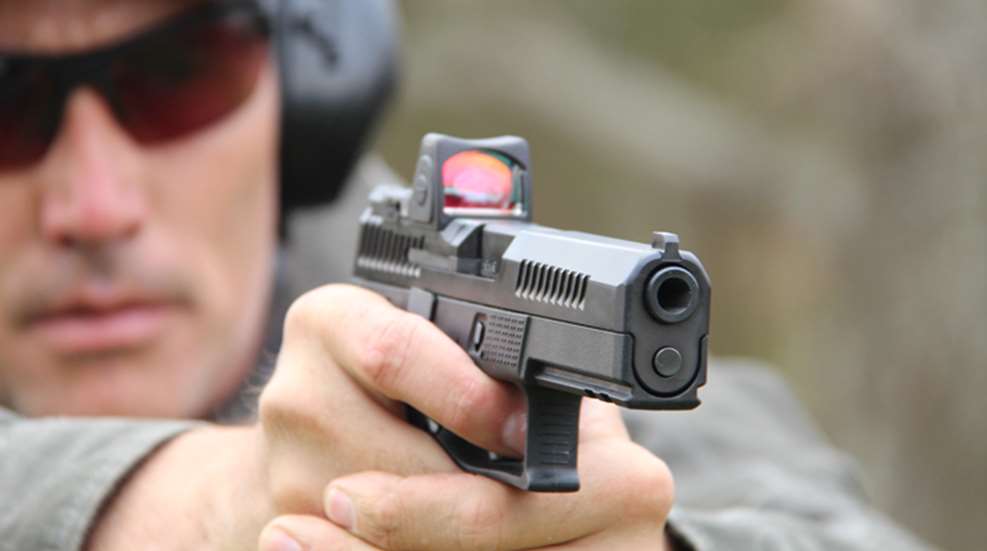 Over the last decade, many shooters have come to understand that handguns with optics—specifically compact reflex sights—offer fast target acquisition in any light and improve accuracy without adding a lot of bulk to your pistol. This has led to increasing demand for red dot-equipped handguns which has, in turn, prompted more firearm manufacturers to offer optics-ready pistol models for personal defense. From full-sized guns to light, subcompact EDC pistols, odds are you can now order optics-ready guns from your favorite gun maker. If you're considering joining the red dot revolution, these eight great optics-ready guns are an excellent place to start. 
SIG Sauer P365XL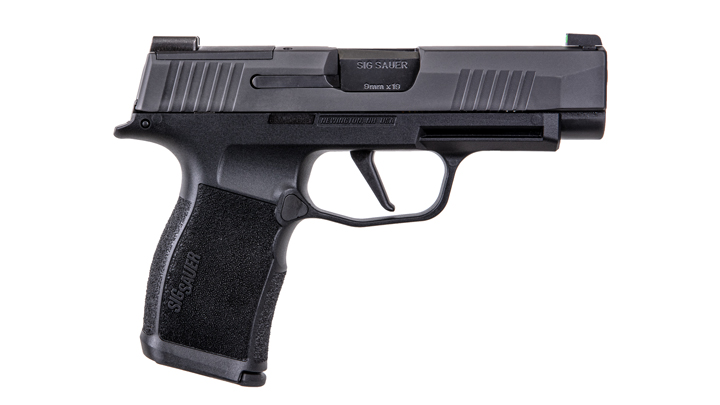 SIG's P365 is America's best-selling handgun, and the XL version offers everything shooters love about the standard version with a slightly longer sight radius and a larger magazine capacity. The 20.7-ounce P365XL has a 3.7-inch barrel and measures just 6.6 inches long, but it boasts a 12-round capacity that's usually reserved for bigger guns. If you aren't using an optic you'll appreciate the standard X-RAY3 day/night sights, and this beautifully-balanced, solidly-built 9 mm semiauto features SIG's superb XSeries straight trigger. You can elect to purchase this gun without a sight, but the package gun with SIG's Romeo Zero for $897 is a great buy. MSRP: $699 (No Optic), $897 (W/Romeo Zero sight).
CZ P-10 F/C/S Optics Ready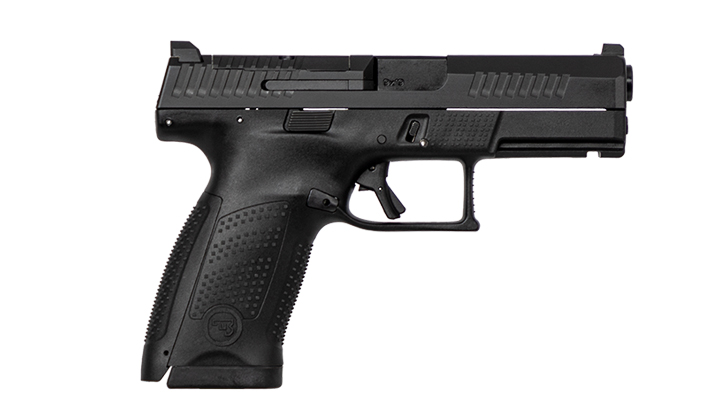 CZ has you covered with their full line of optics-ready P-10 striker-fired semiauto pistols. The S (Subcompact) version has a 3.5-inch barrel, 12-round capacity and weighs 24 ounces. The C (Compact) model sports a 4-inch barrel and adds a couple more ounces and three rounds in the magazine compared to the S model. The F (Full-Size) is equipped with a 4.5-inch barrel and an impressive 19-round capacity. These American-made CZs are well-built and come with excellent triggers, and the reversible mag release makes them southpaw friendly. All CZ Optics Ready models come with a cover plate that, when removed, makes optic mounting easy. MSRP: $577-$590.
Stoeger STR-9 Optics-Ready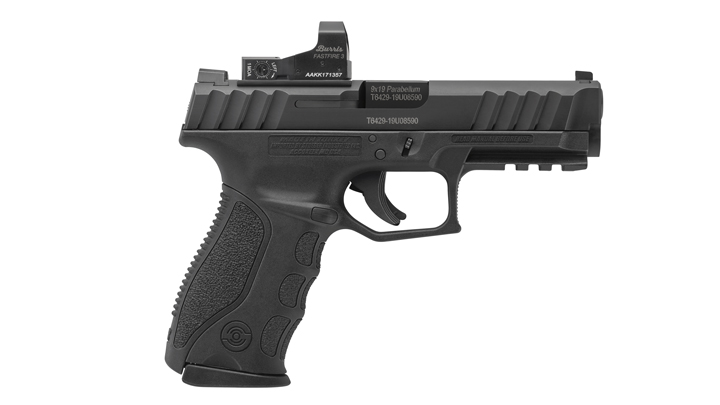 Stoeger stunned the shooting community when this shotgun-centric brand launched a striker-fired 9 mm semiauto pistol, the STR-9. The initial response to the budget-friendly STR-9 was largely positive, and now Stoeger is offering an optics-ready model of their affordable 9 mm pistol. With its 4.17-inch barrel and 15-round capacity the $399 Stoeger STR-9 Optics-Ready stacks ups against compacts like the Smith & Wesson M&P9 and Glock G19 in overall size. The trigger is good and the grip design is excellent, allowing even recoil-sensitive shooters to handle the setback of stout 9mm defense load. If you're looking for an affordable, durable optics-ready 9 mm this is a solid choice. MSRP: $399. 
Springfield Armory Hellcat OSP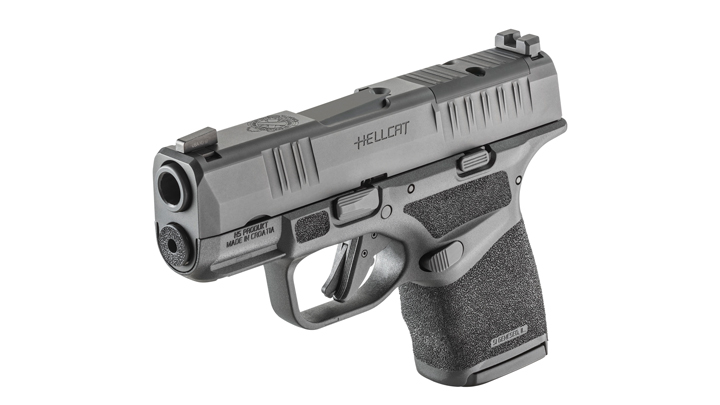 There are many who believe that the Springfield Armory Hellcat is the ultimate micro-compact 9 mm carry gun, and you'll get no argument from me. With its 3-inch barrel the Hellcat measures just 6 inches long overall and weighs less than 18 ounces unloaded. Somehow, though, the engineers at Springfield managed to stuff 11 rounds in the standard magazine and 13 in the extended mag without this gun feeling bloated or unwieldy. From the grip texture to the top slide serrations and the Tactical Rack U-Dot sights this gun is loaded with premium features and should be on the short list of anyone searching for a micro-compact, optics-ready, EDC gun. The Hellcat is available in black or FDE and there's a package version that comes with a Shield SMSc 4 MOA red dot for a couple hundred bucks extra. MSRP: $599-$799. 
Ruger American Pistol Competition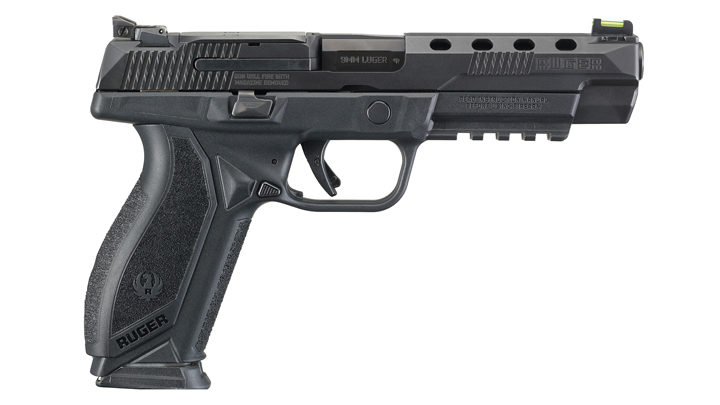 Yes, the Ruger American Pistol Competition was designed for match shooters, but if you're looking for a full-sized 9 mm optics-ready pistol for recreational shooting or home defense this gun is an excellent option. At 34 ounces empty and an overall length of 8.3 inches, the Ruger is the biggest gun on this list. However, that added heft helps mitigate muzzle rise and recoil and this is one of the smoothest-shooting, most accurate OR 9 mms available. The interchangeable wraparound grip modules allow the shooter to customize the gun's fit and the slide cutouts are functional and stylish. The drilled and tapped slide allows for direct mounting of several popular optics via #6-48 mounting screws. When I tested the Ruger American Pistol Competition I found it to be smooth-shooting and extremely accurate, and it has certainly earned a spot on the list of top OR guns. $579.   
Glock G19 MOS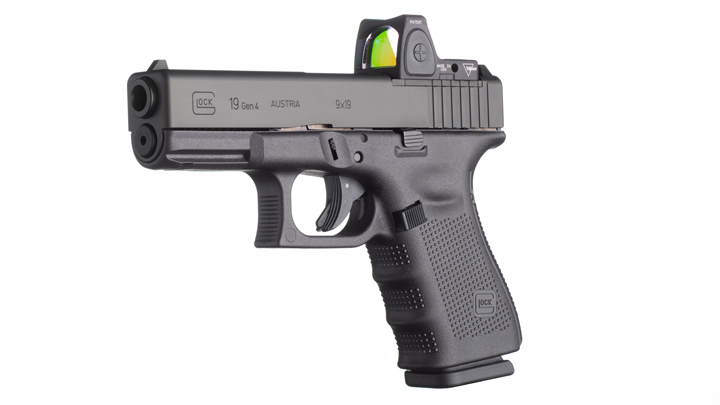 Gaston Glock's pistol design has nothing left to prove, but somehow Glock guns just keep getting better. Not surprisingly, Glock was one of the first major pistol manufacturers to add an optics-ready gun to their standard catalog. The Glock G19 Gen 4 and Gen 5 MOS guns are a great option for anyone considering a red dot-ready pistol. G19s have become the archetypical compact 9 mm, and the gun's specs—a 4.02-inch barrel, 23.8 ounce unloaded weight, and 15 round capacity—are standard for other striker-fired 9 mms in this class. With a reflex sight the G19 is an even more versatile gun that'll shoot accurately and run a wide range of loads. There's a reason these guns sell so well year in and year out. MSRP: $745.
SCCY CPX-1/2 RD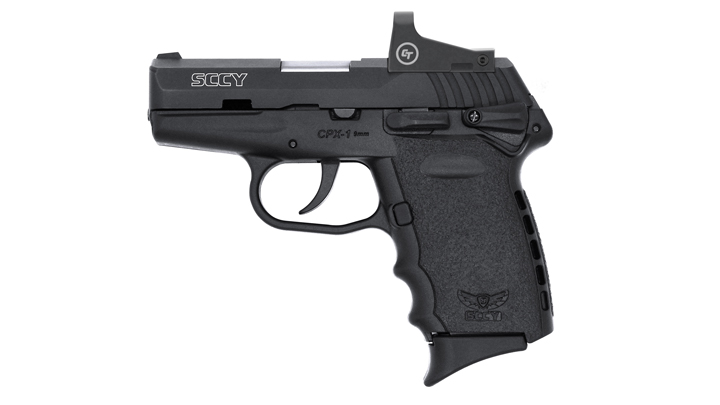 Think you can't afford an optics ready pistol? Think again. SCCY's CPX-1/2 RD (Red Dot) comes with as a package gun with a Crimson Trace red dot reflex optic installed for as little as $339. The SCCY CPX is available with a manual safety (CPX-1) or without (CPX-2) and these DAO guns have a long but smooth trigger pull. The CPX RD's slide is steel and the frame aluminum, and that gives this 9 mm an unloaded weight of just 17.5 ounces. CPX RD pistols have a 3.1-inch barrel and are easy to conceal, and they offer a 10-round capacity. MSRP: $339-$349.
Smith & Wesson M&P9 M2.0 4-inch Compact OR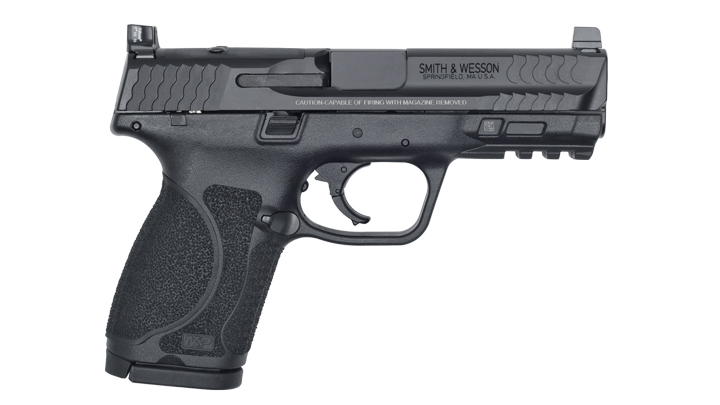 The
M&P9 M2.0 4-inch Compact OR
is a new model, but Smith & Wesson has been perfecting their M&P9 pistols for 15 years—and it shows. With four easy-to-change backstraps, seven optic bases, and two 15-round magazines the M&P9 M2.0 4-inch Compact OR offers a lot of bang for the buck. The grip texture and angle, trigger, fit, and accuracy of this 4-inch gun are all class-leading, and the OR version comes with extended white dot sights that co-witness with your optic. The Armornite finish stands up to sweat, moisture, and the other abuses of daily carry. The Smith & Wesson is a well-rounded pistol that easily earns a place on the list of top OR 9mms. MSRP: $616.