With the explosive popularity of AR-15 rifles over the last decade, AR owners have also migrated toward a certain style of optic to top their do-it-all rifles. LPVO (Low Power Variable Optics) have been popular options with the MSR crowd, thanks to added versatility and ability of the optic to stretch across all engagement ranges typically encountered with AR-15s used for competition, hunting or even home defense. For 2018, six new LPVO optics have entered the market. See which one is right for your rifle here:
---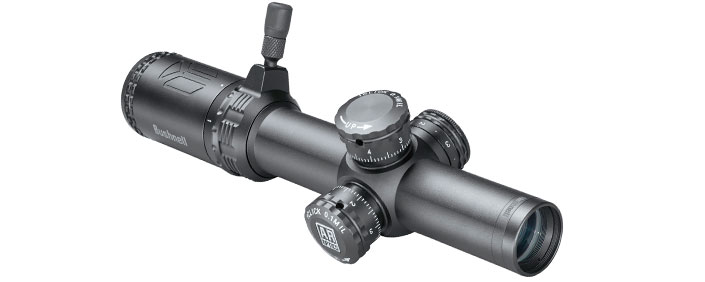 Bushnell | AR Optics 1-4x24 mm
Built for the modern sporting rifle, Bushnell AR Optics riflescopes have a number of built-in features designed to enhance rapid-target acquisition. Caliber-specific reticles ensure users are on-target at multiple distance points, and a throw-lever located on the magnification ring provides quick adjustments. The 1-4X models are built on a 30 mm tube and feature an illuminated reticle for use in low-light conditions.
Magnification: 1-4X
Objective Lens Diameter: 24 mm
Reticle: BTR-300 BLK; BTR-2; DZ 223 (illuminated)
Length: 9.4 inches
Weight: 18 ounces
MSRP: $434.95
(800) 423-3537; bushnell.com
---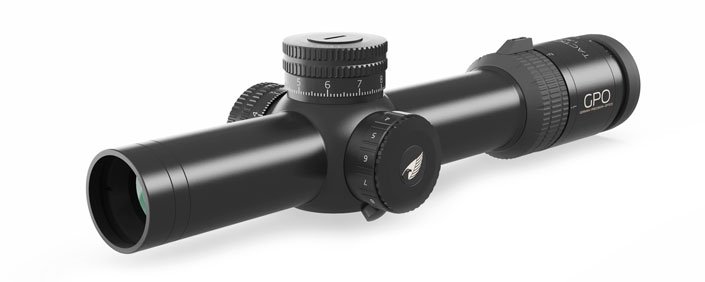 GPO | GPOTAC 1-6x24i
The GPOTAC 1-6x24i is German Precision Optics' newly scaled-down version of the larger GPOTAC 1-8x24i. With a slimmer tube, a lighter footprint and a slightly shorter profile, the GPOTAC 1-6x24i provides a platform ideal for short- to medium-range targets. Much like its larger sibling, it comes with a first-focal-plane horseshoe reticle, the company's iCONTROL fiber-optic illumination and lockable adjustment turrets.
Magnification: 1-6X
Objective Lens Diameter: 24 mm
Reticle: Illuminated horseshoe
Length: 10.6 inches
Weight: 19.8 ounces
MSRP: $1,888.88
(844) 692-4667; gpo-usa.com
---


Leupold | VX-Freedom 1.5-4x20 mm
A scope with a gold ring for under $300? Leupold released the VX-Freedom series of riflescopes at SHOT earlier this year, with the same lifetime guarantee and ruggedness standards as the remainder of the Leupold line. This variant fits easily in the low-variable-power optic category popular for home defense and 3-gun-type pursuits.
Magnification: 1.5-4X
Objective Lens Diameter: 20 mm
Reticle: Duplex
Length: 9.35 inches
Weight: 9.6 ounces
MSRP: $259.99
(800) 538-7653; leupold.com
---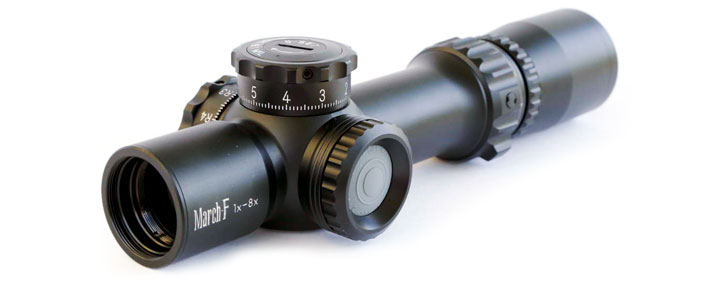 March | 1-8x24 mm Shorty FFP
The new "Shorty" is March's most recent foray into the tactical market. The hand-assembled scope uses a first-focal-plane reticle and a true 1X setting that permits use with both eyes open. Meanwhile, the diopter-adjustable eyepiece brings excellent, easy-to-obtain focus to the image in the scope. Both reticle options are illuminated, and come in a package lighter and shorter than most 1-8X optics.
Magnification: 1-8X
Objective Lens Diameter: 24 mm
Reticle: FMC-1 (illuminated); FMC-2 (illuminated)
Length: 8.4 inches
Weight: 17.1 ounces
MSRP: $2,700
(360) 733-5351; marchoptics.com
---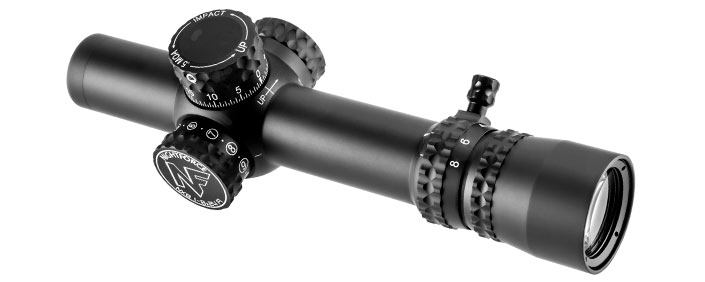 Nightforce | NX8 1-8x24 mm
Not only is Nightforce's NX8 1-8x24 mm scope new for 2018, the entire NX8 family is a new addition to the company's lineup. With a true 1X setting and rapid adjustment to 8X, the NX8 is capable of close-up work as well as long(er) range target acquisition and engagement.
Magnification: 1-8X
Objective Lens Diameter: 24 mm
Reticle: FC-MOA; FC-MIL
Length: 8.75 inches
Weight: 17 ounces
MSRP: $1,750
(208) 476-9814; nightforceoptics.com
---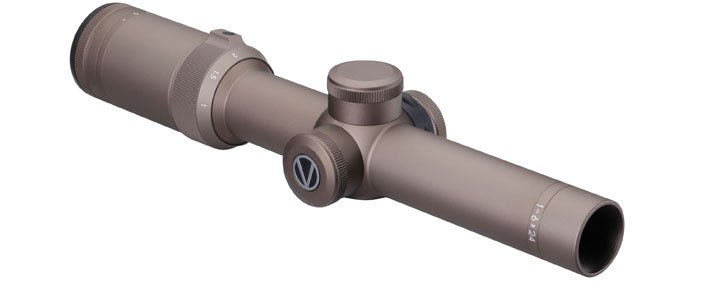 Vixen Performance Optics | VX82031
Looking for CQB-based features? The Vixen Performance Optics VX82031 is worth a gander. Its 30 mm tube sports low-profile, finger-adjustable turrets with return-to-zero capability. The company's Zero Plus reticle includes an illuminated micro dot that makes for quick and accurate target acquisition at close to intermediate ranges.
Magnification: 1-6X
Objective Lens Diameter: 24 mm
Reticle: Zero Plus
Length: 10.9 inches
Weight: 14.8 ounces
MSRP: $1,359.99
(817) 783-6001; sunopticsusa.com