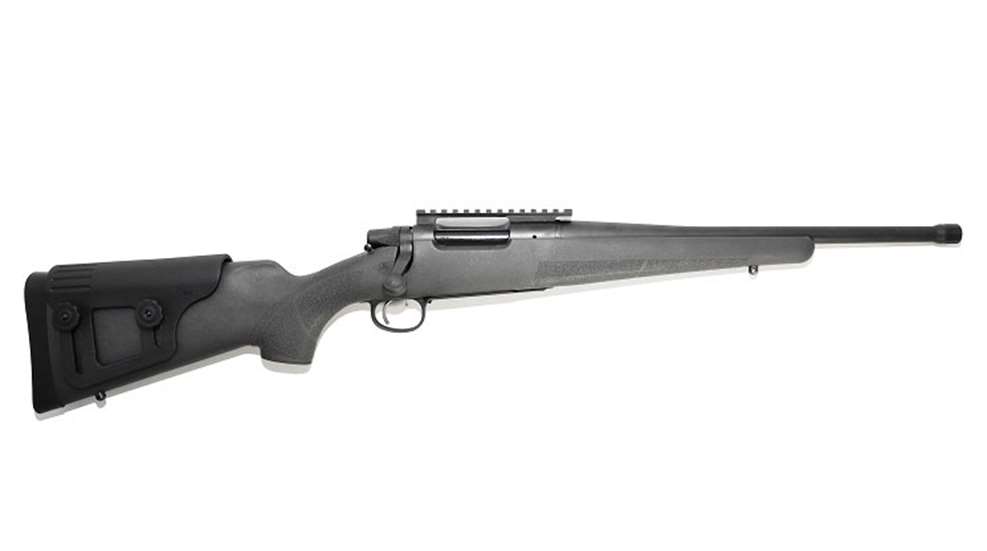 The ideal sniper weapon system has both supersonic and subsonic ammunition capabilities to cover the widest possible range of mission profiles. Additional sound reduction provided by subsonic ammo usually comes at a cost to both range and accuracy due to variables like unused case capacity, minor temperature variations, suppressor type and ammo quality. I liken this precision work to extreme long-range shooting because in either discipline, the minutest errors are magnified exponentially as ranges increase.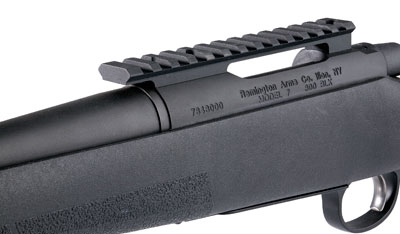 Thankfully, these tools are not limited to military and law enforcement shooters—at least not in most states. Initially driven by military requirements, the commercial development of suppressed systems and the ammunition that feeds them is now helped along by the surge in civilian interest in silencers. A handful of companies have done yeoman's work in bringing relative products to the market, so we can all pursue our shooting endeavors as quietly as possible. The 300 AAC Model 7 Blackout Rifle from Advanced Armament Corporation (AAC) is an example of this concept in action.
Chambered in .300 AAC Blackout and built by Remington to AAC's specifications, this handy little carbine is tailor-made for use in tight confines or restrictive terrain. The .300 AAC Blackout cartridge is not new. Rather, it is the SAAMI-approved version of the venerable .300 Whisper developed by J.D. Jones of SSK Industries in 1992.
The U.S. military showed interest in the .300 Whisper as early as 1994. Jones intended it to be a multi-purpose cartridge for multiple firearms and uses, including metallic-silhouette shooting, clandestine service, herd culling and hunting. In both supersonic and subsonic loads, the Whisper has seen distinguished military and law enforcement service in places that will never be written about.
The .300 AAC Blackout's development initially focused more heavily on supersonic function in 5.56 NATO-size ARs. Remington successfully guided it through the SAAMI acceptance process, while AAC brought it to the marketplace. The scaled-down Model 7 was a natural bolt-action evolution for the stubby cartridge, and can handle both the Blackout and Whisper.
Textured grip surfaces on the rifle's synthetic black stock provide added purchase, and a thick rubber recoil pad makes the already benign recoil seem nonexistent. The short action is not bedded, nor is the barrel free-floated. The fore-end employs Remington's usual stock/barrel pressure pads. These bumps impinge the bottom of the barrel with positive, consistent pressure in hopes of negating the effects of varying external pressures against the fore-end. My experience has shown the pressure pads are worthless. Were the test gun mine, I would immediately grind down the tabs, channel and free-float the barrel, set pillars and glass bed the action. Actually, I would replace the stock with a better one because I am lazy.
The fully encircled Remington bolt face employs the standard 700-series ring extractor and spring-loaded ejector plunger. A hinged floorplate allows quick unloading of any unfired cartridges from the six-round internal magazine. The .300 AAC Blackout cartridge's short overall length necessitates a built-in spacer at the rear of the magazine to keep rounds seated forward.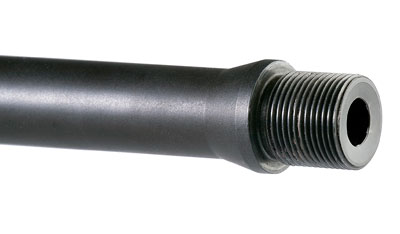 This Model 7 includes a one-piece, 20-MOA-sloped Picatinny rail. The corresponding No. 8-40 Torx screws on my test rifle were loose right out of the box; this is an area worth checking on any new gun. The 16-inch barrel is turned to a very light contour and the muzzle threaded 5⁄8-24 to allow direct mounting of a suppressor or standard .30-caliber muzzle brake, flash hider or QD suppressor mount. I mounted an AAC Blackout 51T brake on the sample gun so I could test the rifle with an AAC 762-SDN-6 QD suppressor. While current production guns use 5R rifling, my loaner had an older six-groove barrel. The 1:7-inch twist rate is ideal for heavier projectile weights used in subsonic .30-caliber loads.
I liked AAC's choice of an adjustable trigger for this gun, but my test sample was stuck on the factory 3.5-pound setting. Fortunately, the trigger broke cleanly and did not hamper my shooting. A plastic cheekpiece can be raised to adjust comb height through loosening of two reversible thumbscrews. In spite of the impressive comb height the rest provides, the short bolt can still be removed for maintenance without lowering the cheekpiece.
Despite the Model 7's good features, range performance was mediocre. Spent shell ejection was the first problem I encountered. The only way to eject empties was to cycle the bolt slowly—painfully slow—and then only about half cleared the ejection port. The rest of the time, they had to be plucked out by hand or dumped sideways. Rapid cycling yielded worse results. The ejector plunger was well lubed and appeared in good working order, so the cause likely lies with a weak extractor. The casings appear to come off the bolt early, meaning the ejector never gets a chance to send them flying.
Cycling the bolt also proved frustrating. I pre-lubed it using high-temperature grease on the rear of the locking lugs and sear-engagement surfaces, but it hung up at different points of the throw as if it were made of unpolished quartz. The problem disappeared once I liberally coated the entire bolt body with Frog Lube.
I tested four different loads for accuracy: two supersonic .300 AAC Blackout offerings, a supersonic .300 Whisper load and a subsonic .300 AAC Blackout product. The rifle definitely preferred the suppressor mounted. Accuracy was nothing to brag about, but I suspect a better stock-bedding system would vastly improve performance. Only one five-round group of the 25 I fired measured less than 1 MOA at100 yards. Sound reduction with the subsonic/suppressed load was excellent, and that load also proved the most accurate overall, which was a surprise. Comparedto 7.62x39 mm loads fired from a comparable barrel, the .300 AAC Blackout has a slight advantage.
Light weight and easy portability make the Model 7 a good specialty tool. It is particularly well-suited to hunting or predator-control needs where both supersonic and subsonic factory loads are desired. While it will not provide sniper-level accuracy, this compact turnbolt system is well equipped to handle most shooting endeavors quietly.
Specifications
Manufacturer: Advanced Armament Corp.; (770) 925-998
Action Type: Bolt-action rifle
Caliber: .300 AAC Blackout
Capacity: 6 rounds
Barrel: 16 inches; light contour, nitrided surface and bore
Rifling: 6 grooves, 1:7-inch RH twist
Sights: None; 20-MOA one-piece Picatinny rail
Trigger: Single-stage, adjustable; 3.5-pound pull weight
Stock: Synthetic; adjustable cheekpiece
Length: 34.5 inches without suppressor; 41.3 inches with AAC 762-SDN-6 suppressor (sold separately)
Weight: 6 pounds
Accessories: Thread protector, chamber flag, manual
MSRP: $899
Shooting Results
| | | | | |
| --- | --- | --- | --- | --- |
|   | Velocity |   | Group Size |   |
| .300 AAC Blackout |   | Smallest | Largest | Average |
| Remington 115-grain CTFB (SP/US) | 2,313 | 2.6 | 4.2 | 3.2 |
| Remington 125-grain Accutip (SP/US) | 2,348 | 1.8 | 3 | 2.3 |
| Remington 220-grain HPBT (SB/S) | 1,036 | 1.1 | 1.7 | 1.3 |
| .300 Whisper |   |   |   |   |
| Hornady 110-grain V-Max (SP/US) | 2,410 | 1.3 | 1.7 | 1.6 |
| Hornady 110-grain V-Max (SP/S) | 2,436 | .9 | 2 | 1.5 |

Velocity measured in fps for 10 consecutive shots with an Oehler Model 35P chronograph. Temperature: 50 degrees Fahrenheit. Accuracy measured in inches for five consecutive, five-shot groups at 100 yards from a bag-supported prone position. SP: supersonic; SB: subsonic; US: unsuppressed; S: suppressed.