Support NRA Shooting Illustrated
DONATE
The world of optics is ever-expanding, with new innovative products coming to market every week. From red dots to low power zooms to the latest and greatest electronic aiming system, the list of new products goes on and on. However, when you say "optic on firearm," most people will think of the long-range scope set on a quality, well-built rifle. Fortunately for all us, that segment of the market is more alive and vibrant than ever before. Here's what's new in rifle optics for 2023.
---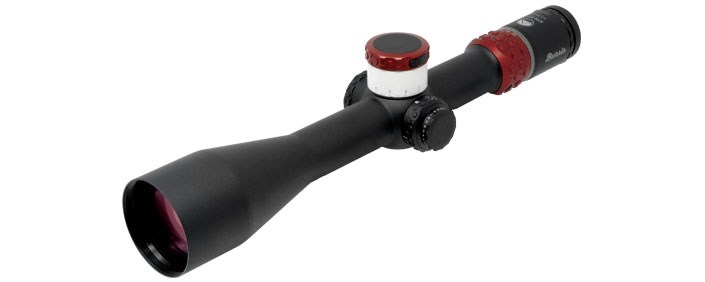 Burris | XTR PRO Model 20212
Featuring an illuminated red or green SCR 2 MIL reticle, the Burris XTR Pro promises to elevate your long-distance-shooting game. It utilizes a larger 63.5 mm objective lens, boasts premium ED glass, improved anti-reflective lens coatings and up to 29 mils of elevation adjustment.
Magnification: 5.5-30X
Objective Lens Diameter: 63.5 mm
Reticle: SCR 2 MIL
Length: 15.4 inches
Weight: 30.6 ounces
MSRP: $2,640
(888) 440-0244 burrisoptics.com
---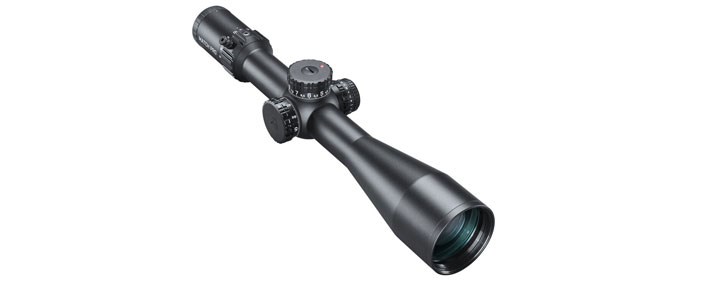 Bushnell | Match Pro ED 5-30x56
This evolution of the Match Pro riflescope includes a 6X magnification range, a larger objective lens and ED glass coated with Bushnell's proprietary EXO Barrier for added protection against the elements. It sports the company's Easy Stop zero stop for easier adjustments in the field, and has an illuminated, auto-off, first-focal-plane, etched-glass reticle with 30 mils (103 MOA) of elevation range.
Magnification: 5-30X
Objective Lens Diameter: 56 mm
Reticle: Illuminated Deploy MIL 2
Length: 15.4 inches
Weight: 31.3 ounces
MSRP: $700
(402) 437-6404; bushnell.com
---



Hi-Lux | CMR8 1-8x24 LPVO
True 1X magnification at the low end combined with an 8X magnification range make the CMR8 a great choice for a carbine optic. Its second-focal-plane, Fiber Dot BDC reticle uses fiber optics to illuminate the center dot and has holdover marks out to 600 yards at 8X. The 30 mm main tube provides added durability, too.
Magnification: 1-8X
Objective Lens Diameter: 24 mm
Reticle: Fiber Dot BDC
Length: 10.2 inches
Weight: 18 ounces
MSRP: $399
(310) 257-8142; hi-luxoptics.com
---



Kahles | K525i 5-25x56 DLR
The K525i 5-25x56 DLR is optimized for the fast nature of long-range shooting competitions. The scope features extended field-of-view, positive adjustment clicks, an extra-long throw lever and a side-focus parallax adjustment. There is also extra-large turret lettering for easy and fast reading, and it has a precise, illuminated SKMR4 reticle that's located on the first focal plane.
Magnification: 5-25X
Objective Lens Diameter: 56 mm
Reticle: SKMR4, SKMR
Length: 14.8 inches
Weight: 35.1 ounces
MSRP: $4,277
(800) 426-3089; kahles.at
---



Leupold | Mark 5HD 2-10x30mm
Practically indestructible and featuring magnification perfect for a variety of applications, Leupold's latest addition to the Mark 5HD line offers a three-turn elevation dial with 30 mil-adjustment range, first-focal-plane reticle, zero-stop system to ensure a return to zero setting, a locking dial and compatibility with custom turrets.
Magnification: 2-10X
Objective Lens Diameter: 30 mm
Reticle: TMR, Illuminated TMR and PR1-MOA
Length: 11.2 inches
Weight: 24 ounces
MSRP: $2,000 to $2,500
(800) 538-7653; leupold.com
---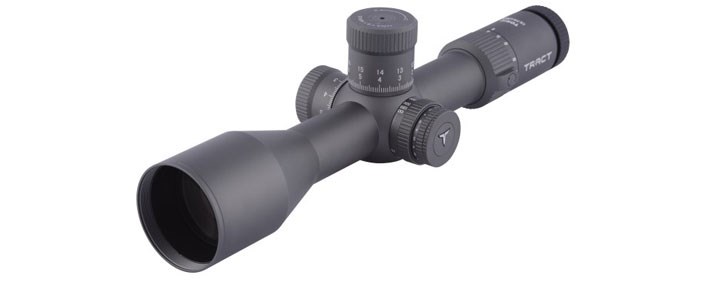 Tract | TORIC 4-25x50 34 mm MRAD ELR FFP
With an industry-leading 47 mils of elevation adjustment for its glass-etched, illuminated MRAD reticle, this scope allows the shooter to dial in at ranges far beyond what was thought possible just a few years ago. It also boasts Tract's Ultra High Definition optical system that utilizes Schott HT glass.
Magnification: 4-25X
Objective Lens Diameter: 50 mm
Reticle: Illuminated MRAD ELR
Length: 13.5 inches
Weight: 39 ounces
MSRP: $1,494
(631) 662-7354 tractoptics.com