by
Shooting Illustrated Staff
posted on August 12, 2020
Support NRA Shooting Illustrated
DONATE
Lots of folks just bought new firearms during both the COVID-19 pandemic and recent riotous social unrest. Many of those guns need (or at least should have) an optic mounted, including carbines. No matter your budget, we've got a newly introduced carbine red dot optic to fit your needs. 
---
Aimpoint | CompM5b

Like most Aimpoint optics, the CompM5b offers ridiculous battery life (5 years off of one AAA battery), but it also provides the ability to make quick adjustments for ballistic trajectory and wind drift thanks to its customizable, interchangeable turrets.
Magnification:
1X
Objective Lens Diameter:
18 mm
Reticle:
2-MOA red dot
Length:
3.3 inches
Weight:
6.3 ounces
MSRP:
$1,124
(703) 263-9795; aimpoint.us
---

Axeon | MDSR1
Boasting a 30,000-hour battery life on a single CR2032 battery, auto-shut off and built-in base designed to co-witness with iron sights, the MDSR1 is feature-rich without adding tremendous cost. 

Magnification: 1X
Objective Lens Diameter: 20 mm
Reticle: 2-MOA red dot
Length: 2.68 inches
Weight: 4 ounces
MSRP: $129.99
(479) 646-4210; axeonoptics.com
---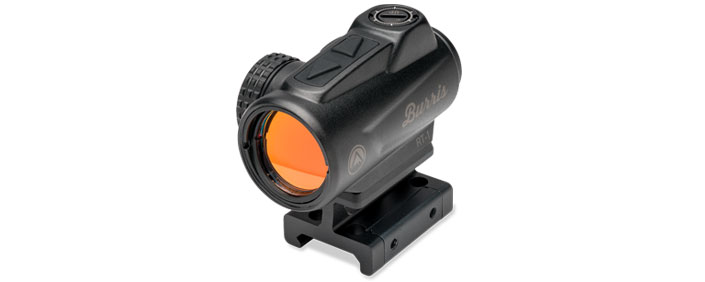 Burris | RT-1
Whether for defensive use or competitive shooting, the Burris RT-1 delivers speed and accuracy, thanks to beneficial features such as true 1X magnification, a 2-MOA dot, multi-coated lenses and nine brightness settings—including two ultra-bright and two night-vision compatible options.

Magnification: 1X
Objective Lens Diameter: 33.8 mm
Reticle: 2-MOA dot
Length: 3.5 inches
Weight: 8.8 ounces
MSRP: $299
(888) 440-0244; burrisoptics.com
---

Holosun |
510c/HM3X
Offering a 2-MOA red dot with a 3X magnifier in one SKU, Holosun's combo package features a flip-to-the-side magnifier and open-style reflex sight with up to 50,000 hours of run time.
Magnification:
3X
Objective Lens Dimensions:
23.1x32 mm 
Reticle:
2-MOA dot; 65-MOA circle; or 2-MOA dot with 65-MOA circle
Length:
3.3 inches (510c); 4.03 inches (HM3X)
Weight:
17.6 ounces 
MSRP:
$588.41
(909) 594-2888; holosun.com
---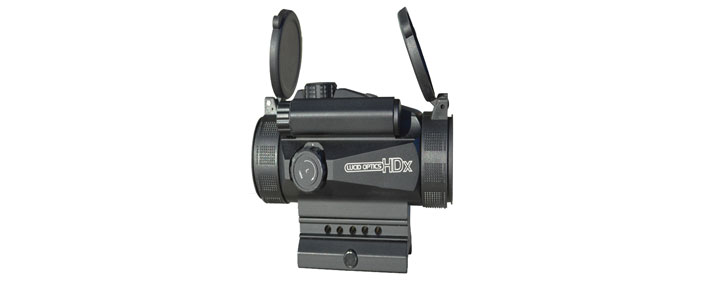 Lucid | HDx
If you're looking for a do-it-all red dot that's water- and shock-resistant (rated for use with calibers up to .458 SOCOM), the Lucid HDx is a mid-size, red-dot sight that's affordable and rugged.

Magnification: 1X
Objective Lens Diameter: 32 mm
Reticle: 3-MOA red dot
Length: 4.35 inches
Weight: 10 ounces
MSRP: $299
(307) 463-2633; lucidoptics.com
---

Primary Arms | SLx MD-25
Smaller than a standard red-dot, yet offering the same field-of-view, rugged construction and 50,000 hours of battery life, the latest in the SLx series is a great choice for a carbine optic at an affordable price.

Magnification: 1X
Objective Lens Diameter: 25 mm
Reticle: 2-MOA red dot
Length: 3 inches
Weight: 6.5 ounces
MSRP: $169.99
(855) 774-2767; primaryarms.com
---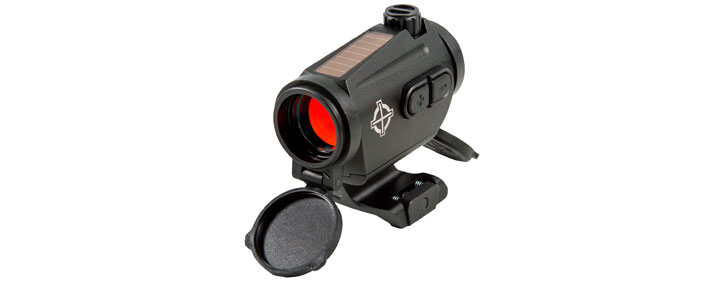 Sightmark | Element
Featuring solar power that extends battery life to an astounding 200,000 hours, the Element mini-red-dot sight comes with lens caps and two mounts, one for shotguns and one for carbines.

Magnification: 1X
Objective Lens Diameter: 22 mm
Reticle: 3-MOA red dot
Length: 2.96 inches
Weight: 5.5 ounces
MSRP: $239.99
(817) 225-0310; sightmark.com
---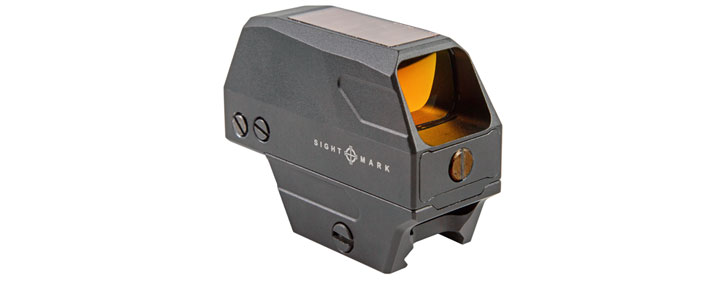 Sightmark | Volta
There's a lot of cool tech crammed into the Volta red-dot sight, between the automatic brightness-detection system and the ability to use solar power alone or as a backup, all for less than $400.

Magnification: 1X
Objective Lens Diameter: 28 mm
Reticle: 2-MOA red dot
Length: 3.23 inches
Weight: 7.3 ounces
MSRP: $359.99
(817) 225-0310; sightmark.com
---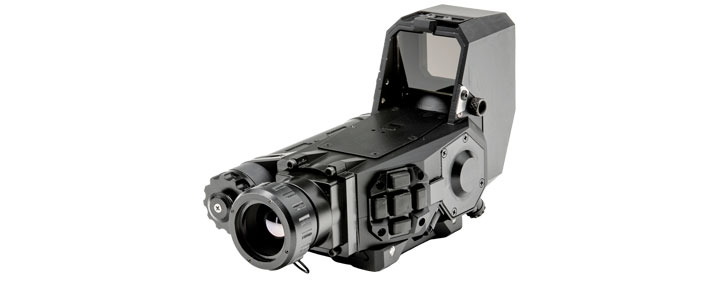 Steiner | CQT
Combining advanced thermal imaging with a red-dot sight for rapid target acquisition, the Steiner CQT is an innovative optic that overlays imagery in a choice of three thermal modes onto the sight window—seamlessly transitioning from daylight to total darkness.

Magnification: 1X
Objective Lens Diameter: 32x23 mm
Reticle: 2.5-MOA red dot
Length: 5.2 inches
Weight: 13.7 ounces
MSRP: Starting at $12,000
(888) 550-6255; steiner-optics.com
---