Support NRA Shooting Illustrated
DONATE
Rewind the clock thirty years, and a optically sighted rifle was a rare thing indeed. However, the shrinking cost of producing rugged reliabile electronics and the availability of high-quality optical glass means that a quality optic is within just about everybody's price range. Add in the flat-top A2 upper receiver and the standardization of the Picatinny mount, and all of a sudden adding a optical sight to your rifle makes a lot of sense, for not a lot of cents.
---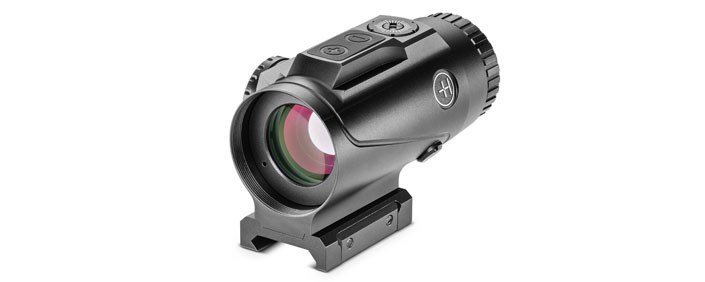 Hawke | 4x24 Prism Sight
With a glass-etched, bullet-drop-compensating reticle, auto-on and auto-off capability, an anti-reflection lens cover and two mounts, this versatile dot sight is a tremendous value. The BDC reticle sports an illuminated half-circle and center-dot along with hashmarks in 100-yard increments out to 600 yards.
Magnification: 4X
Objective Lens Diameter: 24 mm
Reticle: 5.56 BDC Dot
Length: 3.7 inches
Weight: 7.8 ounces
MSRP: $389
(877) 429-5347; hawkeoptics.com
---


Holosun Technologies | SCRS
Holosun's Solar Charging Rifle Sight brings the company's self-charging technology to long guns. The SCRS has multi-directional light sensors to automatically adjust dot brightness. The unit is fabricated from 7075 aluminum and includes a lower-third co-witness, 1.63-inch mount.
Magnification: 1X
Objective Lens Diameter: .86 inches
Reticle: Green or red Multi-Reticle System (MRS), 65-MOA circle and 2-MOA dot
Length: 1.7 inches
Weight: 2.45 ounces
MSRP: $353
(909) 594-2888; holosun.com
---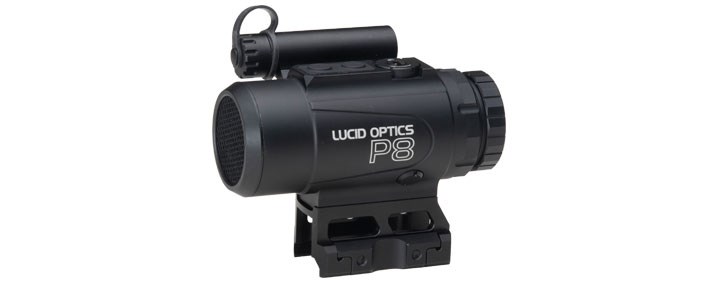 Lucid | P8
The P8 is built around the latest developments in asymmetric lenses, polymer materials and ED glass and teams that up with high-end, phase-corrected, silver-coated prisms, resulting in a clear and powerful optic that punches above its weight. It has an illuminated reticle with sighting wedges as well as a precise center dot.
Magnification: 4X
Objective Lens Diameter: 24 mm
Reticle: P7
Length: 3.4 inches
Weight: 8.4 ounces
MSRP: $599
(307) 463-2633; lucidoptics.com
---


Meprolight | Tru-Vision
This mil-spec, ultra-durable dot sight takes up minimal space on a rail while maintaining a comfortable and quickly acquired sight picture. A built-in sensor allows for automatic brightness control, and the non-reflective viewing window ensures a clear view of the reticle. The dot is also invisible from the objective lens, making it ideal for nighttime use—as do the four night-vision reticle-brightness settings.
Magnification: 1X
Viewing Window Dimensions: 29x20 mm
Reticle: 2-MOA red dot
Length: 2.8 inches
Weight: 10 ounces
MSRP: $530
(717) 985-4488; meprolight.com
---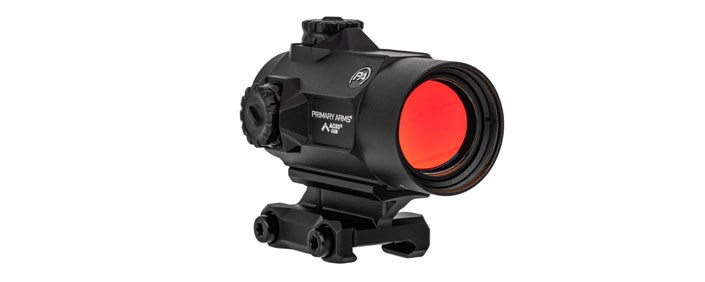 Primary Arms | SLx MD-25 Gen 2 w/ACSS
This multi-use red-dot sight boasts 10,000 to 25,000 hours of battery life. It also sports Primary Arms' ACSS CQB reticle that features BDC marks out to 600 yards for 5.56 NATO or 7.62 NATO ammunition. The CQB horseshoe in the reticle approximates the spread pattern of 00 buckshot at 25 yards, making it ideal for use on a home-defense shotgun, too.
Magnification: 1X
Objective Lens Diameter: 25 mm
Reticle: ACSS CQB
Length: 3 inches
Weight: 6.5 ounces
MSRP: $200
(713) 344-9600; primaryarms.com
---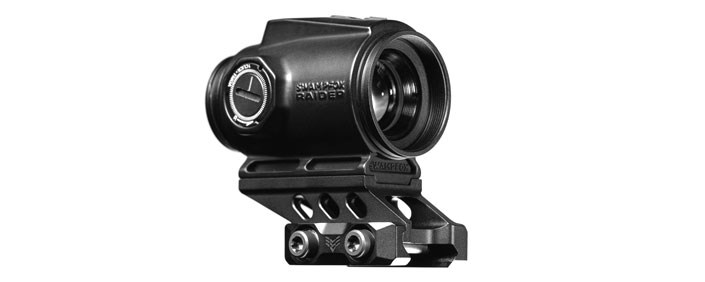 Swampfox | Raider Micro Prism
While most consider a red-dot optic ideal for CQB, the Raider offers welcome versatility in the form of a Bullet Rise Compensation (BRC) reticle, which contains a central stadia line that subtends to either a 50- or 200-yard zero—allowing focus on close-range targets while providing for accuracy at extended ranges.
Magnification: 1X
Objective Lens Diameter: 20 mm
Reticle: BRC red or green 6-MOA dot
Length: 2.91 inches
Weight: 7.7 ounces
MSRP: $279
(720) 389-6719; swampfoxoptics.com