by
Shooting Illustrated Staff
posted on May 8, 2017
Support NRA Shooting Illustrated
DONATE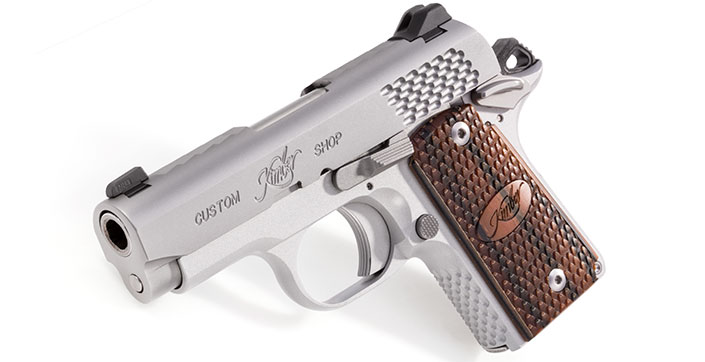 Handgun of the Year

Kimber Micro 9 Raptor
As if creating a 1911-inspired, single-action pocket pistol wasn't a daunting enough challenge, Kimber called with the Micro 380, then raised with the Micro 9. Sized similarly to pocket .380 ACPs, the Micro 9 was nevertheless chambered for the hotter 9 mm, a cartridge enjoying renewed respect with its adoption by the FBI. Kimber's Custom Shop upped the ante still further with the aesthetic yet practical enhancements of the Raptor version. Concealable, powerful and comfortable, with a light, consistent trigger pull and a manual-of-arms nearly identical to the 1911, the Micro 9 Raptor isn't bluffing.

"…the Micro 9—and the Raptor in particular—may fit the bill as a carry gun as well or better than the medium-to-large pistol you leave at home half the time." 
—Daniel T. McElrath, Managing Editor
Winning Features
• Steel, three-dot sights dovetailed into the slide
• Frame-mounted thumb safety
• Zebrawood grip panels
• Pivoting, single-action trigger

Caliber: 9 mm
Capacity: 6 +1 rounds
Barrel Length: 3.15 inches
Overall Length: 6.1 inches
Weight: 15.6 ounces
MSRP: $889
Kimber America; (888) 243-4522, kimberamerica.com
---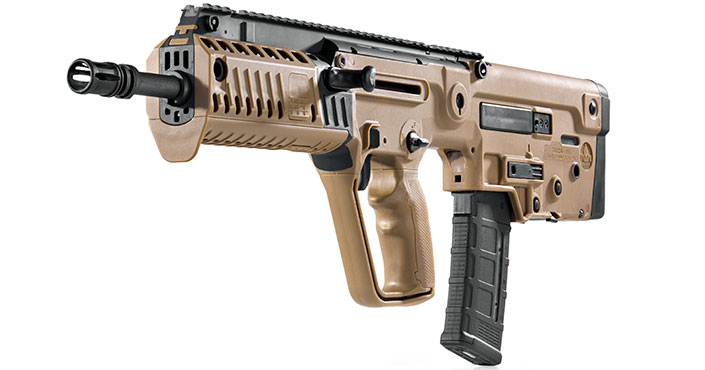 Rifle of the Year

IWI US Tavor X95
When a platform has already won a plethora of awards, how does a modified version qualify for yet another? When it includes a host of changes that make it far more user-friendly and capable. Such is the case with the Tavor X95, which builds upon its much-heralded big brother with upgrades like a relocated magazine release, a more-easily reached charging handle, an improved fore-end and an interchangeable pistol grip. By listening to its customers—both military and civilian—IWI made what was the most-popular bullpup on the market even better, and even more likely to attract previously skeptical shooters. As it stands, the bullpup X95 may be the ultimate CQB rifle thanks to its diminutive size, 5.56 NATO chambering and ergonomic advantages.

"For anyone looking for an ergonomically superior version of the Tavor, the X95 is most definitely The Answer…it is more than accurate enough for home protection, and in that role, it may be The Answer we've all been looking for." 
—Ed Friedman, Editor-in-Chief
Winning Features
• Interchangeable grip
• Integral rail covers on fore-end
• Built-in folding iron sights
• Ergonomic magazine release

Caliber: 5.56 NATO
Capacity: 30 rounds
Barrel Length: 16.5 inches
Overall Length: 26.13 inches
Weight: 7 pounds, 14 ounces
MSRP: $1,999
IWI US; (717) 695-2081, iwi.us
---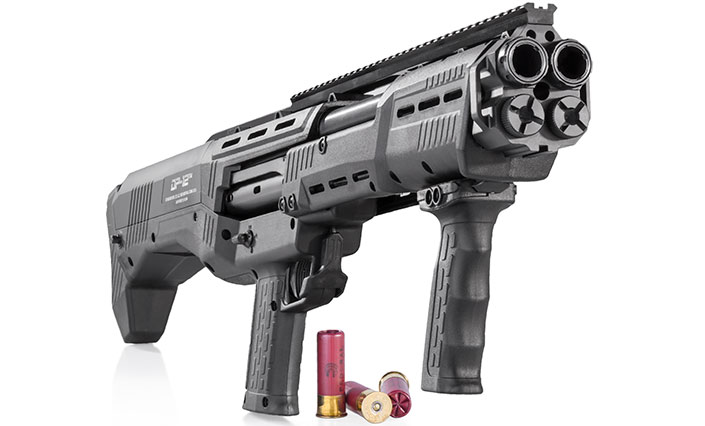 Shotgun of the Year

Standard Manufacturing DP-12
Capacity—both what's in the gun and how quickly it can be reloaded—has always been the bane of the shotgun as a defensive arm. With a typical pump-action shotgun, anywhere from 5 to 9 rounds are commonly available, and the latter only in extended-tube, defensive-oriented variants. Reloading a shotgun is a time-consuming, precise feat that requires a significant amount of practice to master, leading some to consider other forms of protection. With the 14-round-capacity Standard Manufacturing DP-12, though, reloading becomes much less of a concern. The unique combination of a double barrel—you know you've got two shots for certain—coupled with the generous mag-tube capacity (plus two more in the chambers) in a slick, pump-action platform means the DP-12 should be able to handle any threat, without needing that pesky reload.

"The DP-12 works reliably, provides a considerable amount of firepower and (in the words of a co-worker) looks like it means business." 
—Jay Grazio, Associate Editor
Winning Features
• Bottom-ejection means empty hulls don't get in the way for lefties
• Sixteen rounds of 12-gauge power on tap
• Uses Tru-Choke-pattern chokes with custom variants available
• Two-at-a-time reloading gets you back in the fight faster

Gauge: 12; 3-inch chamber
Capacity: 14 rounds
Barrel Length: 18.9 inches
Overall Length: 29.5 inches
Weight: 9 pounds, 12 ounces
MSRP: $1,395
Standard Manufacturing Co.; (860) 225-6581, stdgun.com
---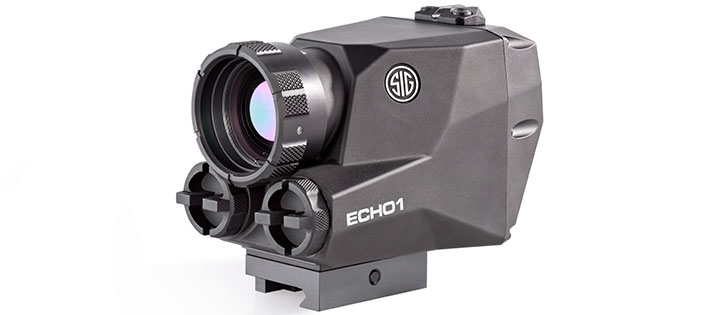 Optic of the Year

SIG Sauer Echo 1 Digital Thermal Imaging Reflex Sight
SIG Sauer is a relative newcomer to the optics world, but its Electro-Optics division created a revolutionary firearm-mounted, direct-view digital optic—the Echo 1 Thermal Reflex Sight. By making a thermal sight significantly less expensive, SIG has changed the game. The Echo 1's intuitive on-screen menus are easy to toggle through using a single joystick controller mounted on the rear of the unit. Rapid target acquisition is aided by the lack of a traditional eyepiece, leaving the screen visible as soon as the firearm is shouldered. SIG includes a USB adapter, which allows the shooter to review and analyze pictures and videos taken while using the Echo 1. Included for emergency use is a top-mounted peep sight with a Romeo 1 adapter plate, allowing the user to mount one of SIG's micro red-dots atop the thermal. The Echo 1 allows for fast and intuitive target acquisition in low- or no-light conditions, making it a versatile optic for your home-defense carbine.

"…I do not recall ever having zeroed a rifle-mounted thermal sight that easily."
—Steve Adelmann, Rifle Editor

Winning Features
• Color LCD display for day/night time direct view targeting
• Sight that can take pictures in individual or burst modes
• Electronic zoom capability from 1X to 2X
• Five default reticles with the ability to design and upload custom versions

Magnification: 1-2X
Objective Diameter: 30 mm
Thermal Detection Range: 1,000 yards
Eye Relief: Unlimited
Length: 4.3 inches
Weight: 14.7 ounces
MSRP: $2,399.99
SIG Sauer; (603) 610-3000, sigsauer.com
---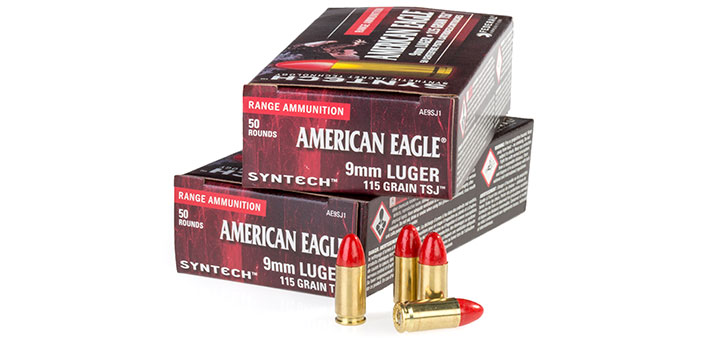 Ammunition Product of the Year

Federal American Eagle Syntech Ammunition
While the evolution of ammunition has historically focused on ways in which to improve accuracy and a projectile's terminal performance, the latest addition to Federal's American Eagle line addresses other concerns with the introduction of its Syntech ammunition. Unlike traditional FMJ projectiles, Syntech boasts a unique polymer coating that eliminates metal-on-metal contact in the barrel—resulting in less heat and friction. However, this ammo has more going for it than mere aesthetic appeal. The use of clean-burning propellants and lead-free primers provides hotter, more-reliable ignition, too, which contributes to a noticeable reduction in carbon fouling. The absence of a traditional metal jacket significantly lessens the likelihood of splashback when shooting steel targets at close range. Given all these benefits and its availability in three popular calibers, our decision to award Federal Syntech a Golden Bullseye was a ballistic no-brainer.

"The slick, red-polymer coating eliminates metal-on-metal contact in the barrel. The result is softer, smoother shooting and less friction, heat and barrel wear."
—Richard Mann, Ammo Editor
Winning Features
• Less perceived recoil
• Clean-burning propellants minimize residue and fouling
• Significantly reduces required cleaning frequency
• Absence of a copper jacket minimizes splashback on steel targets

Federal Premium Ammunition; (800) 379-1732, federalpremium.com
---
Accessory of the Year

SOB Tactical Puncher
Sometimes, an idea is so simple, you are shocked it took so long to become a physical product. That is certainly the case with the SOB Tactical Puncher, a defensive tool made entirely from G10 that's more than capable of stopping a criminal attack at bad-breath distances. Designed by former SOF sniper John "Shrek" McPhee to be the perfect EDC knife, the Puncher weighs a mere 1.2 ounces, yet boasts a sharp, 2.8-inch-long blade. It can be carried in a polymer sheath on the belt or around the neck, and best of all, SOB Tactical can laser-engrave most any design on the hilt or blade for those looking for a custom touch.

"The Puncher's G10 construction means that the blade is completely impervious to the elements... making it a handy option for a backup tool."
—Evan Brune, Assistant Editor Digital

Winning Features
• 100-percent G10 construction
• Easily concealed
• Intuitive striking grip
• Customizable engraving

MSRP: $59.99
SOB Tactical; (855) 556-4766, sobtactical.com
---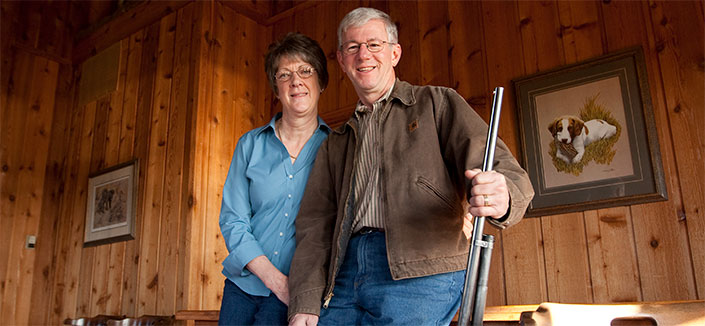 Pioneer Award

Larry and Brenda Potterfield
As co-founders of MidwayUSA, the Columbia, MO-based shooting sports supply house, Larry and Brenda Potterfield transformed a small brick-and-mortar shop into a retail giant of the firearm trade. Equally important to NRA members and to the cause of freedom, the husband-and-wife duo created new and inventive ways for firearm-industry businesses and private citizens to actively support NRA. Most prominent are two enduring and invaluable financial lifelines: 1) The NRA Round-Up Program, which provides shooting-equipment customers an opportunity to "round up" their purchases to the nearest dollar amount for donation to NRA-ILA. This began with a coin jar at the family's early retail gun shop, then was adapted to Midway mail-order transactions and eventually adopted by other companies. To date, Midway's Round-Up contributions come to about $13 million and total Round-Up contributions from all donors amount to more than $17 million.
2) At Larry's urging, and with a helping hand from Midway, the first Friends of NRA chapter was established in Columbia in 1992, and hosted the very first Friends auction event, setting the stage for a program that has held more than 20,300 events nationwide, reached more than 3.7 million attendees and raised more than $740 million for The NRA Foundation.

Their service to NRA is unparalleled, including Brenda's lengthy stint on the board of The NRA Foundation. They are charter members of the NRA's Ring of Freedom and hold the distinction of being charter members of the Charlton Heston Society—the Ring's ultimate honor.
"Steadfast defenders of our Second Amendment-protected freedoms, the Potterfields work tirelessly to encourage and counsel NRA efforts to elect gun-friendly office seekers."
—John Zent, Editorial Director