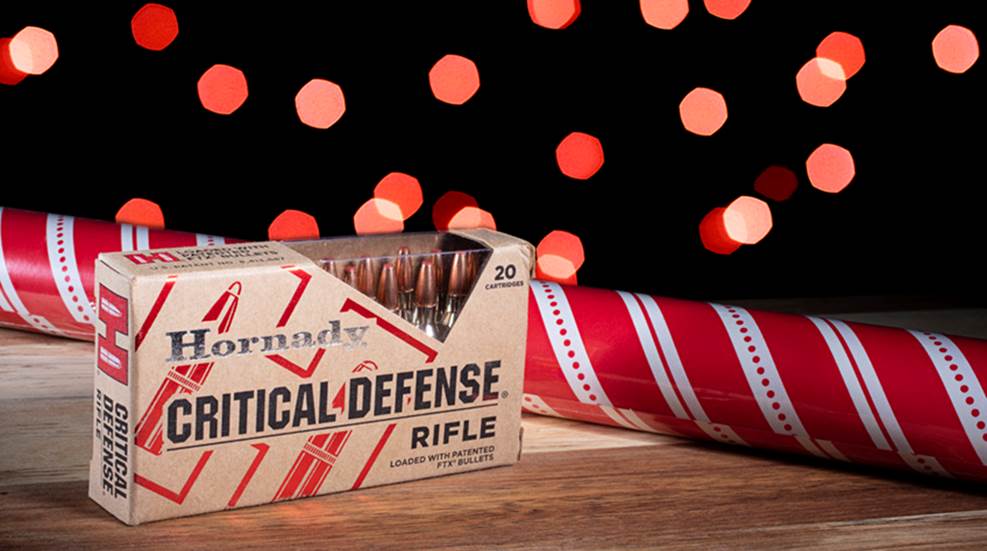 There's no shortage of special deals this holiday season, and if you're among the millions who'll hit the streets on Black Friday to spend some cash, here are some special deals on guns and gear to pile on the savings.

The list is growing every day, so savvy shoppers should keep their eyes and ears open and consult with their favorite FFL. Feel free to leave anything else you uncover in the comments below to help fellow enthusiasts. 

Ruger understands some of the best gifts are a surprise—something we didn't necessarily know we needed, but once that box opens it becomes a well-used and prized possession. In that spirit, the company is holding a 12-Days of Christmas event, unveiling different packages early in the morning. If the speed at which its PC Carbine Bundle sold out is any indication, you'd better mark your calendar and set your alarm, though.

Guns

Don't delay if a Smith & Wesson M&P9 Shield or M&P 380 Shield EZ is on your holiday shopping list. The company's $50 rebate promotion on select models of the popular carry handguns ends Dec. 8. Full details and limitations are here.

Here's another one to move on fast. Buy any new SCCY pistol before Nov. 30 and you could get $25 back.

Purchase a new FNH USA Five-seveN pistol and you may qualify to receive a free InForce APL Pistol Light valued at $175. Handguns included in the promotion are the black and flat dark earth models that come with either 10- or 20-round magazines. The promotion runs until Dec. 31.

The Taurus "Season of Savings" event includes a $25 rebate to qualified buyers of specified matte-black models of the G2c 9 mm pistol. The company is also offering the same savings on select TH series pistols. The offers run through the end of the year.

Here's another you need to move on fast. Purchase a Savage AXIS/Trophy/Apex or Engage Hunter before Dec. 2 and you could qualify for a $75 rebate. If the company's Model110 with AccuFit is more the style of the person on your list, there's also a $100 rebate offer on them—ending on the same date. Visit the Savage promotions web page for details or to download forms.

Remington's $75 rebate on purchases of some of its Model 700 rifles includes the Long Range Stainless version and Stainless 5R Threaded. You can also save $50 on select SPS centerfires. The deal ends at the stroke of midnight on New Year's Eve.

You can also take home a DeSantis Slim-Tuk holster with a qualifying purchase of a Mossberg MC1sc 9 mm pistol. This offer lasts until March 31. 

Ammo

For that high-volume shooter on your list, you can't go wrong with Winchester's Ammo Can Promotion, which provides up to $100 (or $20 per can) back in many cartridge favorites. The promotion runs until Dec. 31. 

A Barnes $3 rebate on boxes of Vor-Tx long-distance ammunition (limit 10) is also available. The rebate form provides full details on the promotion, which ends Dec. 31.

Rimfire fans aren't left out, either. Purchase any firearm chambered in .17 HMR, along with two boxes of CCI ammo for the chambering, and you can get a rebate covering the price of one box of the cartridges—up to $20. The offer is valid until Dec. 31. You can also get up to $100 back with purchases of Browning rimfire ammunition. Be forewarned, though, this deal expires Nov. 30.

Gear

Save up to $500 and monitor Rudolph's progress by taking home a select model of ATN's ThOR 4, smart night-vision riflescope. This special pricing is only good while supplies last.

Savings on safe storage for all those new firearms is provided by Hornady, which is giving away free ammo with the purchase of select models of the company's RAPiD Safe line. With versions tailored for handguns and long guns, at home or in the vehicle, there's something for everyone on your list. Here are complete details on the Safe & Secure promotion, which ends Dec. 31.

Save up to $100 on select EoTECH HWS optics and magnifiers. The promotion is open until Jan. 1. 

Buy any new Prime Bushnell riflescope or Laser Rangefinder before Jan. 1 and you qualify for $30 back.

Get up to $200 in SIG Sauer web store credit with the purchase of select models of the company's riflescopes and rangefinders.

And Hornady's Get Loaded 2019 sales promotion includes free bullets with the purchase of some of the company's finest handloading gear. The offer ends Dec. 31, but if you want projectiles in that stocking on Christmas Eve, you'd better take advantage of it right away—you know how backed up UPS, USPS, FedEx, Uber an mass transit get this time of year. For more information visit this web page.