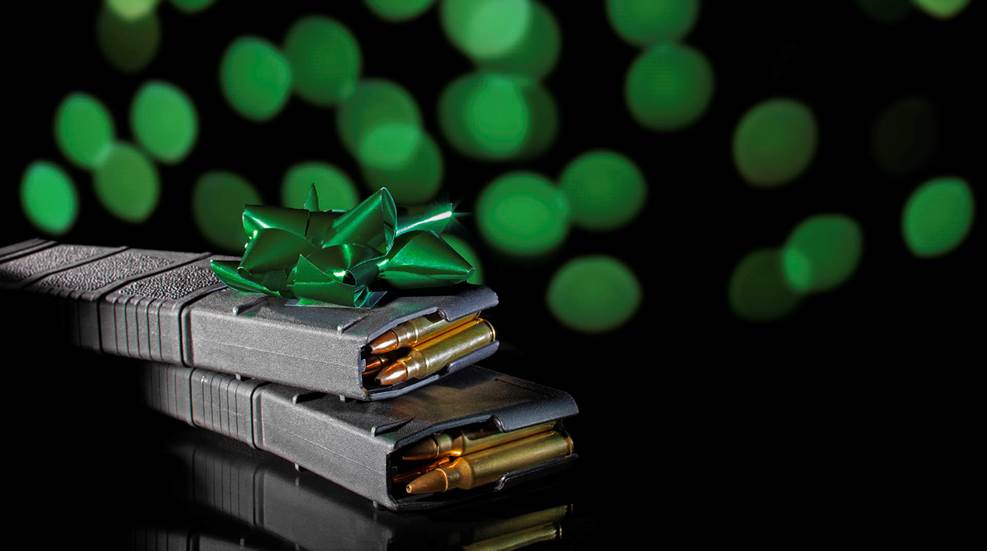 Buckle up, buckaroo. It's Black Friday and by sundown your wallet will be empty, credit cards maxed out, patience drained and the Christmas lights your neighbors left up all year will, once again, shine brightly. Nothing buoys the holiday spirits like turkey leftovers, long lines, angry shoppers and renewed acceptance of grown men in disguise inviting children to sit on their laps. 
Shooting Illustrated recommends modern gun enthusiasts employ a two-step strategy to minimize exposure to the merriment and still find the ideal gift at the right price. First and foremost, identify those sales, rebates and promotions offered by your favorite brands and retailers. We've done much of that homework for you here, but we highly suggest you build a detailed list, check it twice and encrypt.
Second, remind loved ones that last year's rash of home invasions at the stroke-of-midnight on Dec. 24 remains unsolved. That unseen, cookie-eating, milk-swilling culprit is still on the loose, and odds are he's still angry at your lactose-intolerant homestead's slim pickins. As the resident self-defense expert, you're the only one qualified to stand overwatch. The rest of the crew can shop until they drop.  
Watch your six, though. Rumor has it the culprit wears bulky coats and is often accompanied by a gang of height-challenged and highly organized North Polers.
Online Firearms Sales
Big Horn Amory's AR500 pistol or rifle may be the kind of firepower you need if a major perimeter breach occurs. Order one of the big bores through the website on Black Friday (Nov. 25) and you'll get $200 off MSRP and 100 rounds of the .500 Auto Max they chamber. That's a $400 value, but there's still hope if your spouse or conniving kids temporarily kidnap your credit card. Purchase one from the company on Nov. 26, 27 or 28 and you still get a choice of the either the ammo or MSRP reduction.
If you're content with a more standard AR-15's stopping power, Anderson Manufacturing is holding its annual Extended Black Friday Sale. The event launched Nov. 18 and runs until Nov. 29 with 15 percent off on most items—some exclusions apply.
If you don't mind blemishes on a gun that still performs, consider taking advantage of the SDS Imports Scratch and Dent Sale that begins Black Friday. Firearms included in the promotion may have scratches, missing magazines, no box, arrive in the wrong box, or have a non-standard configuration. A few are discontinued, brand new and unfired, while others wear the incriminating fingerprints of writers. 
Guns.com has launched a sleigh full of special deals. We'd tell you what they are, but they move faster than Rudolph's launch.
Lucid Optics has you covered when it comes to identifying any targets, too. It's offering a 40-percent-off sale on in-stock items. The special pricing runs through the end of this year. SnapSafe is giving a 10-percent discount on the company's popular modular safes.
Your MOS for the season may be solitary and thankless, but even minimum-wage rent-a-cops need a snappy look that commands respect. So, consider surfing onto Beretta's online store to take advantage of its Black Friday deals. Discounts of up to 70 percent are available and it includes a lot of other gear.
Alien Gear Holsters is offering a variety of incentives on its web shop, including a free mag holder with the purchase of any holster and other gear, depending on selection. Here's a link with all the details.
Need to find the right accessory for a shotgunner? Trulock chokes is has a site-wide sale with 25 percent off from Nov. 25 to Nov. 27.
If isn't enough to put you and your pocketbook in the holiday spirit, maybe 20 percent sitewide at Aero Precision on Black Friday will. The same day there are plenty of money savings to be found at Rainier Arms, Galco Holsters is offering 20 percent off during its Pre-Black Friday Sale. VersaCarry is also offering deep discounts on more than 70 of its most popular holsters, belts and gear. You can sign up for notifications as the discounts appear on this web page.
Many of Wilson Combat's high-performance rifle accessories are 20-percent off for Black Friday. The list includes select barrels, rails, handguards,  lower receivers, buttstocks, pistol grips braces and more.
When it's finally time to knock off duty, Ruger and Marlin have things covered. The firms are offering up to 50-percent off select barware and 60 percent on drinkware wearing company logos and other gear.
Nighthawk Custom is offering 20 percent off on a variety of its signature gear, which includes decanter sets, clothing, glasses, money clips and more. The offer also only applies to in-stock items.
No enthusiast's coffee table is complete without a least one book to annoy liberal neighbors, co-workers and that relative the court has yet to allow us to disown. "Federal Ammunition The First 100 Years" usually has an MSRP of $59.99, but this holiday season it's a steal at $39.99 by visiting this web page.
Magpul's online shop is offering up to 75-percent off on select T-shirts, hats, belts and a variety of wear. Visit the company's holiday sale announcement for full details.
MidwayUSA's biggest annual sale of the year launched Nov. 21 and runs through Nov. 28. We'd list all the savings, but—like NORAD's constant updates on Santa's sleigh location—the only way to keep an eye on the DEALS is to monitor the special webpage.  
Colt is offering 30-percent discounts on apparel on its website through Nov. 28.
In Person Sales
Eggnog stands have sprung up everywhere, so think twice before you hit the streets. If you must, consider visiting Academy. The retailer has gun safes marked down by as much as $400. It's not a convenient gift for someone else—especially considering the price of wrapping paper—but feel free to claim one for yourself, leave it open and explain how pitiful it looks to your significant other. Depending on their ability to decode the subliminal message, the reward could be a generous assortment of guns, gear and ammo when Festivus arrives. Here's a look at the company's Black Friday ad to help launch your psy-op.  
While you're at it, you might mention the number of guns on sale for the holiday over at Sportsman's Warehouse. The money savings being offered at Palmetto State Armory is every bit as enticing.
Have a Cabela's nearby? Visit its Black Friday sale and you'll find a brick of Herter's .22 LR ammo at the candy cane-sweet price of $29.98. A variety of guns are also on sale or scheduled to do so throughout the holiday season.
If you live in Maryland, you won't want to miss Beretta's annual warehouse sale, which takes place Saturday, Nov. 19, from 9 a.m. to 5 p.m. The one-day event takes place at Beretta, 17601 Beretta Drive, Accokeek, MD, and allows enthusiasts to shop the large variety of men's and women's hunting clothing, sportswear, European designer clothing, firearm accessories and more.
By Rebate
If you prefer to weigh your options carefully before buying—aka, procrastinate—there's plenty of merriment found in rebates right now. Smith & Wesson, for example, is offering 50 bucks back on select M&P Shield EZ pistols. The deal end at the stroke of midnight, Dec. 31.
How about 20 percent back on purchases of Winchester FMJ 5.56 NATO, .223 Rem., .300 Blackout and 7.62 NATO ammo? The promotion runs through Dec. 4.
You can also get 20 percent back on select Browning 55-grain, FMJ .223 Rem. ammunition. Hurry, though. Like the Winchester offer this one expires Dec. 4.
Trijicon has extended its $100 consumer rebate on the Trijicon RMRcc through Dec. 31. RMRcc optics purchased from July 1st through Dec. 31, 2022, are eligible, but there is a limit of three submissions per household.
A $100 rebate is in your future with the purchase of a Leupold DeltaPoint Pro or DeltaPoint Micro. The promotion ends Dec. 4.
Heritage Manufacturing is running a $30 rebate on its Rough Rider and Barkeep revolvers, as well as its Rancher Carbine. This deal runs through Jan. 15, 2023.
Purchase any new Stoeger Industries STR-9 pistol, chambered in 9 mm Luger, through Jan. 15, 2023, and you can qualify for a $50 rebate. The eight base models of the STR-9 series, including the discreet carry STR-9SC sub-compact and optics-reason versions, are included.
Buy a Zero Tech riflescope, red-dot or binocular from any authorized dealer in the United States between Oct. 1, 2022, and Dec. 31, 2022, and you'll be getting either $50 or $100 cash back, depending on model..
Sightron's Holiday Instant Rebate saves up to $240 on select models of the company's S-TAC series of riflescopes for the remainder of 2022.
Now through Jan. 15, 2023, enthusiasts who purchase a new Taurus G-series pistol chambered in 9 mm NATO can receive a $50 rebate on GX4 and GX4XL pistols and a $25 rebate on qualified G2C, G3, G3C, G3X, and G3XL pistols. Full details are found here.
Purchases a Burris Fullfield IV riflescope before New Year's Day and you qualify for a $25 online rebate. 
Through Jan. 31, 2023, Rock River Arms will provide retail consumers with five free 30-round magazines with the purchase of any new RRA 5.56/.223-compatible rifle, pistol, complete lower receiver assembly, or complete upper receiver assembly. It's a $80 value and the redemption for the offer is conveniently online.
Use Promo Code ATN10-EM in your shopping cart on the ATN website and you'll get 10 percent off on all accessories. The company has also launched Black Friday deals on some of its best night-vision optics. There's no better way to spot Rudolph than with one of the company's IR models.
Buy a new Scorpion EVO or Scorpion 3+ and you qualify to receive a free backpack and a pair of 30-round magazines. Here are full details. You also qualify for a $50 rebate with the purchase of a CZ P-07, P-09 or P-10. The offer, like the other one from CZ-USA, expires Dec. 31 at midnight.  
We're not saying SilencerCo had "Silent Night" in mind when it launched an end-of-the-year suppressor promotion, but any customer who purchases one of the company's qualified suppressors before the stroke of midnight on Dec. 31 will receive a $200 SilencerCo Store coupon. Full details and models are available online. To find a dealer click here.
Just for You
But wait…there's more.
You've been a good little boy or girl all year, too. So be sure to stop by MidwayUSA on or before Nov. 30 to register for a chance to win $1,000 in MidwayUSA gift certificates.
Everyone at Shooting Illustrated wishes everyone a happy Thanksgiving, but reminds readers they need to be careful out there. Tis the season for flash mobs, unexplained break ins, flying deer and, yes, grown men in red suits inviting children—and women of all ages—to sit on their laps and describe what they're really wishing for this holiday season.