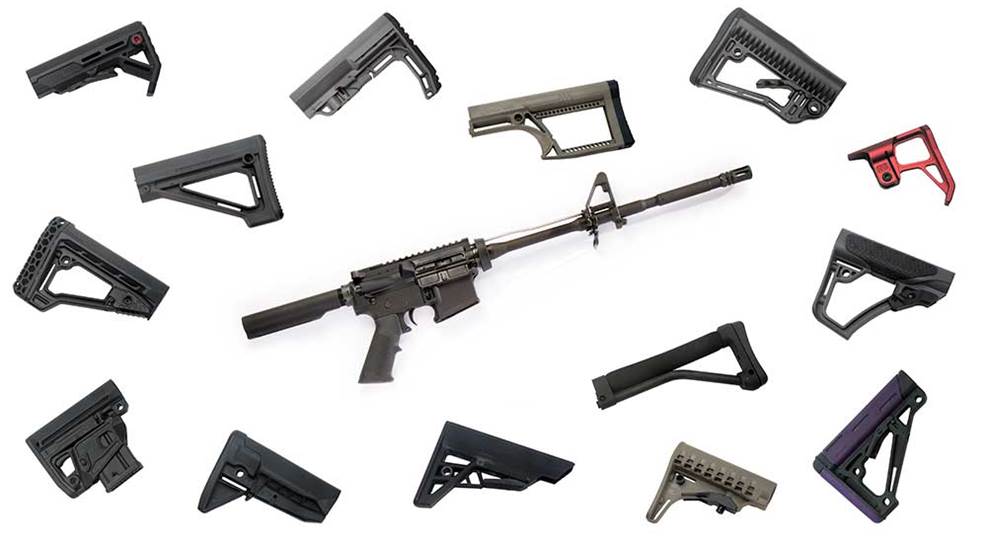 The pendulum of AR-15 fashion swings back and forth. In previous years, quad-railed fore-ends festooned with all manner of lights, lasers and optics were the rage, but today, lightweight ARS with minimalist, but still useful features are the hot ticket. Here's a quick round-up of some popular stock options for lightweight, low-profile features to round out your minimalist AR-15 build.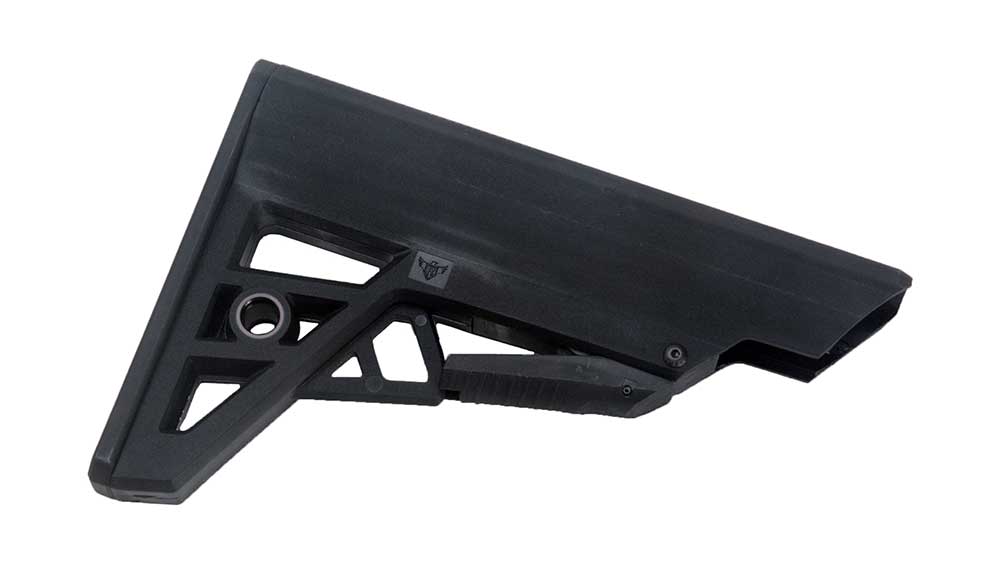 ATI - Tactlite ($49.99)

Available in black, flat dark earth and grey, and weighing under six ounces, the ATI Outdoors Taclite lives up to its name. Made from DuPont polymer and featuring a number of different sling mounting points, the adjustable TacLite is a contender for the lightweight title.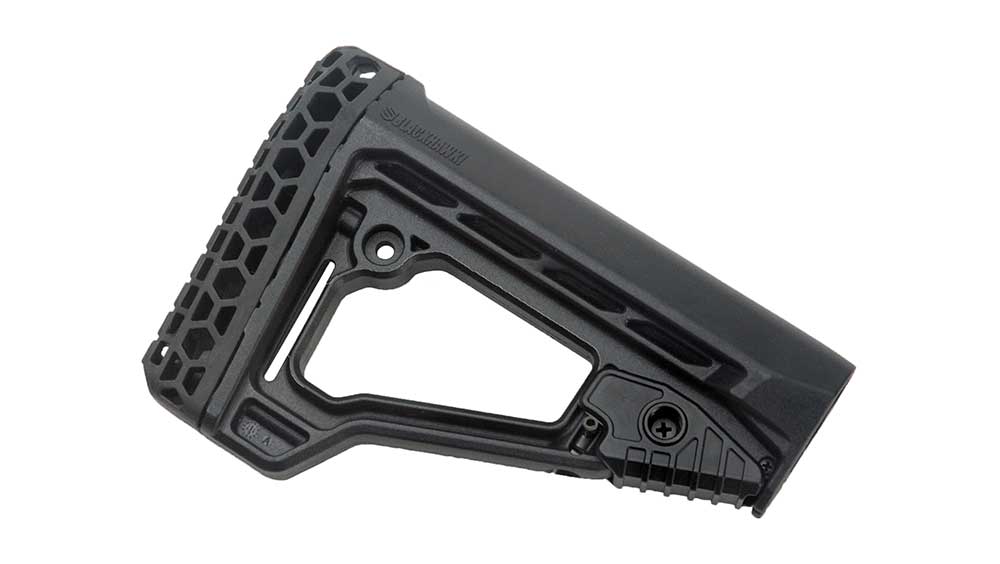 Blackhawk - Knoxx Axiom ($59.95)

Coming in four different colors and fitted with a unique, spongy recoil absorption pad, the adjustable Knoxx Axiom stock from Blackhawk also has two different QD sling mounts and weighs right around ten ounces.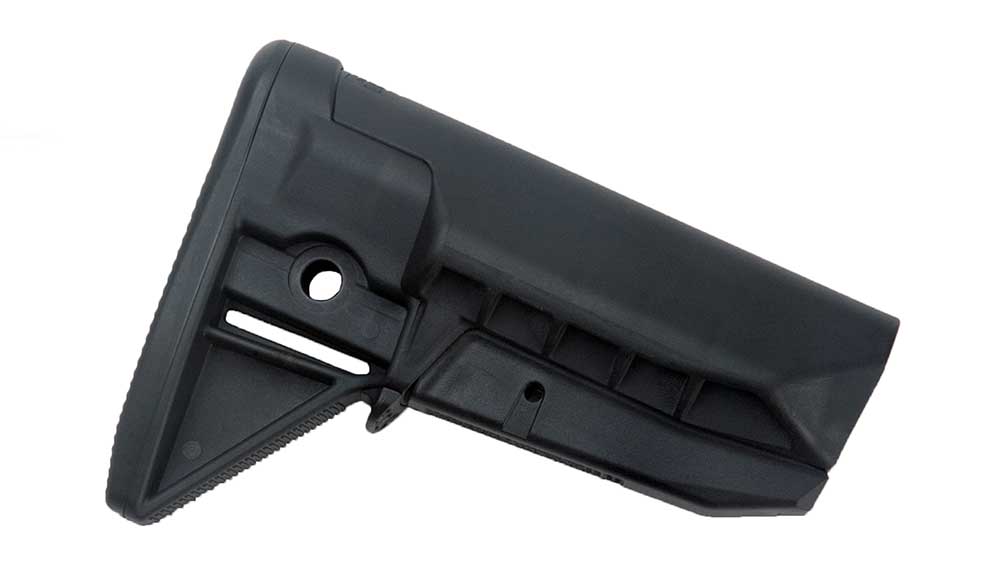 Bravo Company - B5 Systems SOPMOD BRAVO ($62)

Solidly-built and simple, the adjustable SOPMOD BRAVO omits the storage compartment of similar stocks from Bravo Company in favor of lighter weight. Available in black, flat dark earth and green, it weighs in at a little over eight ounces.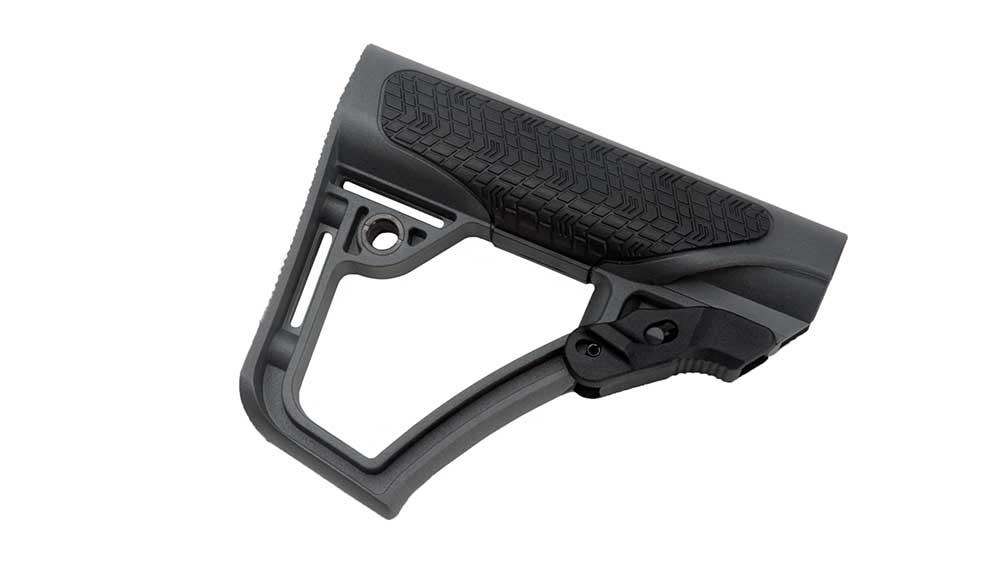 Daniel Defense - Tornado ($69.95)

The Daniel Defense adjustable stock ships with two different buttpads and a textured buffer tube cover for a better cheek weld. With a QD sling mount and weighing a little over six ounces without shock pad, it adds a unique-looking accessory to your AR-15.


DoubleStar - ARFX Ace ($113.99)

Very popular with 3-gun competitors and other AR-15 owners who need a lightweight, no-nonsense stock, the ARFX from DoubleStar has a closed-cell cover that slides over the buffer tube and an non-adjustable aluminum stock with a rubber pad to cushion recoil. At around nine ounces, this a great choice for someone who prefers a metal stock over polymer stock.


Ergo - MSR ($47.50)

The Ergo Grips MSR stock is a lightweight stock available in flat dark earth and black. Weighing less than seven ounces and easy adjustable, it also features a QD mount to add on your favorite sling.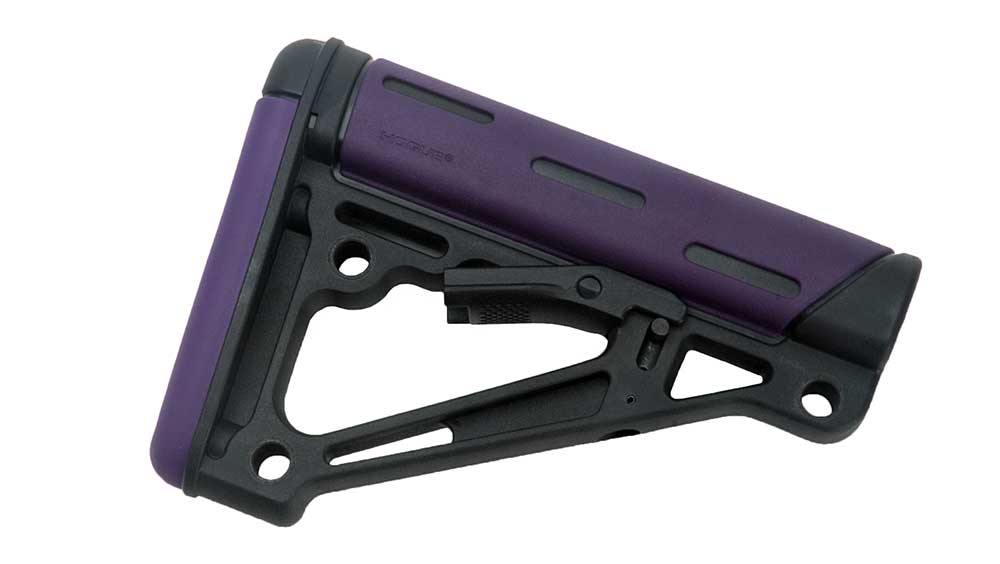 Hogue - OverMolded Collapsible Buttstock ($69.95)

Hogue breaks from tradition by offering their adjustable AR-15 stocks in pink and purple, not black and green. Hogue ships their stocks with either commercial or mil-spec buffer tubes, and rubber mouldings on top and on the buttpad make both versions comfortable to shoot.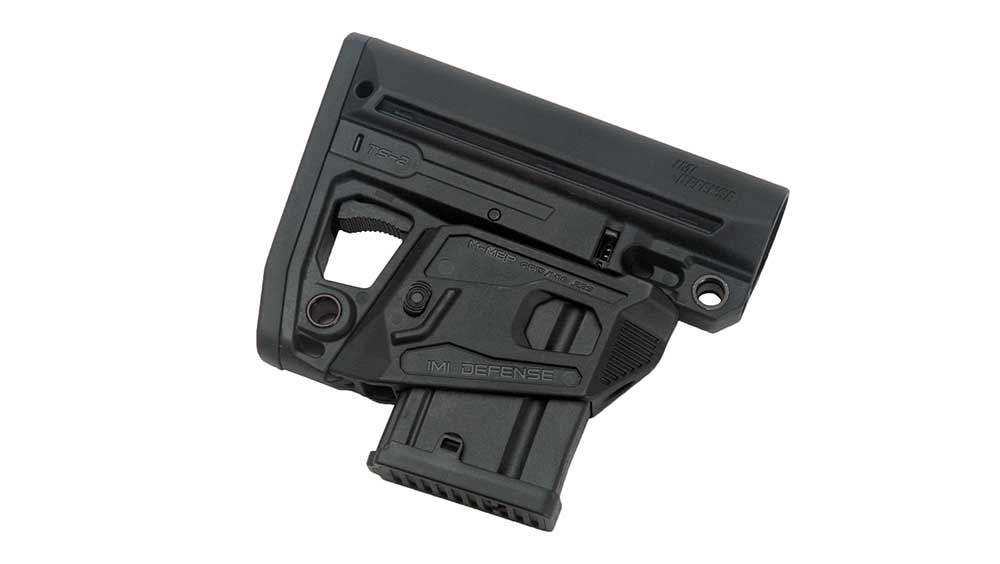 IMI Defense - TS2 ($109.95)

The adjustable TS2 from IMI Defense stands out from the others in this list by having a built-in compartment for an included 10-round AR-15 magazine. Weighing ten ounces without the extra mag, this might the option you choose  any time you're only carrying one magazine and you want just a few extra rounds with you without much added weight or bulk.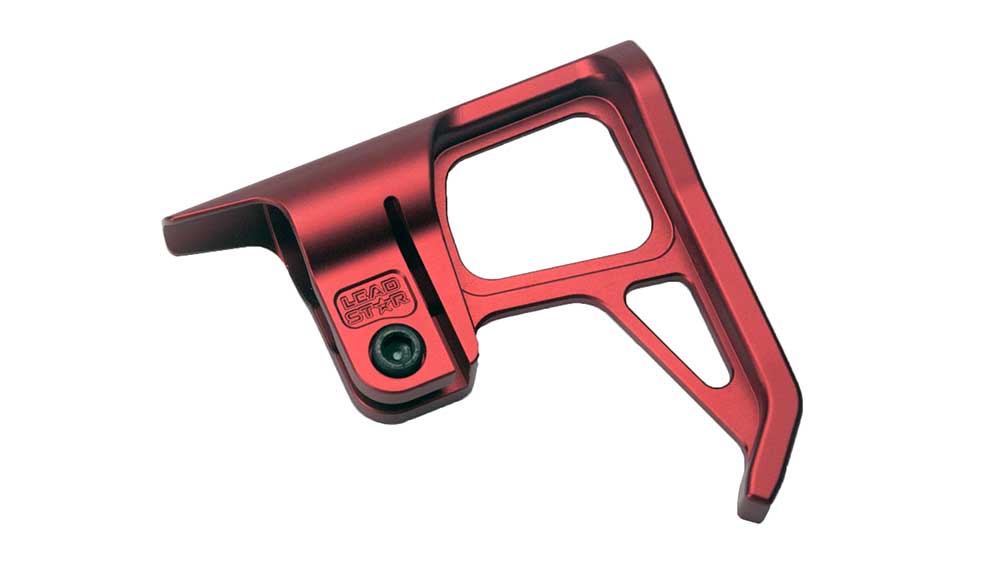 Lead Star Arms - Ravage ($89.99)

Made from anodized aluminum and coming in black, blue and red, the Lead Star Arms Ravage certainly stands out from the crowd. A fixed-length stock, it weighs just six ounces and fits mil-spec buffer tubes.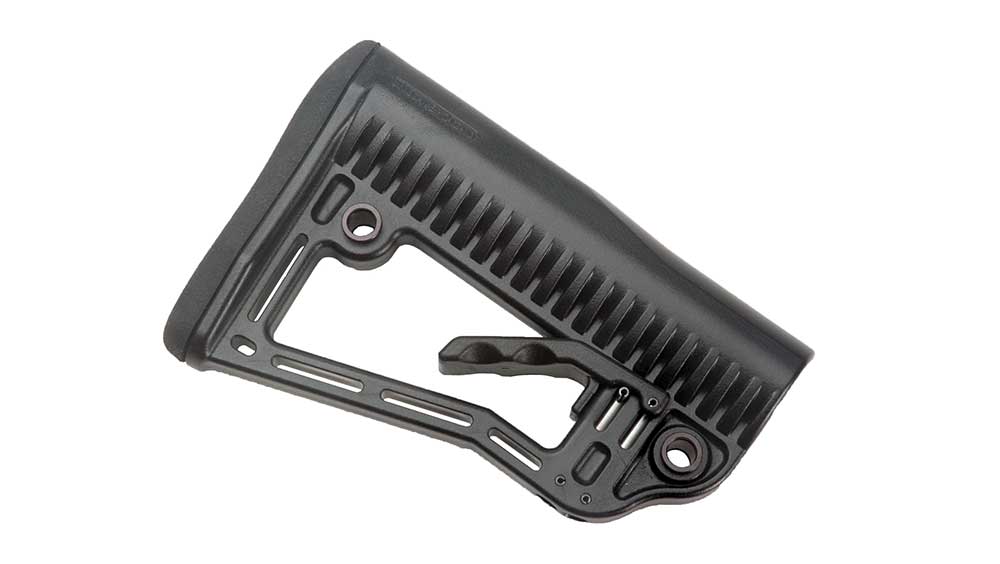 LimbSaver - TAC10 ($99.99)

The TAC-10 adjustable stock takes Limbsaver's recoil reduction expertise and applies it to the AR platform. Available in any color you want (as long as it's black), the TAC-10 works with both commercial and mil-spec buffer tubes.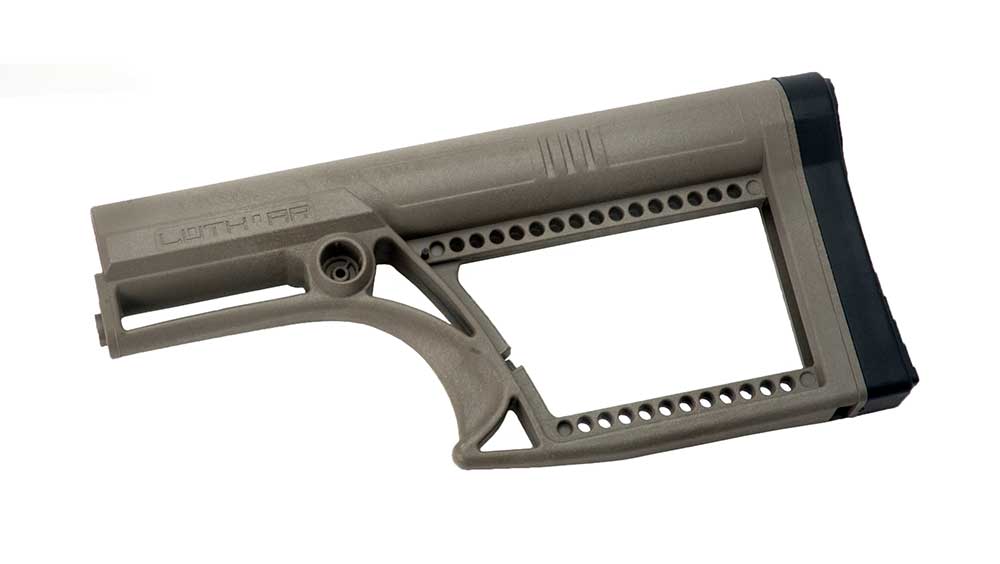 LUTH-AR - MBA-2 ($49.95)

The LUTH-AR MBA is a polymer, distinctively-shaped fixed-length stock weighing around ten ounces and comes in black, flat dark earth and pink colors. The LUTH-AR stock can be augmented with a detachable cheek piece and/or butt plate assemblies to customize your AR even more.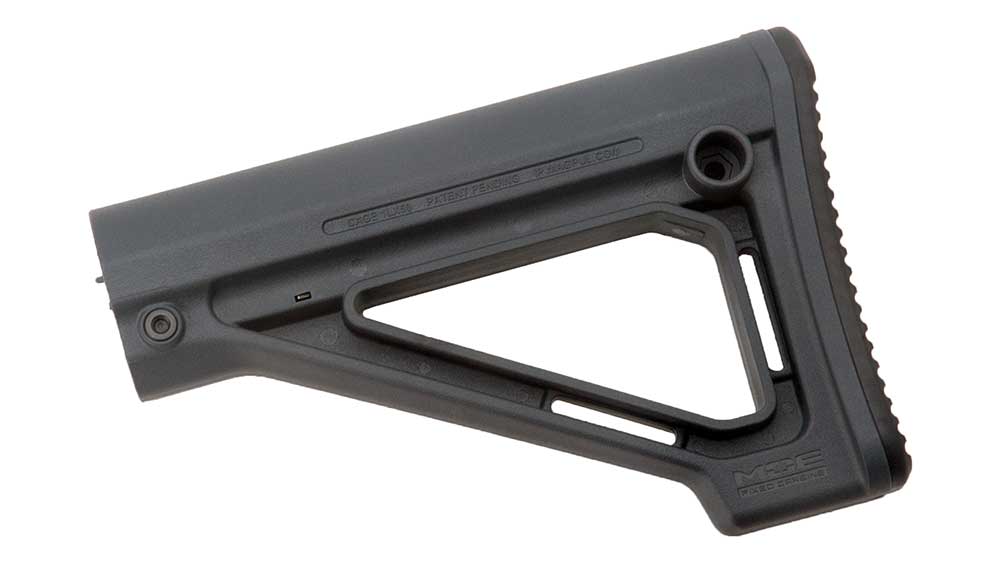 Magpul - MOE Fixed Carbine Stock ($39.95)

Magpul has been a leader in AR-15 accessories for years, and the MOE Fixed stock continues that tradition of quality and ruggedness. Weighing nine and a half ounces and coming in black, flat dark earth, grey and foliage green, it will also take the Magpul QD Sling mount for easy sling mounting.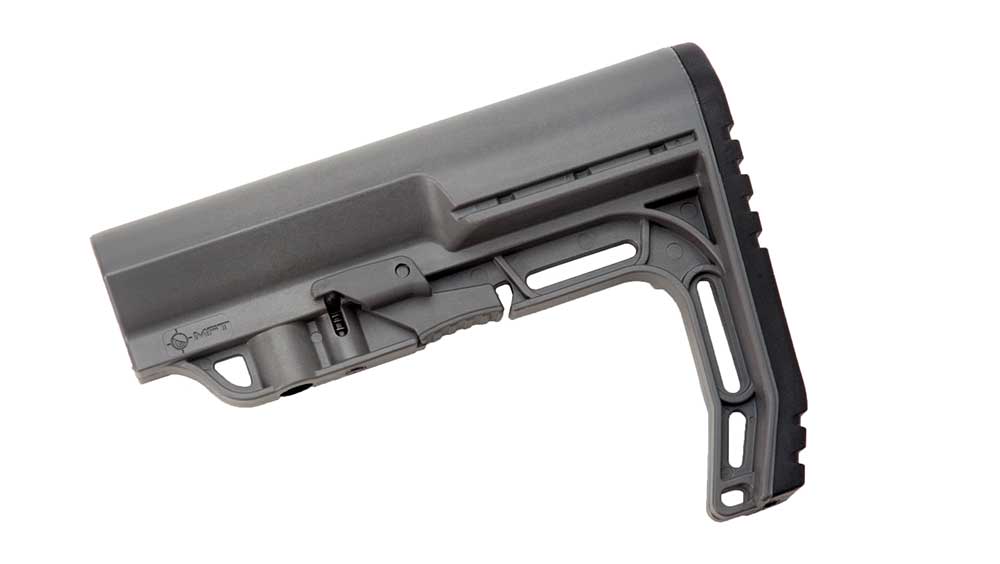 Mission First Tactical - BattleLink ($59.95)

The BattleLink stock from Mission First Tactical is an adjustable minimalist stock with multiple sling attachment points and is sloped on top for better cheek weld. Weighing in at right around six ounces, the BattleLink is available in black, foliage green, grey and dark earth.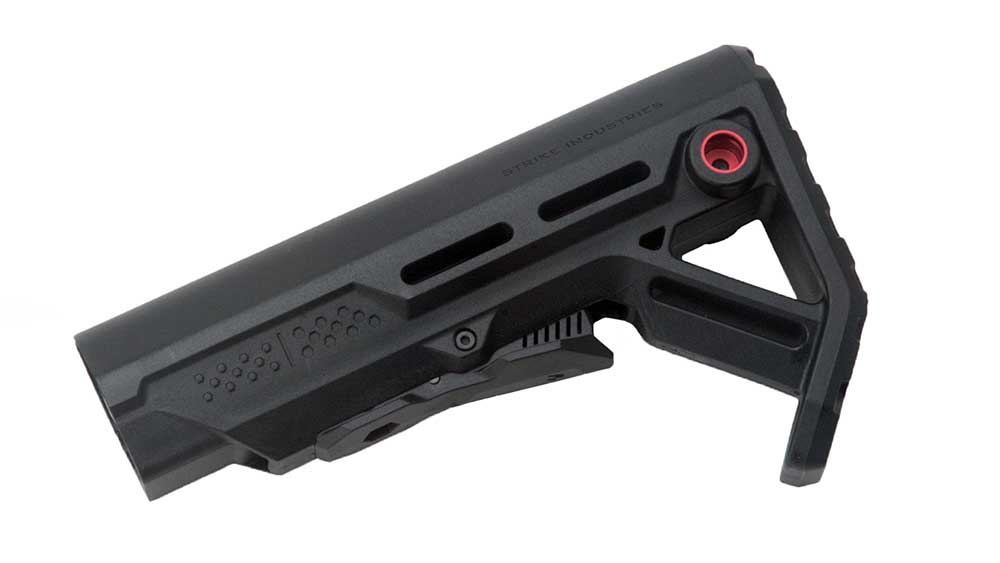 Strike Industries - Viper Mod 1 ($50.95)

The adjustable Viper Mod 1 buttstock from Strike Industries has an integral QD sling mount and fits mil-spec buffer tubes. Available in four different colors and weighing around six and half ounces, it looks especially sharp if you choose the red insert on the QD mount.