Some of the most-popular rifle platforms introduced in recent years are geared toward the growing market of long-range precision shooters. Those who like to ring steel at 1,000 yards or more have seen an incredible expansion of affordably priced precision platforms, like the Ruger Precision Rifle. Of course, precision shooting depends just as much on a powerful, high-quality optic as it does on a rifle capable of sub-MOA performance at extended ranges. Here are 11 of the market's newest high-magnification optics designed to put shooters on target at distance:
---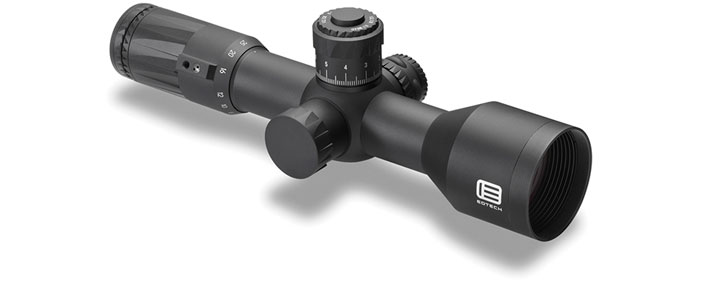 EOTech | Vudu 5-25x50 mm FFP
Designed as one of the shortest precision riflescopes on the market, the EOTech Vudu is tailor-made for use on compact rifle actions with limited rail space. The purpose behind the compact construction of the Vudu is to provide extra rail space for additional optical enhancements, such as night-vision or thermal devices.
Magnification: 5-25X
Objective Lens Diameter: 50 mm
Reticle: MD3 MRAD; Horus H59
Length: 11.2 inches
Weight: 29.5 ounces
MSRP: $2,099
(888) 368-4656; eotechinc.com
---


Hi-Lux | TAC-VF 4-20x50 mm FFP Gen 2
Hi-Lux's new TAC-VF FFP is a great choice for those who want to shoot at longer ranges without breaking the bank. It comes with a choice of a red or green CW1-FFP reticle with 20 mils of adjustment for elevation and windage. The scope sports a 30 mm nitrogen-purged, aircraft-grade aluminum tube for added durability in harsh conditions.
Magnification: 4-20X
Objective Lens Diameter: 50 mm
Reticle: CW1-FFP (illuminated)
Length: 15 inches
Weight: 30 ounces
MSRP: $685
(310) 257-8142; hi-luxoptics.com
---


Kahles | K525i
Kahles' latest offering for the tactical scope market is a high-end 5-25x56 mm featuring the company's proprietary Twist Guard technology. This protects from accidental bumps of the windage knob via a freely rotating end cover, while still allowing the shooter speedy windage adjustment without the usual hassle of "locking" and "unlocking" the turret. The K525i will be available for purchase this fall.
Magnification: 5-25X
Objective Lens Diameter: 56 mm
Reticle: MSR2; SKMR; SKMR3; MOAK
Length: 14.8 inches
Weight: 34.2 ounces
MSRP: $4,443
(800) 426-3089; kahles.at/us
---
---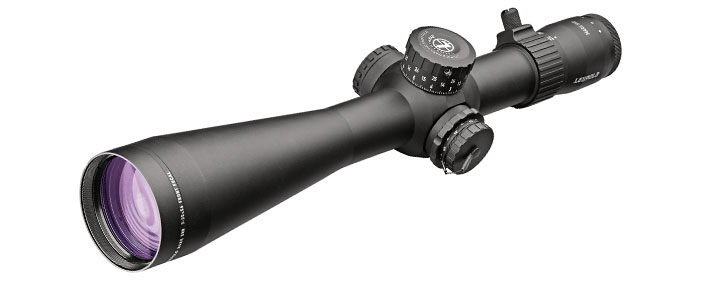 Leupold | Mark 5HD 5-25x56 mm
Also available in 3.6-18X, the Mark 5HD family features zero lock elevation adjustments, rapid-focus eyepiece, side focus and a light-management system for low-light scenarios. This new line of scopes offers four different first-focal-plane reticles, with illuminated options available on two of the four, in both MOA- and MIL-based designs.
Magnification: 5-25X
Objective Lens Diameter: 56 mm
Reticle: TMR; CCH; H59; Tremor3
Length: 15.7 inches
Weight: 30 ounces
MSRP: $2,599.99
(800) 538-7653; leupold.com
---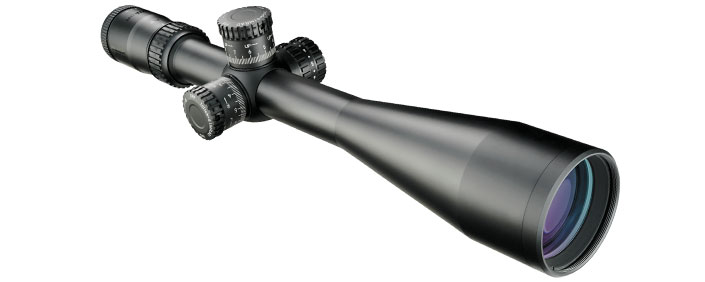 Nikon | Black FX1000 6-24x50 mm FX-MRAD
Nikon's new, first-focal-plane reticle FX-MRAD offers a glass-etched reticle that can be used for range-estimation purposes. The Black FX1000 also features elevated windage and elevation turrets with return-to-zero capabilities, as well as compatibility with Nikon's "Spot On" custom turrets.
Magnification: 6-24X
Objective Lens Diameter: 50 mm
Reticle: FX-MRAD
Length: 15.2 inches
Weight: 24.5 ounces
MSRP: $799.95
(800) 645-6687; nikonsportoptics.com
---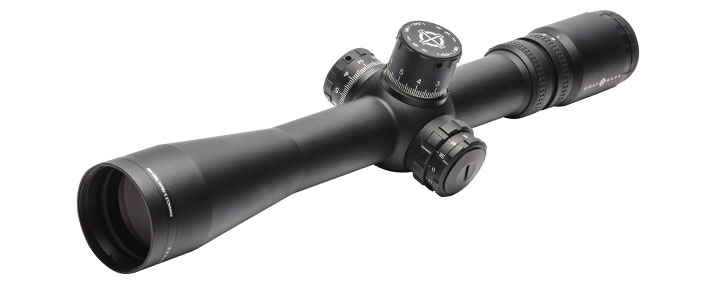 Sightmark | Pinnacle 3-18x44 mm
Offering either capped or open turrets, a first-focal-plane reticle, an included sunshade and an illuminated reticle available in both red and green, the Sightmark Pinnacle riflescope series is worth investigating. With a 34 mm main tube, fully multicoated lenses and Japanese glass, this is a serious long-range option.
Magnification: 3-18X
Objective Lens Diameter: 44 mm
Reticle: TMD
Length: 14.6 inches
Weight: 33.5 ounces
MSRP: $1,559.99
(817) 487-3352; sightmark.com
---


Steiner | T5Xi
Designed for long-range precision, the Steiner T5Xi is built around a one-piece, oversize 34 mm tube. Its Special Competition Reticle (SCR) boasts accuracy-enhancing features such as .2-mil windage and .5-mil holdover lines. The addition of .1-mil brackets aid in exact ranging to target. An angled magnification ring allows the shooter to see the power setting from behind the scope.
Magnification: 5-25X
Objective Lens Diameter: 56 mm
Reticle: SCR
Length: 16.6 inches
Weight: 33 ounces
MSRP: $2,530
(888) 228-7747; steiner-optics.com
---


Tract | Toric UHD 30 mm
Thanks to Tract's direct-to-consumer model, the company's first purpose-built long-range scope sports features normally found only on riflescopes costing twice as much. A first-focal-plane, illuminated MRAD-based reticle allows for ranging, drop compensation and windage holds, while the elevation-adjustment turret allows multiple rotations and locks in place.
Magnification: 4-20X
Objective Lens Diameter: 50 mm
Reticle: Glass-etched MRAD (illuminated)
Length: 13.7 inches
Weight: 34 ounces
MSRP: $1,154
(844) 747-4928; tractoptics.com
---


Trijicon | AccuPower 4.5-30x56 mm
Available in a choice of first- or second-focal-plane reticles in either MRAD or MOA calibration, the new AccuPower is suited to your particular needs. The reticle options make milling and holdover intuitive and precise. Features include five red and five green brightness settings, an exposed 100-MOA elevation turret and a capped 50-MOA windage adjustment with a restrictor for an easy return-to-zero, side parallax control, a repositionable magnification lever, tool-free battery changes and a 3-inch sunshade.
Magnification: 4.5-30X
Objective Lens Diameter: 56 mm
Reticle: FFP or SFP MOA or MRAD (illuminated)
Length: 14.3 inches
Weight: 36 ounces
MSRP: $2,675
(800) 338-0563; trijicon.com
---


TruGlo | Eminus 24
Joining the Eminus family of affordable long-range tactical riflescopes is the Eminus 24. This feature-packed scope includes a glass-etched, TacPlex MOA illuminated reticle. The central crosshair is illuminated, as are 5-MOA boxes to enhance contrast in low light. Perhaps best of all, the Eminus 24 comes as a complete package including a one-piece Picatinny mount, a quick-zoom lever, a 3-inch sunshade and flip-up lens caps.
Magnification: 6-24X
Objective Lens Diameter: 50 mm
Reticle: TacPlex MOA (illuminated)
Length: 14.25 inches
Weight: 23.1 ounces
MSRP: $440
(888) 887-8456; truglo.com
---


Vortex | Strike Eagle 3-18x44 mm
A long-range optic in a trim, svelte and robust package, the Vortex Strike Eagle 3-18x44 mm will appeal to the value-minded shooter. Its 6X zoom range allows targets to be engaged at close to intermediate ranges, while its XD optical system—featuring fully multicoated lenses and anti-reflective coatings—delivers images that are clear, crisp and bright. The glass-etched, second-focal-plane reticle gives detailed MOA-based holdover points.
Magnification: 3-18X
Objective Lens Diameter: 44 mm
Reticle: EBR-4
Length: 13.5 inches
Weight: 23.9 ounces
MSRP: $599.99
(800) 426-0048; vortexoptics.com