As the long-range corner of the shooting community continues to expand, so too does the number of optics offerings on the market today. On the one hand, many fully capable and incredibly expensive riflescopes carry a price tag that makes a monthly mortgage payment look rather paltry; on the other hand, there's a laundry list of disposable glass that's better-suited as a paper weight than attached to a rifle.

The good news for budget-conscious shooters is there's also a growing number of long-range riflescopes that offer reliable construction, quality glass, and impressive features for less than you might expect. While the lower-cost glass often lacks the level of low-light performance and durability of a military- or competition-grade optic, it's still more than capable of extending the range of most shooters with wide objective lenses, large diameter tubes, long-range reticles and externally adjustable turrets. Likewise, first focal plane (FFP) scopes are generally more expensive than second focal plane (SFP) options, but several manufacturers offer affordable versions of each.

If you're looking to extend your maximum effective range without breaking the bank, the following list of riflescopes is sure to impress. From hunting to competition, the following selection of glass varies in price but remains under $1,000. Here's a look at the best budget glass for long-range shooting.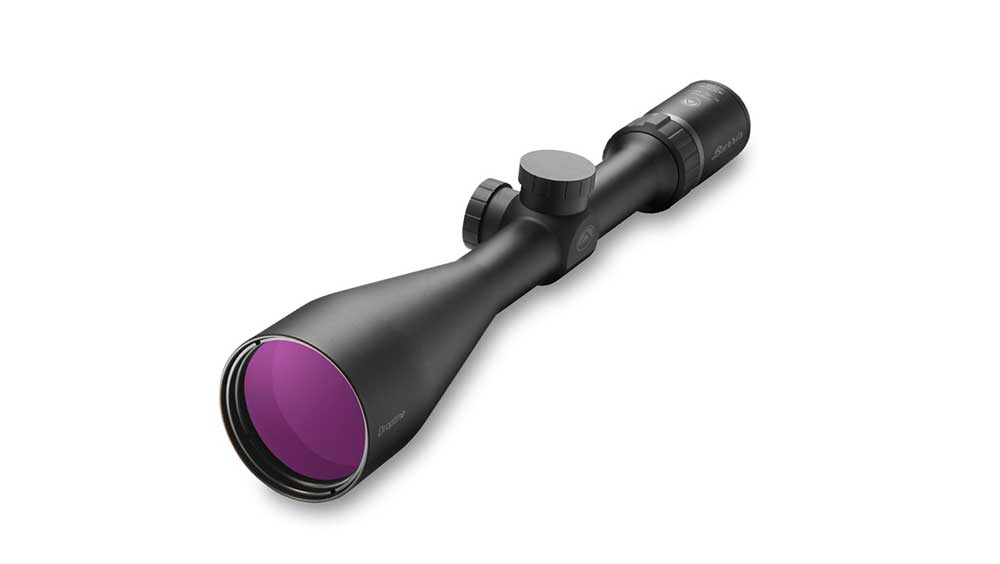 Burris Droptine 3-9x50 mm

Featuring a 50 mm objective lens, the Droptine offers hunters plenty of light-gathering capabilities for early mornings and late evenings when light is at a premium. By simplifying the number of options for the scope, Burris was able to keep cost to a minimum, making this the lowest-priced optic on the list. There's no manual parallax adjustment or externally adjustable turret system, but out to 400 or 500 yards, those options aren't essential.

The riflescope features a Ballistic Plex reticle with MOA holdovers that take most .30-caliber cartridges out to 500 yards and the 5.56 NATO to 650 yards. Since it is an SFP design in which the reticle remains the same size at every magnification power, the best thing to do is crank to full power to use the MOA holdovers. For those who prefer manual parallax adjustment and a military-style reticle with windage and elevation holds, the AR 4.5-14x42 mm version costs $20 more and features the G2B Mil-Dot reticle and a parallax dial at the front of the objective lens.

MSRP: $259-279

---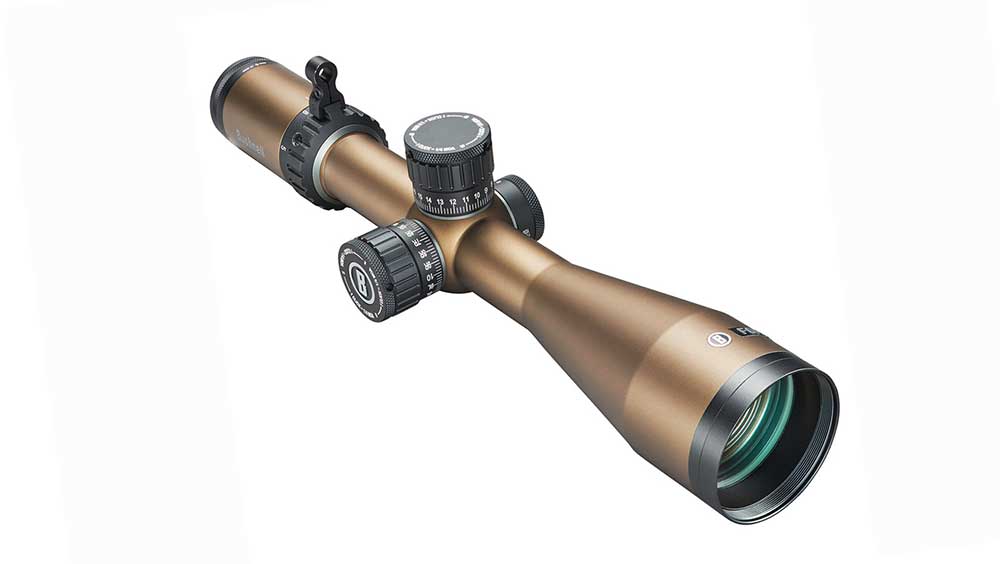 Bushnell Forge 3-18x50 mm

Built with exposed locking turrets, RevLimiter zero stop, and fully multi-coated lenses that produce impressive color clarity and light transmission, Bushnell's Forge 3-18x50 mm riflescope offers shooters long-range capabilities at a working man's price point. Meanwhile, a Throw Hammer allows for quick adjustment of magnification and locking turrets allow for fast, accurate dialing. The glass features EXO Barrier Protection against water, oil and dust, while an IPX7 waterproof construction ensures no moisture gets inside the optic.

Ruggedly built and featuring a 50 mm objective lens for maximum light transmission, the Forge comes with either an FFP or SFP option, with an $80 difference in price between the two. The scope also features side parallax adjustment with a 30 mm tube diameter and 70 MOA of elevation and windage adjustment. Available in Black or Terrain color schemes, the Forge also comes with an MOA or MIL reticle.

MSRP: $672-899 
---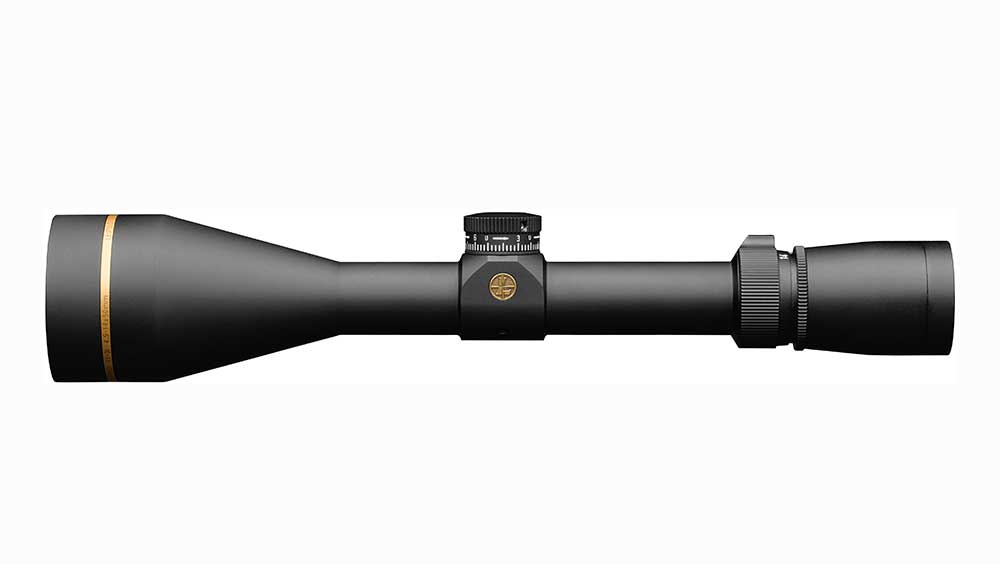 Leupold VX-3i 4.5-14x50 mm CDS

Using Leupold's Twilight Max Light Management System, the VX-3i 4.5-14x50 mm offers shooters tremendous light transmission from a 50 mm objective. In turn, the scope allows for low-light shots at greater distances and delivers premium edge-to-edge clarity. The scope is available with two reticles, either the Wind Plex or Duplex, but the real long-range shooting capability comes from the CDS turret.

Built in the Leupold Custom Shop, the turret can be ballistically matched to the load of your choice and allows shooters to simply range the target and then dial to the appropriate yardage. Fog- and waterproof, the VX-3i is incredibly durable and lightweight at just 17 ounces. The scope features an SFP reticle and stands up to Leupold's infamous Punisher impact test, giving shooters ultimate confidence in demanding conditions.

MSRP: $974
---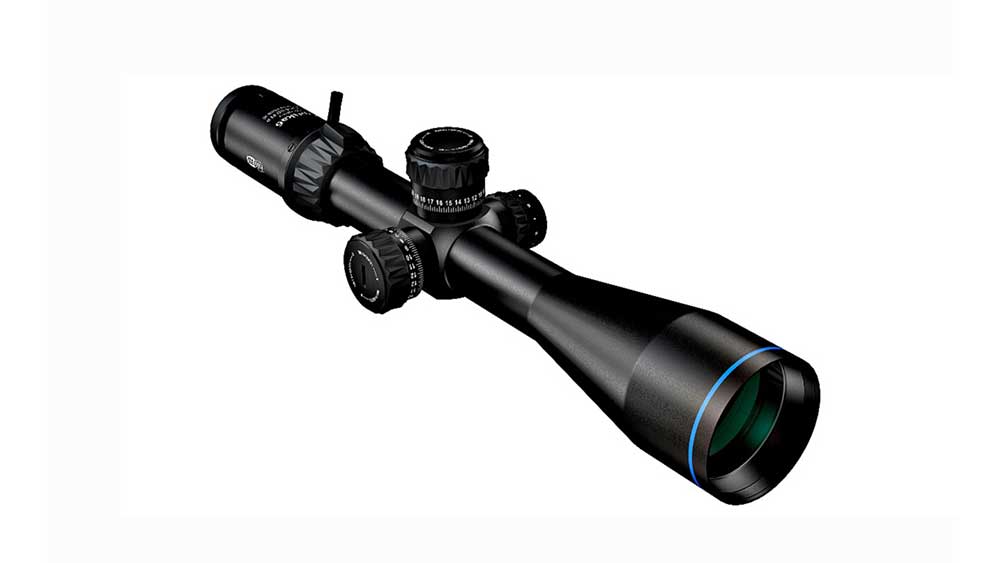 Meopta Optika6 4.5-27x50 mm

Featuring exposed turrets and crystal-clear glass, Meopta's Optika6 delivers premium quality and enhanced scope options at an incredible price. The Optika6 offers side parallax adjustment from 25 yards to infinity, as well as eight different reticle choices, including ballistic drop reticles for the .223 Rem., .308 Win., and 6.5 Creedmoor. The 50 mm objective delivers exceptional light transmission, while a 30 mm tube allows for more than 80 MOA of adjustment.

The MeoBright and MeoShield multi-coating systems provide impressive optical brightness and durability against the harshest conditions. The Optika6 is available in MOA or MIL configurations with locking turrets and zero stop, as well as both FFP and SFP reticle options. Meanwhile, a throw lever makes magnification changes quick and easy, allowing shooters to acquire and engage multiple targets at various ranges.

MSRP: $649 (SFP), $749 (FFP)
---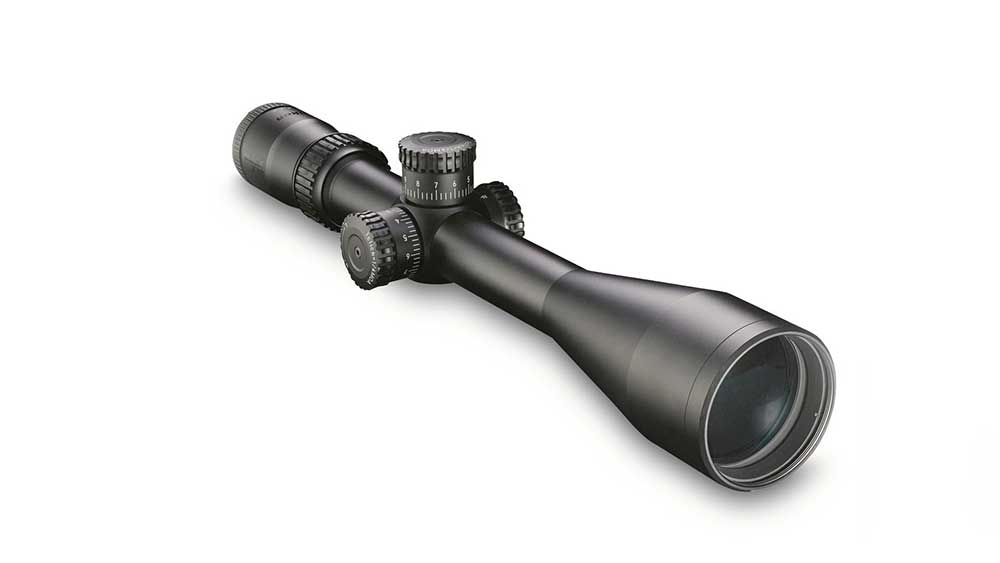 Nikon Black X1000 4-16x50 mm

Made exclusively for the precision-rifle crowd, Nikon's Black X1000 4-16x50 mm gives shooters the capabilities they need to conquer the 1,000-yard barrier. Well-suited for competition or hunting purposes, the X1000 features X-MOA or X-MRAD reticles with exposed turrets and side parallax adjustment. All lenses are multilayer coated and anti-reflective to deliver a consistently bright, sharp, high-contrast sight picture. A 50 mm objective diameter and 30 mm tube diameter allow for maximum light transmission and elevation adjustment. At just 23.8 ounces, the Black X1000 is light enough to carry afield or in competition. The turret system allows for consistent, repeatable adjustments, while an SFP reticle allows for holdover adjustments to be made at 16X magnification.   

MSRP: $499
---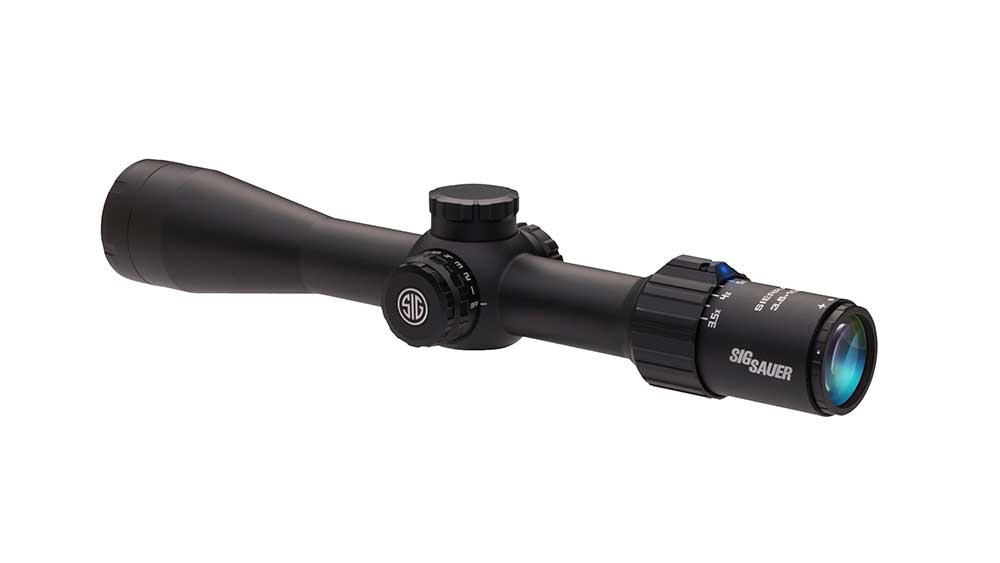 SIG Sauer Sierra3BDX 3.5-10x42 mm

It may look like an ordinary riflescope, but SIG's Sierra3BDX is more than meets the eye. The power behind the scope is SIG's BDX technology, which allows shooters to pair a KILO rangefinder, smartphone with the BDX app, and the Sierra3 scope to create an electronically enhanced ranging system. Once you've loaded your ballistic load data into the app, simply range the target and hold the illuminated scope reticle dead-center for the perfect shot. It really is that simple.

Crazy as it sounds, the Sierra3BDX 3.5-10x42 mm scope can be purchased with a KILO1400 rangefinder as a combo for under $900, giving shooters the ultimate long-range solution at a relative bargain. Since everything is controlled electronically, there's no need for external turrets or complicated FFP reticles—simply range, aim and shoot.

MSRP: $839 (with KILO1400 combo kit)
---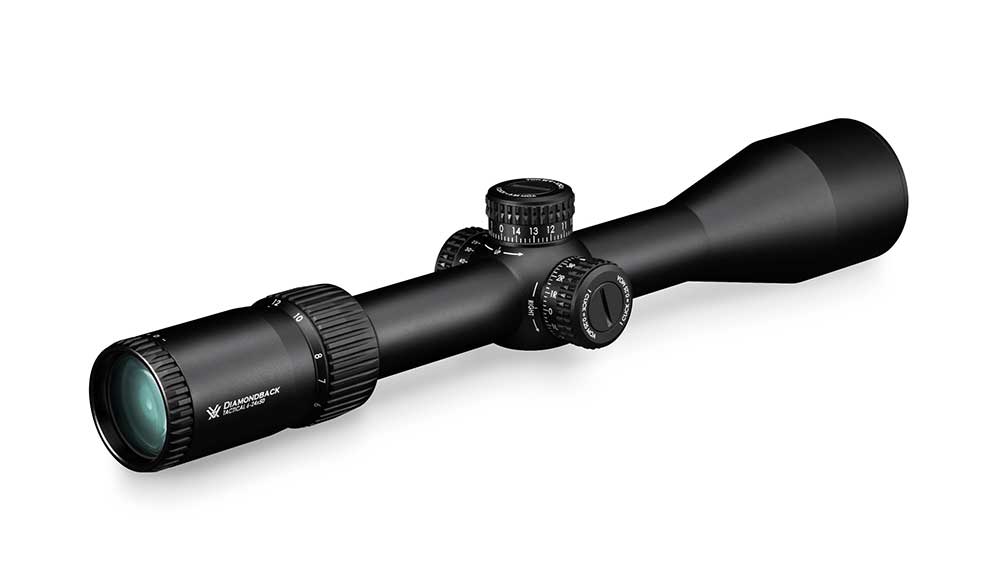 Vortex Diamondback Tactical 6-24x50 mm

Backed by one of the best warranty programs in the industry, Vortex's Diamondback Tactical 6-24x50 mm scope represents one of the best values for a long-range capable, FFP optic on the market. Exposed turrets provide reliable adjustments with no frills, while the optical system delivers sharp image quality even out to considerable range. The Diamondback Tactical features a glass-etched, FFP reticle with fully multi-coated lenses to increase light transmission and limit glare.

Extra-low dispersion (ED) glass improves color fidelity and delivers a crisp sight picture, which is especially useful in low light and at higher magnification. An EBR-2C reticle features MOA-based subtension lines for ranging, holdover and windage corrections. An incredible value with high performance, the Diamondback Tactical scope is more than enough for cost-effective competition or long-range hunting.

MSRP: $499