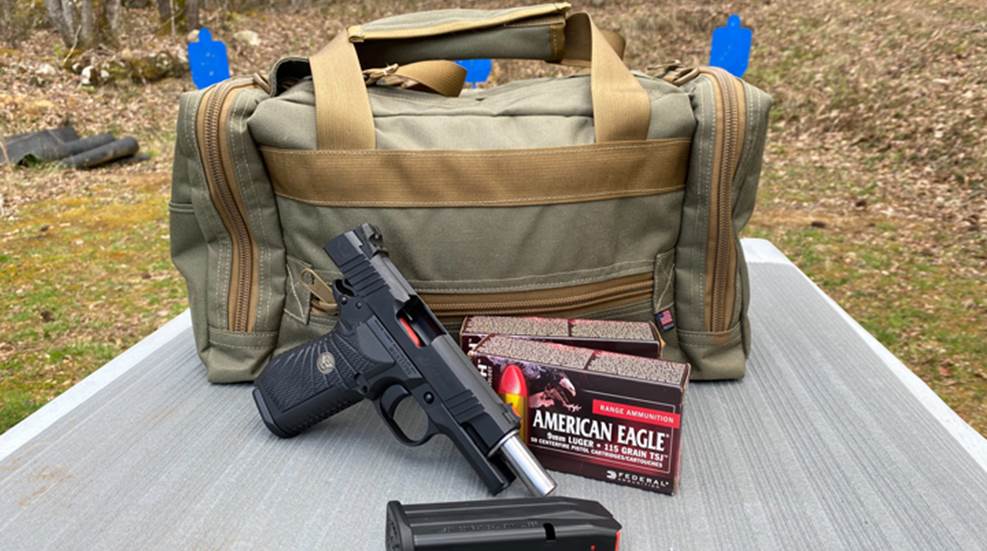 Though often an overlooked and considered a non-essential accessory, a quality, well-stocked range bag is actually a necessity. When it comes to range bags, I've seen it all; everything from plastic grocery bags crammed full of ammo, targets, and snacks, to pull behind carts loaded with guns and gear that were wheeled right up to the shooting bench.

For many, finding time to go to the range is difficult so when you do go it's nice to be prepared. If you're serious about shooting, you need a good range bag, and it should contain everything you need to have an enjoyable and successful range experience. If you're new to shooting, or even if you've been at it a while, here's a guide to help you put together the ultimate range bag. 
The Bag
My first range bag was actually an old plastic tackle box. It worked well enough, but the hard-sided construction sometimes made packing/fitting gear difficult. Eventually it fell off a shooting bench and broke, so I transitioned to a soft, canvas style bag. I used it for many years, but it often seemed like I was trying to dig my gear out of a duffle bag. A good range bag should be made of high-quality canvas, but it should also have some stiffness and form so that you don't feel like you're carrying your gear in a pillowcase.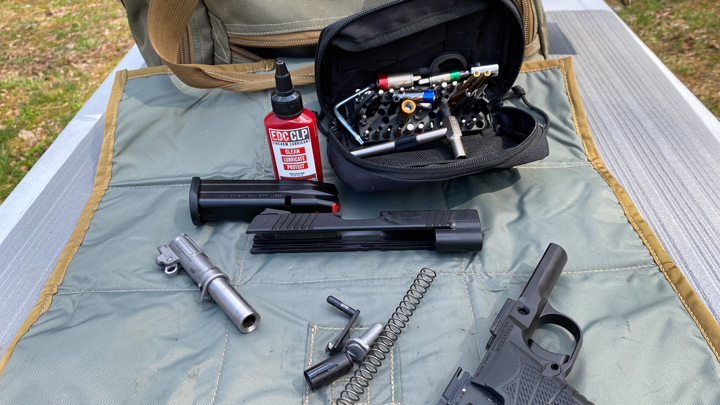 Last year I discovered Gauge Outfitters and their American Range Bag, which is 100-percent American made. It's constructed of 1000D Cordura fabric and measures 16x12x9 inches. It keeps its form so when you open it, you can actually see inside it. The bag has two Velcro dividers you can position as needed, comes with handles and a carry strap, and has two large zippered pockets on each end. In addition, there's two additional Velcro closure pockets on the outside.

But this bag's neatest feature might be the pull-out mat you can use for gun cleaning or to just lay out your gear. The mat even has a hidden magnet inside to help hold small parts when you field strip your firearm.
The Contents
Safety first, always. Probably the most overlooked piece of gear for a range bag is a first aid kit. It does not have to be a kit capable of dealing with every health problem known to man but should contain personal emergency medications, bandages, eyewash, sting-eze, and for sure the necessary items to deal with the trauma that can result from a gun-shot wound. Quality first aid kits can be attached to a bag like described above with MOLLE straps.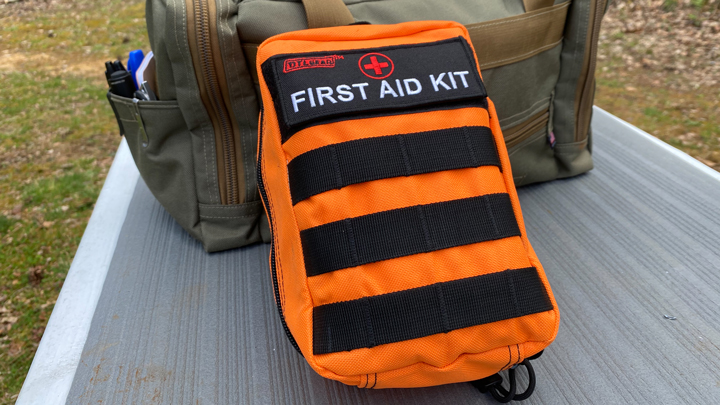 Along those same safety lines, make sure your range bag has ear and eye protection. You probably have your favorite set of hearing protectors but make sure to include some foam ear plugs too. You might have left your good hearing protection at home when you changed the batteries, or you may be shooting with friends who do not have ear protection. The same applies to shooting glasses: You might have your favorite or prescription set, but throw in at least one set of less expensive ballistic-rated eyewear.
The safety gear is there to keep you running but you need to keep your guns running too. This means your range bag needs to contain some gun oil and better yet a good CLP (cleaner, lubricant, and protector.) A small cleaning kit with an expandable clearing rod is a must; you don't want a dirty gun to ruin your range day.

In addition, some tools to work on your guns are a good idea. The options here are unlimited but The Works from Fix It Sticks is kind of the ultimate answer and should handle about any issue that arises on the range. And don't forget a compact flashlight, notepad, pen, a couple Sharpies for marking and/or making targets, and a good pocketknife; a CRKT Razel GT lives in my range bag.
A shot timer, rangefinder, stapler, and some small sticky targets should be mandatory. Shot timers are relatively inexpensive and are a great training aid. The PACT Club timer only cost $129.95 and should last a lifetime, but make sure you throw in some extra batteries.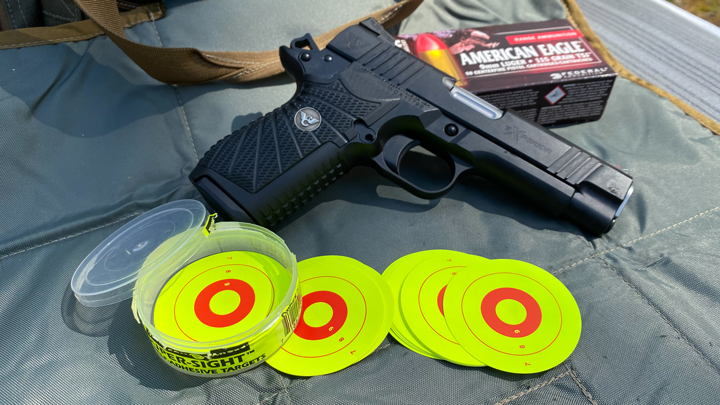 As for the rangefinder, target backers on ranges are not always at the correct distances. A rangefinder can provide confirmation. You'll also need a stapler and staples; the ones at the range are always broken or empty. And I like to include some small sticky targets. Thompson Targets makes a little plastic container that holds 50, 2.25-inch targets for only $5.99.
Maybe the most overlooked items for a range bag are food and water. Often range visits can run longer than expected. Keep a bottle of water and an energy bar in your range bag to keep you from getting dehydrated, hungry, or worse yet, hangry, which might require cutting your range visit short. A handful of hard candy and some chewing gum takes up little space but can give you that little boost you need to get through a training session.
For riflemen, there are other needs such as sandbags, shooting supports, and shooting mats. But you don't want a range bag large enough to contain all these additional items; you want to be able to carry your range bag from your car to the shooting line without throwing your back out. Think of your range bag like your wife thinks about her purse. If she's a mom, that purse will contain everything needed to navigate and survive anything but an apocalyptic disaster. You don't need a complete gunsmith's bench at the range, but you want to arrive smiling and leave smiling even wider.