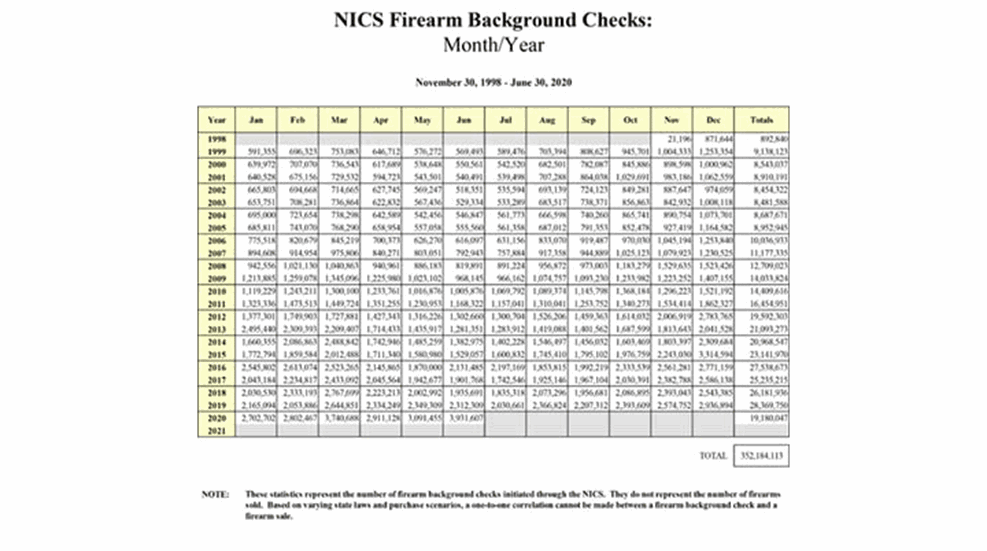 The FBI processed a total of 3,931,607 records through the National Instant Criminal Background Check System (NICS) in June, roughly 1.6 million more than the same month in 2019 and nearly 200,000 more than the previous highwater mark, set in March. After subtracting use of the system not associated with a firearm purchase, the number reflects the sale of nearly 2.4 million guns nationwide. The figures do not include transfers made to valid CCW permit holders in those regions of the country where a redundant background check is not required for their firearm purchases. 
May's gun sales numbers were also up by 80.2 percent, with a total of 1,726,053, according to an estimate from Small Arms Analytics & Forecasting (SAAF). The increases have now continued for more than a year and show little sign of slowing.
The record for the most firearms sold in a single year reflected by a NICS background was set in 2016. Estimates put that figure at 15.5 million, but a "new normal" on its heels saw 2017 numbers drop to 14 million and 2018 came in at 13.1 million. Last year's total sales started the current upswing with 13.9 million.
The total for this year currently stands at roughly 10.6 million and the traditionally busy hunting and holiday seasons are months away. If the trend continues there's little doubt a new record for annual firearm purchases will be set by 2020, as well at total NICS volume.
Every week last month also worked its way into the top-10 list of seven-day periods with the highest volume of NICS checks on record. June 1 to June 7 now holds second place, with 1,004,798—only the second. Only one other week has experienced more than 1 million—March of this year. The other weeks in June claimed fourth-, fifth- and sixth-place honors on the list.