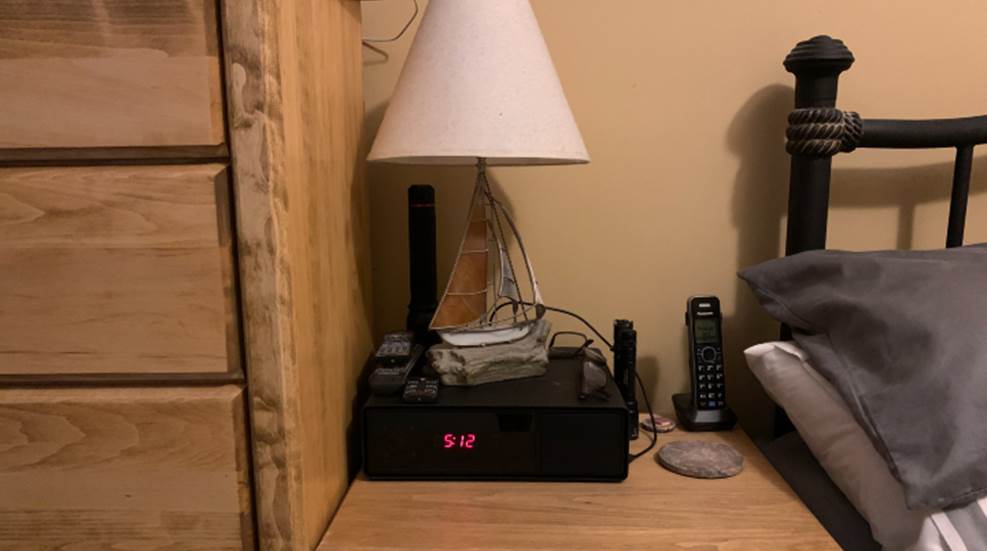 We're always on the lookout for great safe-storage ideas. Always. Keeping unauthorized people away from your firearms is a critical part of being a gun owner - and, for that matter, a smart move to protect your investment. For parents and grandparents, it's crucial to make sure that not only are the kids thoroughly instructed in safe handling procedures, but also to keep firearms secure as well. The trick, of course, is balancing being prepared and ready with firearms being safe and secure.
Hornady's been on the forefront of solving this conundrum for a while now. The company's RAPiD series of safes offers a variety of methods to access your secured firearm quickly: Keypad, RFID stickers, RFID bracelet, RFID fob and, should all else fail, a plain old key. RAPiD safes come in a number of different styles: there are simple, single-pistol safes, car-based safes, AR/long gun safes and the newest addition to the RAPiD Safe family, the Night Guard. In addition to the security of a solid, metal safe with a hefty lock, there's a bit of classic subterfuge in the packaging.
Sure, the alarm clock/radio has gone the way of the cassette deck (okay, showing my age here, CD player) in your car, having been replaced by various iThings and "personal assistant service" devices. I'd wager it's still innocuous enough, though, that a quick glance in a room that shows a vaguely rectangular box with a digital time display will register as "clock" and not "valuables inside." Should someone decide to try, though, the Night Guard has heavy steel construction and a thick, 1,500-pound-rated cable to secure it to something immobile. It also has pre-drilled holes should you wish to permanently attach it to the nightstand or other furniture.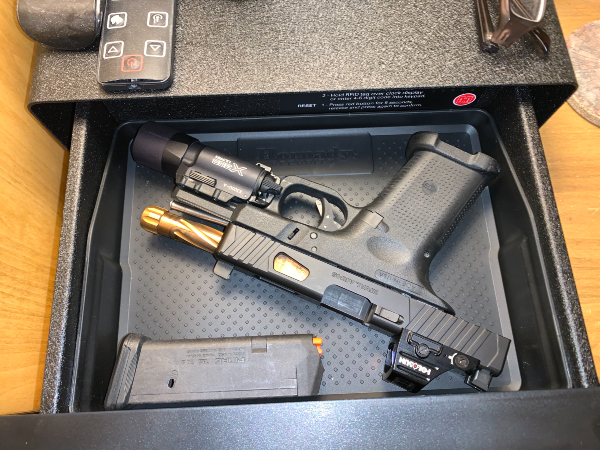 Should you choose to use the cable rather than permanently affixing the Night Guard, a variety of additional options becomes available. It can easily function as a secure box for your car, should you have to travel somewhere firearms are not permitted. It can work as a travel safe for when you're on the go (although I'm not 100-percent sure if you can or should use it as a TSA-approved box, since it weighs 18 pounds by itself, which is a lot of weight to add to any piece of checked luggage). With the Night Guard, you could very easily take a road trip to a completely different area (just be sure of the laws at your destination and any stops along the way), lock the unloaded gun in the safe in your trunk to comply with travel requirements and then use it to secure your firearm in a hotel room.
That's a lot of utility for one device. 
What I really like about it, though, is the ability to simultaneously have a firearm "on the nightstand" that is still completely secure and safe from little fingers. Moms, Dads, aunts, uncles, grandma and grandpa can all continue to have a defensive pistol within arm's reach while simultaneously not having to worry that Junior might accidentally get their hands on it. Unless they have a stout pry bar and a lot of time or a hefty amount of C4, it's perfectly safe and secure. Even better, should the unthinkable happen and you need it in a hurry, a quick swipe of the key fob, RFID sticker or bracelet opens the drawer instantly. 
Sure, it looks a little outdated (hey, Hornady, here's an idea: introduce a model with fake wood grain finish and a non-functional radio dial to *really* complete the subterfuge!), but again, the idea is for it to melt into the background so it gets overlooked. At a glance, the Night Guard looks like a large clock-radio. An intruder looking for quick things to grab isn't going to give it a second thought, and even if they did, with the safe lashed to a bed frame it's going to take a hacksaw and a bunch of time to free it. But, more importantly, should a child wander into the room while you're not in it, they're not going to be able to access what's inside.
MSRP is $264, and Hornady is running a special Father's Day offer for free shipping (which is pretty substantial given the 18-pound weight of the safe itself, let alone the extras). The Night Guard comes with a 1,500-pound-rated cable, one RFID bracelet and three RFID tags (two stickers and one hard-plastic unit like you'd put on a keychain). It also has a keypad with a 4 to 6 digit programmable code and a barrel-type key.