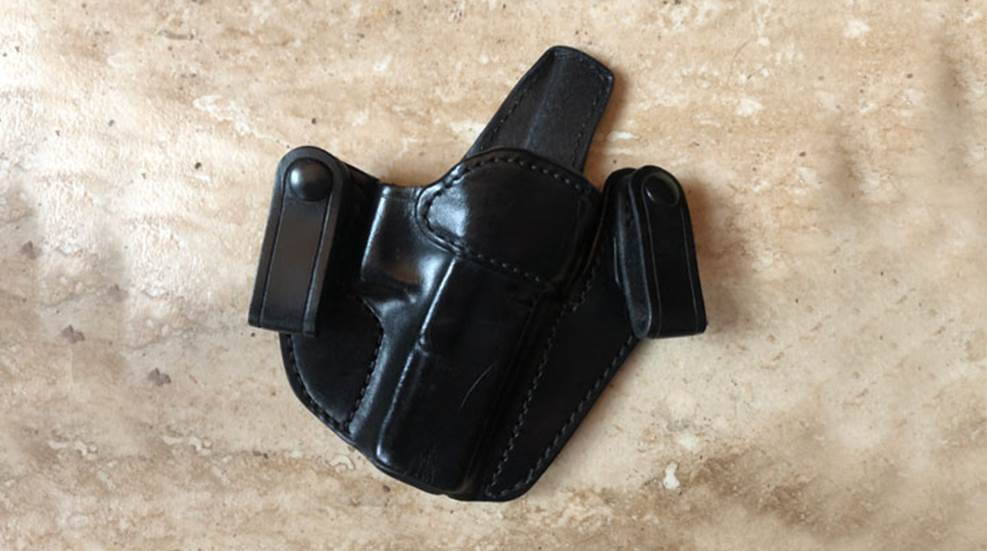 As great as leather holsters can be for open carry — classic look, traditional design — and OWB concealed, they are often not the best choice for IWB. Softening over time and continued use can cause the mouth of the holster to weaken under the pressure of a tight belt.

This is fine for holding the gun in and does not interfere with the draw, but it makes reholstering, especially under the pressure following a real-life deadly force encounter, difficult without using two hands, often putting the support hand at risk of being muzzled in the process.
Aker addressed this common issue by adding a double layer of leather around the opening of the Statesman IWB holster. While this solution may not be as rigid as Kydex, the second layer, folded over the first along the rim of the mouth, adds enough stiffness that it takes a pretty good squeeze to close it enough that it would restrict the gun from going back in.
The Statesman, available in black and tan, starts with two thin leather panels stitched together around the edges and then around the contour of the gun, leaving an open bottom for normal or threaded barrels, although it looks too small to accommodate a suppressor.
Belt attachment comes in the form of two snap clip straps held on by Chicago screws at a non-adjustable 15-degree forward cant. This makes for a solid system, if you can snap them closed. I struggled to get them around a 1.5-inch leather gun belt that I wear all the time with other holsters. When I did finally get them snapped, they came undone several times during the day. After considerable break-in, the system got easier to use, although I'd say we never became friends.
My Glock G17 fit well into the holster, keeping it confidently secure despite no adjustable retention (not uncommon on leather holsters). The mouth reinforcement worked as designed, too, staying adequately open during repeated reholstering.
While the Statesman is a solid option if you're a fan of leather IWB holsters, one word of caution: it's not optic-compatible. I had to take mine off to use it.
At a retail price of $84.50, the Aker Statesman is a solid option for leather holster lovers. Good retention, great handcrafted look and feel, classic styling, and an opening that stays open under the tight squeeze of a gun belt.