Being a woman comes with its challenges. Often, we don't like how we look, we want to lose weight, this part of the body is too big and on and on it goes. This is especially true for those women who may be well-endowed in the chest area. Finding clothes to fit can prove difficult. But not only that, they may get in the way more often than we want them to. This plight may well be familiar to women who are in the military, law enforcement, firefighting, first responders or even women who enjoy competitive shooting or high-impact sports. Despite this, Cheata Sport has just the solution for busty women who are active in an array of activities and sectors of life.

Known as the Tactical Trotter Bra, this product and other similar options on Cheata's website were originally designed for equestrian riders. The company wanted to find a solution to replace uncomfortable sports bras on the market, as well as create an all-around bra that would fix the many complaints about sports bras. Well-received in the horse-riding community, it was soon discovered that women participating in a variety of activities welcomed the bras with much satisfaction.

Being a more-busty lady, I have had trouble finding tops that fit well. Furthermore, having gone to a military college, shooting competitively and being active in rock climbing and yoga, the upstairs department can tend to get annoying and in the way at times. Upon receiving the Tactical Trotter Bra, I wanted to test it in a couple of different scenarios.

The first scenario of testing was an urban tactical rifle course at Thunder Ranch. Thankfully, the bra arrived just in time before my departure, and I thought it would be perfect to try out in the class. Two days of down in the dirt, slinging my rifle, going over and under barricades and running through a wooded shooting course, the bra was put to the test, and it was reliable the entire time.

Made of polyester and spandex material, the Cheata Tactical Trotter Bra is moisture-wicking and heat-dispersing and includes Stretx performance compression technology. The bra is comfortable (no underwire), breathable and movable. It gives you the support you need while also compressing the chest, which was just what I wanted for the class. When slinging a rifle, as well as getting down onto the ground for prone shooting and ground movement, having a compressed chest makes things a bit easier. Additionally, I didn't feel any digging into my sides or chafing, for that matter, and that's quite impressive after a long day on the range.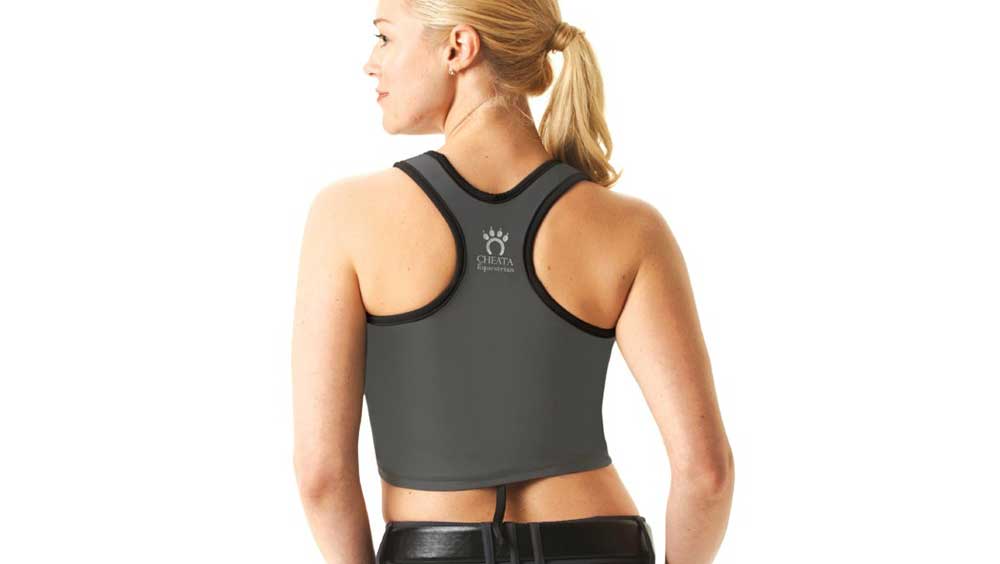 I also tested the bra while taking my bi-weekly yoga class, as well as working out on an elliptical machine. For those who aren't familiar, yoga is demanding, due to the many poses you go into, as well as the amount of time you hold each pose. Having a flattened chest helps by eliminating any trouble of getting into poses because of upper body obstacles. Trust me, going into a crescent lunge twist with a bustier bosom has its challenges. With the Tactical Trotter Bra, everything was in its place and more manageable. However, when working up a sweat like on an elliptical machine, the girls got really sweaty and were sticking to my body, since they were compressed down. It wasn't a feeling I necessarily enjoyed, since my normal sports bra doesn't do that. But my normal one isn't as comfortable as the Tactical Trotter bra.

The bra comes with instructions on how to properly position it, and the company also has a video of how to put it on, in case there is any confusion. It's a simple, four-step process that guarantees your girls will stay in place. By following the steps, the chest area becomes anchored down without discomfort. Additionally, the bra comes in seven different sizes based on your chest measurement. If you don't know your size, then you can easily take a tape measure or piece of string to get the measurement. If you aren't sure how to do that, the company has a video for that as well.

Despite all the benefits, the Tactical Trotter Bra is not without its quirks. The one downside for me was that, being a full-figured woman, I didn't like how the bra came all the way down to my tummy. Because of this, the bra tended to ride up a little because I have a bigger mid-section. This is just my personal experience and will most likely not be a problem for women who have flat stomachs. Nonetheless, it did bother me, and I know there are women with similar body shapes to myself that might find this annoying, so it is something to consider.

In the long-run, the Cheata Tactical Trotter Bra gets the job done. Its intended purpose is to provide women with support and comfort, while compressing the chest-area so a multitude of activities become easier. The girls are great, but with this bra, they become more manageable.