by
Shooting Illustrated Staff
posted on April 21, 2020
Support NRA Shooting Illustrated
DONATE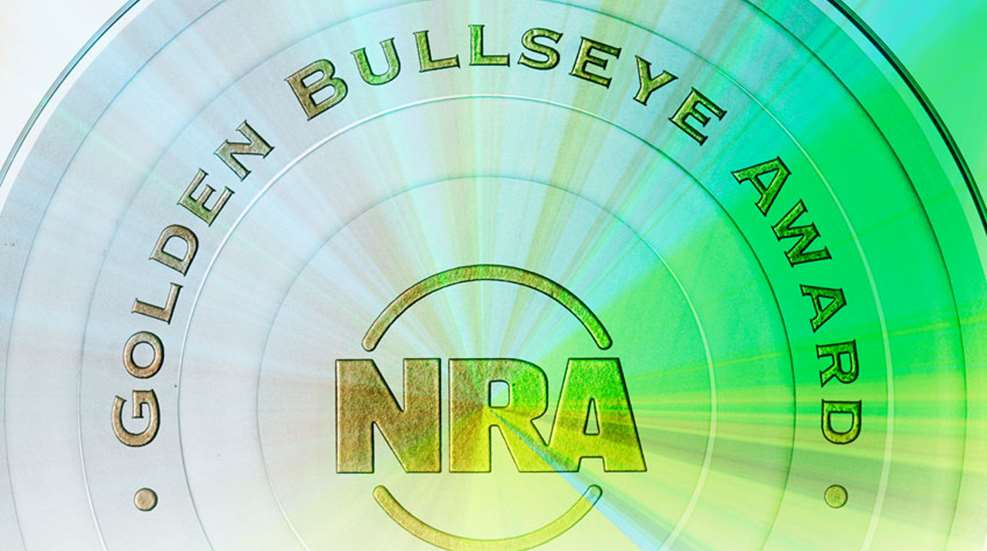 Only those products that offer a combination of innovation, utility, reliability, outstanding performance and value to the consumer can win the coveted Golden Bullseye Award. Here are the best of the best products for personal protection, training, concealed carry and home defense introduced during the past year.
---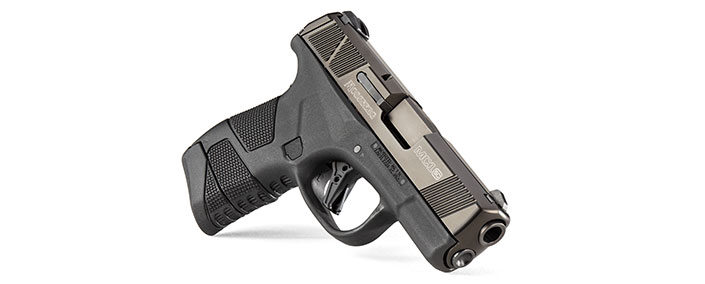 Handgun of the Year | Mossberg MC1sc
For the first time in nearly a century, Mossberg introduced a traditional handgun, and it's a good one. A really good one. Not only is the MC1sc eminently affordable, it is also accurate, comfortable and sports one of the best triggers on a polymer-frame, striker-fired pistol. The pistol is sized for carry and is an ideal choice for first-time gun owners, thanks to its ease of disassembly for cleaning and maintenance—a process which does not require a trigger pull. Sights are in a standard SIG dovetail, so aftermarket options abound. It may have taken 100 years, but this new Mossberg handgun was worth the wait.
"This little gun is way more accurate than it has any right to be (based on its size, sight radius, etc.). The 'triggernometry' is, quite simply, excellent." —Jay Grazio, Managing Editor
Winning Features:
• Phenomenal trigger for a striker-fired pistol
• Simple, trigger-pull-free takedown
• Intelligent, comfortable grip design
• Reliable, accurate and fun to shoot
Caliber: 9 mm
Capacity: 6+1 rounds
Barrel Length: 3.4 inches
Overall Length: 6.25 inches
Weight: 19 ounces
MSRP: $421
(203) 230-5300 mossberg.com
---

Rifle of the Year | Christensen Arms MPR
Firearm innovation comes in many flavors, and the Christensen Arms MPR sports a delicious amount of carbon fiber. We don't recommend tasting it, but we can certainly endorse taking it to the range or using it in the field. All that advanced material makes this precision rifle remarkably lightweight, yet not a thing is lost in terms of performance. The MPR delivered ultra-tiny groups, with half-MOA accuracy the norm. A billet aluminum chassis provides a stable shooting platform, while the carbon-fiber barrel enhances cooling to help maintain accuracy. Despite all of the innovation and performance the MPR offers, it remains relatively affordable for a rifle of its class, and you'd be hard-pressed to find any rifle that is as good a tack-driver.
"The best group of the day was just .19 MOA. That is fantastic performance from a factory rifle that weighs in at less than 8 pounds." —Steve Adelmann, Rifle Editor
Winning Features:
• Folding, fully adjustable stock
• Adjustable muzzle brake
• Carbon-fiber barrel
• Fluted bolt
Caliber: 6.5 Creedmoor
Capacity: 5 rounds
Barrel Length: 22 inches
Overall Length: 42.63 inches
Weight: 7 pounds, 10 ounces
MSRP: $2,395
(888) 517-8855 christensenarms.com
---

Shotgun of the Year | Citadel RSS1
Geopolitics can interfere with the firearm industry in unforeseen ways. Since 2014, sanctions on various Russian defense manufacturers prohibit the import of the popular Saiga and Vepr shotguns. Thanks to the Citadel RSS1, however, the American gun owner has a new, affordable option for a magazine-fed, AK-pattern scattergun—with some added features like bolt-hold-open capability and an enhanced safety selector. The Turkish-made RSS1 handles most 12-gauge ammunition, from target loads to 3-inch magnums. Because it is a box-magazine-fed shotgun, reloads are fast and easy, making it a solid choice for self-defense and filling a market niche world events have left open for the last half decade.
"If you like the idea of an AK-style, semi-automatic shotgun, the Citadel RSS1 gives you what you're looking for without emptying your wallet." —Evan Brune
Winning Features:
• Enlarged, ambidextrous magazine release
• Railed dustcover for mounting optics
• Enhanced AK-style safety
• Compatible with VEPR magazines
Gauge: 12; 3-inch chamber
Capacity: 5 rounds
Barrel Length: 20 inches
Overall Length: 41.65 inches
Weight: 8 pounds, 2 ounces
MSRP: $799
(800) 553-4229 legacysports.com
---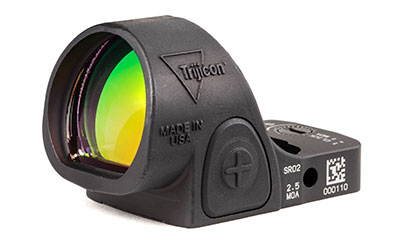 Optic of the Year | Trijicon SRO
In 2020, a pistol without an optics cut is like a pizza without toppings—sure, it will work just fine, but why not add a little something to make it better? One of the most popular slide-cut options is for the Trijicon RMR, one of the first micro red-dot sights to become massively popular. Trijicon has upped the ante with its SRO, which will fit the RMR cut, yet provides a significantly larger viewing window. That larger window makes picking up the red dot much easier on the draw, which is the hardest part of learning to use an MRDS-equipped handgun. Add Trijicon's legendary quality, long battery life and the ability to change batteries without removing the optic from the slide, and you've got an ideal MRDS for everyday carry and home defense.
"I can say without fear of contradiction that the SRO has the most easily acquired dot out of any pistol-mounted optic I've tested." —Jay Grazio, Managing Editor
Winning Features:
• Large viewing window
• Easy battery changes without sight removal
• Fits most Trijicon RMR-cut slides
• Simple brightness controls
Magnification: 1X
Objective Lens Dimensions: 25x22.5 mm
Reticle: 1-, 2.5- or 5-MOA red dot
Adjustment: 150 MOA in 1-MOA increments
Length: 2.2 inches
Weight: 1.6 ounces
MSRP: $749
(800) 338-0563 trijicon.com
---

Ammunition of the Year | Norma MHP
While Norma ammunition has been around for a while, the company's first take on personal-defense ammunition offers some innovative features and excellent performance. Available in 9 mm (and a new .380 ACP load for 2020, too), a few distinguishing characteristics are immediately noticeable. First, the bullet weight is 108 grains—between the lightest 9 mm offerings and the standard 115-grain ball loads. This results in less recoil and faster velocities. Testing showed remarkably consistent velocities which, unsurprisingly, yielded equally consistent penetration and expansion. The bullet itself is a monolithic hollowpoint, meaning it is 100-percent copper. It opens up in gelatin to nearly 1 inch thanks to four-petal expansion, creating devastating wound cavities. For a first effort at a defensive round, the MHP has a lot going for it to help the armed citizen.
"[MHP ammunition is] accurate, delivers consistent velocities, produces low recoil, delivers decent penetration and creates a wide and nasty wound cavity." —Richard Mann, Ammo Editor
Winning Features:
• All-copper bullet
• Extremely consistent, wide expansion
• Light recoil
(813) 626-0077 norma-ammunition.com
---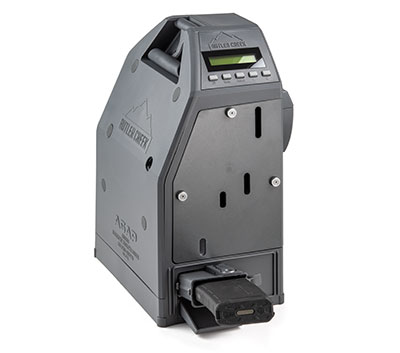 Accessory of the Year | Butler Creek ASAP Electronic Magazine Loader
Shooting AR-15-pattern firearms is immensely fun, but in order to shoot one, you have to load magazines, which is decidedly less fun. In fact, it is annoying, boring and, if you load enough to have an hour of fun at the range, painful on your fingers. The Butler Creek ASAP Electronic Magazine Loader completely eliminates the horrors of this vital, but dreary task. Dump a few boxes into the 60-round hopper, set the digital controls to the number of rounds you want to load, insert your 5.56 NATO AR mag and hit the start button. Your mag will be loaded rapidly, you will have more time on the range and your fingers will be forever grateful.
"Using a sophisticated tumbler system to arrange rounds for loading, you can dump up to 60 rounds into the hopper, attach an AR-15 magazine, press a button and VOILA! Magic happens and your magazine is full." —Jay Grazio, Managing Editor
Winning Features:
• Works with most metal, polymer, hybrid and surplus magazines
• Intuitive digital menu
• Massive time and energy saver
• Carry handle for easy transportation
MSRP: $359.99
(800) 423-3537 butlercreek.com
---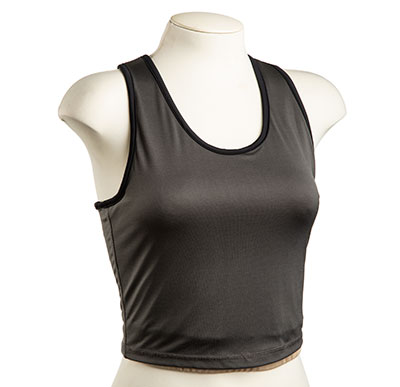 Women's Innovation Product of the Year | Cheata Sport Tactical Trotter Bra
When it comes to women's undergarments in managing the upstairs department, there is a limited supply of options for keeping things under control and under wraps, while also being pleasant to wear. Women who are active in a wide array of activities need support and comfort in the chest area, while also keeping things compressed and out of the way. The Cheata Sport Tactical Trotter Bra (so named because it was originally developed for female equestrians) not only provides the needed support, comfort and compression, but is also breathable and moveable, which is an innovative and rare combination. This bra is so versatile because women in all walks of life—from law enforcement to competitive shooters to those who carry a concealed firearm—can reap the benefits this remarkable piece of clothing offers.
"The Cheata Tactical Trotter Bra gets the job done. Its intended purpose is to provide women with support and comfort, while compressing the chest-area so a multitude of activities become easier." —Kristen Walter, Associate Editor
Winning Features:
• Moisture-wicking fabric
• Enhanced comfort and support
• Improves fit of cover garments for CCW
• Durable through long-term wear and washing

MSRP: $69.95
(937) 835-0220 shooting-depot.com
---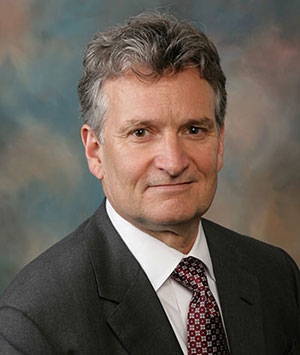 Pioneer Award | Dennis Reese
Whereas the Golden Bullseye Award acknowledges the finest products available in the shooting sports, the Golden Bullseye Pioneer Award specifically honors outstanding personal achievement. The Pioneer Award spotlights the exemplary achievement and cumulative body of work of an individual, or members of a family, team or partnership, responsible for the development and introduction of shooting equipment that has made a profound, positive and enduring impact on the way Americans shoot and hunt.
Dennis Reese, owner and CEO of Springfield Armory, has been part of Springfield Armory in Geneseo, IL, since its founding in 1974. Dennis worked with his father, Robert Reese, in the company's early years and has been an integral part through to his role as CEO-owner today, 45 years later. Building on his passion for civilian-legal firearms inspired by iconic military classics, Reese has taken a hands-on role from the beginning and steered the course though substantial change along the way.
Since its origin, Springfield Armory has been an innovator in the further development and continued popularity of the 1911 pistol, M1 Garand and M1A (a semi-automatic-only rendition of the U.S. military M14) rifles for the civilian market. Reese has also overseen the introduction of numerous other innovative products, expanding the company's product line beyond these classic platforms.
From the XD series of polymer-framed pistols (including the popular XD-M and XD-S variations) to the 911 series of pocket pistols to the SAINT series of AR-pattern carbines and pistols, Springfield has stayed on the cutting edge of the consumer firearms market. Add to this the exciting new Hellcat micro 9 mm, and you can easily see how Reese's leadership has advanced Springfield Armory to become a leader in personal protection and tactical shooting.
Reese has also ensured that Springfield Armory gives back to the firearms community, supporting groups such as the pistol and rifle team of Hillsdale College in Michigan. By giving back, Reese has committed Springfield Armory's help in nurturing the next generation of shooters and firearms enthusiasts. That includes steadfast support for NRA's mission, and accordingly Dennis Reese was recognized for his personal commitment to American rights and liberties through an invitation to join the NRA's exclusive Golden Ring of Freedom.
"Springfield Armory will continue to do its part in helping protect our right to keep and bear arms, and will work hard to keep bringing exciting and innovative firearms to the consumer market. I am both proud and honored to receive this prestigious award from the National Rifle Association and look forward to continuing to work with them in the future," said Reese.
---