As anyone who's gotten involved in the precision shooting game can attest, there's often quite a bit of overlap between the worlds of the competitive shooter and the long-range hunter. In an effort to bridge this gap,
SIG Sauer
developed and introduced the Cross Rifle at the 2020 SHOT Show. The rifle is meant to blend concepts from the precision rifle design with design elements that lend themself to lightweight hunting purposes. 
The downside of a typical precision rifle is that it's typically heavy, thanks in large part to beefy stocks, chassis-type systems, and heavy contour barrels. As a result, 15-pound precision rifles—while incredibly accurate—aren't exactly the type of rifle you want to lug around in the field.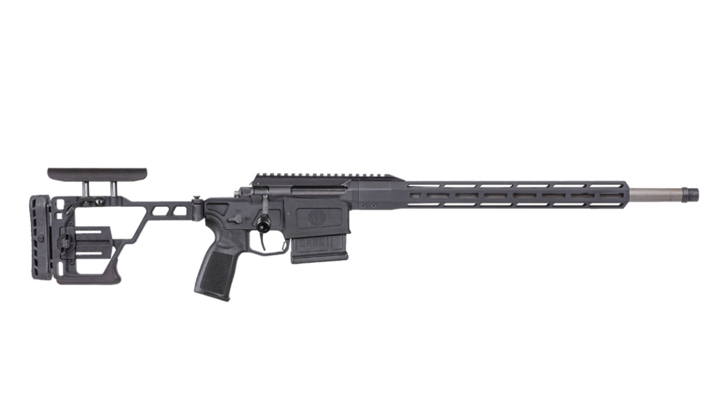 SIG solved the weight dilemma by designing its own bolt-action receiver, built in the chassis style, with skeletonized and folding stock. In the 6.5 Creedmoor offering (reviewed in this article), the Cross Rifle weighs a minuscule 6.8 pounds. The rifle is also offered in .308 Win. and .277 Fury, each of which weigh in at an even lighter 6.5 pounds. Needless to say, it's a featherweight design. 
The 6.5 Creedmoor variant features an 18-inch, threaded barrel with stainless steel barrel and SIG's proprietary two-stage match trigger. Both stages break at under 2 pounds, and as range testing demonstrated, this lends itself to impressive accuracy. 
At the range, the Cross Rifle produced tight five-shot groups. Because it is so light, I definitely started to feel the recoil after a couple boxes of ammunition. With a suppressor—I used the
Gunwerks' 6IX
can—recoil becomes much more shoulder friendly. 
SIG also offers the rifle with or without BDX Electro Optics; for this review I utilized the Sierra 3 4.5-14x44 mm scope with Kilo 1000 rangefinder. When paired with the BDX app on a smartphone, it's incredibly easy to adjust your dope for specific loads, which in turn allows you to range and shoot with relative ease.