by
Evan Brune, Associate Editor, Shooting Illustrated
posted on November 17, 2018
Support NRA Shooting Illustrated
DONATE
Launched at SHOT Show 2017, Blackhawk's Omnivore Multi-Fit Holster emerged as the solution for a problem plaguing generations of handgun owners: the overflowing holster drawer/box. This ubiquitous feature of handgun ownership stemmed from the fact that most holsters are designed to fit a single handgun model. Right off the bat, owners are looking at a different holster for each handgun model they own, not to mention multiple options for each handgun. Want a paddle attachment instead of belt loop? 'Nother holster in the drawer!

So, when Blackhawk launched its Omnivore, it looked like it was the answer to everyone's problem. Just slap an adapter or a compatible weaponlight onto your pistol's Picatinny frame rail, and you've got a holster fit. With this setup, more than 150 different guns could slot straight into the mouth of the Omnivore (Get the name now?). Sounds good, right? Well, honestly, my initial impressions were somewhat apprehensive.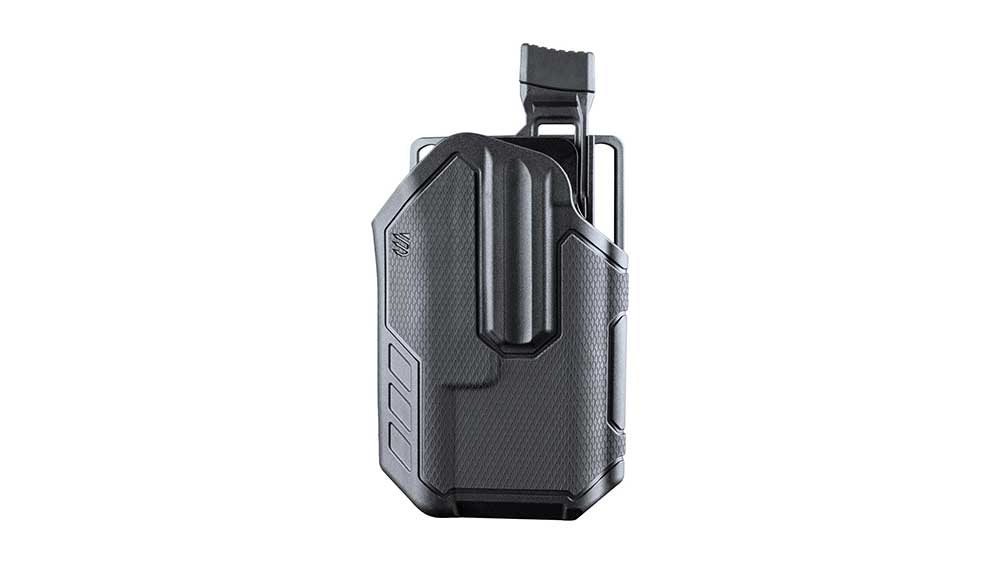 One element of holster design that seems to repeat itself time and again is that most rigs made to fit a whole bunch of guns don't work all that well with any single gun. Often, these designs end up being more of a hindrance than helpful. Personally, I've had less-than-optimal experiences with so-called "universal-fit" holsters, so my initial thoughts on the Omnivore concept were unenthusiastic. However, I did my due diligence, letting the world know that, "Yes, this is a thing that exists," and moved on without digging into the details behind the rig.

A year later, I arrived at a private range located within driving distance from Blackhawk's headquarters in Overland Park, KS. The range featured a single, 25-yard pistol bay cut into a soft swell in the undulating prairie. Along the right side of the bay, a table presented holsters to the attendees: all Blackhawk Omnivores. Great.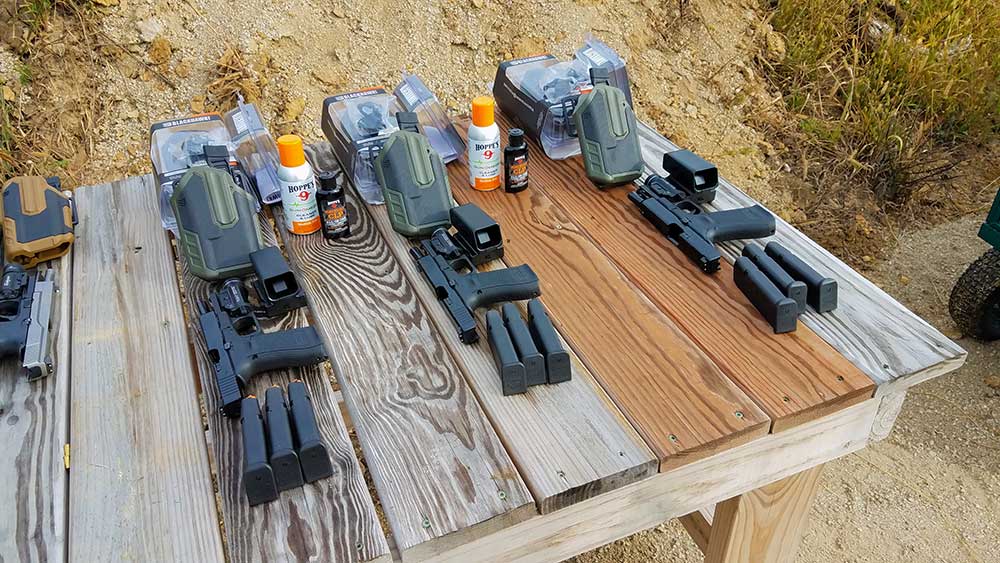 We launched into our range experience, led by Blackhawk's sponsored shooter, Todd Jarrett, who ran through a few features of the holster. At this point, the fog of ignorance began to dissipate, and I started to wonder if maybe I hadn't given this rig a fair shake.

Blackhawk's Omnivore holsters currently come in three different configurations. Like I alluded to above, the first iteration of the design included a Picatinny-rail adapter that locked onto the frame rail of a compatible handgun. This adapter mates to a mounting point on the inside of the holster, which uses a Level-Two retention device unlocked with a thumb release. If handgunners have either a Streamlight TLR-1, TLR-2 or a SureFire X300 weaponlight, compatible holsters are available that lock onto the light rather than a rail adapter.

The holsters used in our little range-training class were sized to fit Streamlight's design, so we locked the TLR-1 to our Glock G17s and started learning. From the start, it became clear that the Level-Two retention device wasn't a hindrance at all. Personally, I don't have much experience with these kinds of retention-equipped holsters, mostly because I thought they'd be more of an impediment to a fast draw than anything else. Why add in an extra step that could eat up valuable seconds, particularly when I'm not counting on it for duty use?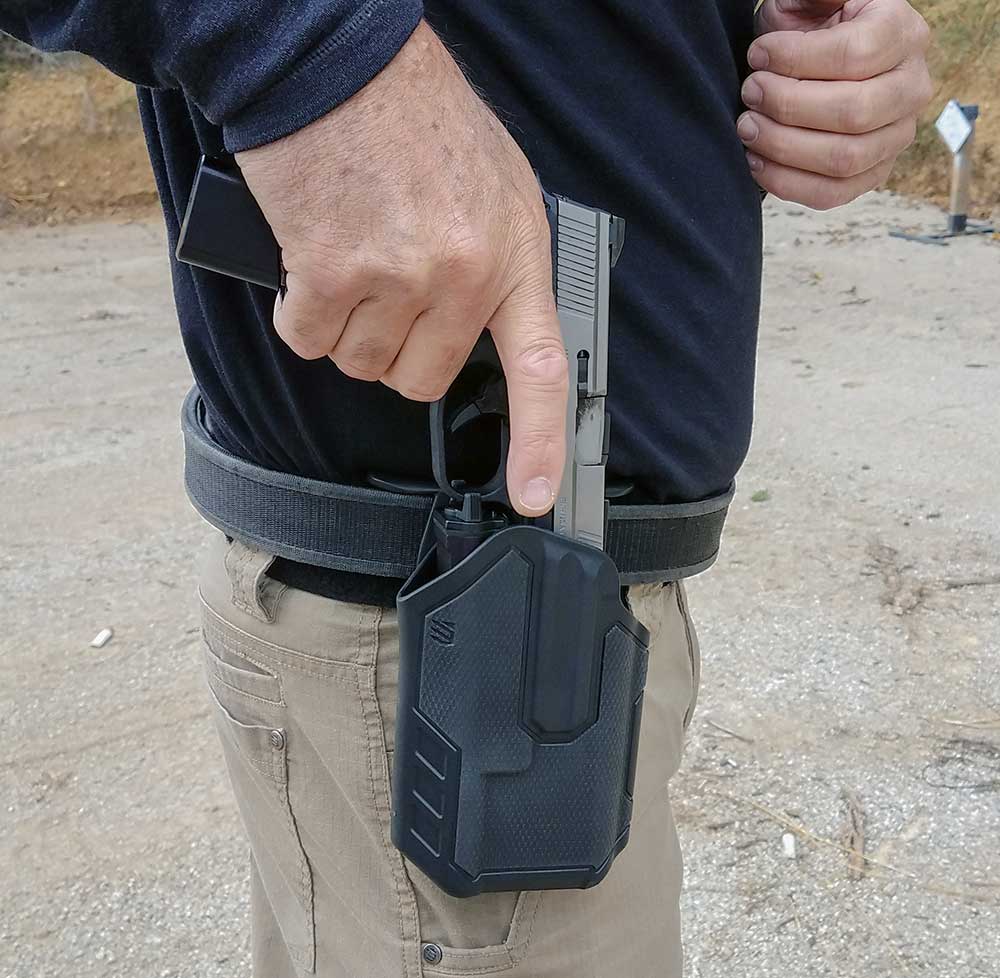 After working with the rig a few times, though, releasing retention and drawing became intuitive. The release lever is compatible with three different thumb pads, each of which is a different height. For those with shorter thumbs, like me, adding in the highest pad allows the thumb to slam down on the release as I gripped the gun in the holster. With the pad depressed, the gun came out smoothly as my thumb found its natural point along the left side of the pistol's frame. Soon, I found I could draw as fast as pretty much any other OWB holster.

Other little nuances also began to emerge as I spent time with the holster. A lot of thought went into the design of the Omnivore, starting with the mouth. Shooters will notice that there's a generous relief cut on the leading edge of the holster mouth. This provides clearance for red dot-equipped handguns, a setup growing increasingly more popular among today's handgunners. At the rear edge of the holster mouth, a downward rake provides added clearance for obtaining a solid grip before starting a draw, ensuring that users can choke up on the front strap as far up as possible.

On the outward-facing flat of the holster body, consumers will notice a long, vertical groove running up to the mouth of the rig. Since the Omnivore locks onto the light body, every Picatinny rail-equipped handgun compatible with this holster will draw with the right side of the pistol frame presented approximately in-line with the groove. On the draw stroke, simply settle your strong hand's index finger into the groove, and it'll end up in a safe spot on the handgun frame, just above the trigger.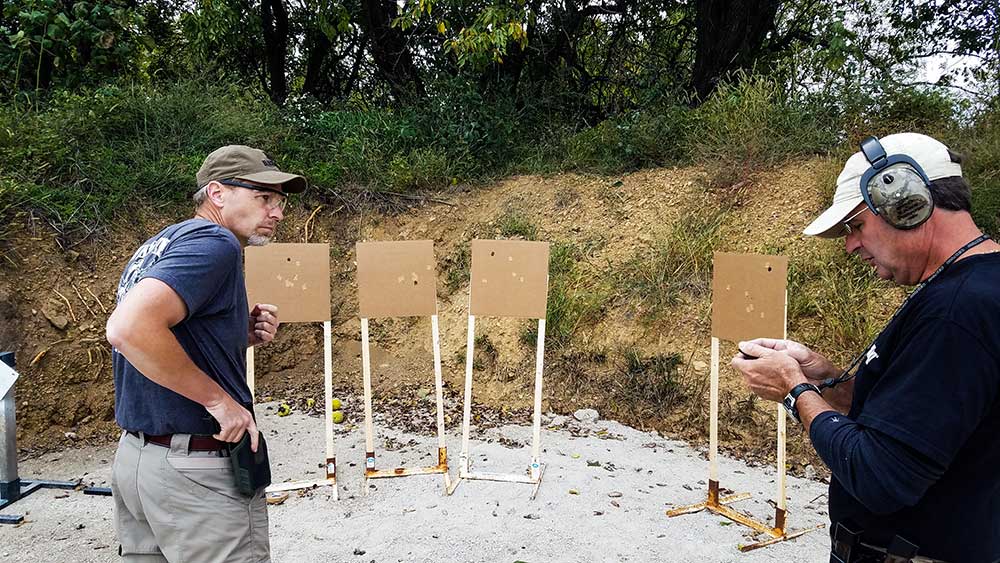 The versatility of the Omnivore doesn't end there. Both paddle and belt-loop attachments can be had for the rig. The Streamlight TLR-1-style model I used in this holster included a belt-loop attachment, which is secured to the near side of the holster body with three screws. Malleable, snap-on loops allow wearers to manually adjust the width of the belt loop for a more-secure fit sized right for any gun belt. On both the paddle attachment and belt loop, 11 screw holes are situated to allow for forward and reverse canting of the holster.

While the Omnivore is clearly packed with features and versatile enough to allow for use with nearly any tactical-style handgun on the market, there are a few elements that limit its capabilities. For one, the ability to accommodate a weaponlight and more than 150 different handgun fits requires room. Because of this fact, the Omnivore is a pretty large rig, measuring almost 4 inches wide and nearly 6.5 inches long. For competition and range training, it'll work, but it isn't any kind of daily-carry rig for most enthusiasts.

Additionally, the need for the interior of the holster to accommodate a versatile blend of firearm shapes, sizes and contours means there's some space around a holstered pistol like the Glock G17. There isn't enough room for a finger to inadvertently slide in, but the polymer doesn't block off trigger access as well as a form-fitted design. Of course, because of the holster's multi-fit design, some triggers are more protected than others. A Springfield Armory XD(M) fits pretty snugly, while a Glock has some room around it.

If you're tired of your box of holsters and want to have a range-ready rig that can be used to build your handgun skills, then the Omnivore is probably the easiest grab-and-go, multi-fit rig on the market. Unlike other universal-fit designs, this holster keeps pretty much any duty-style, rail-equipped, semi-automatic pistol on the market secured into place. It'll always present your gun at the same angle, every time, and it's durable enough to handle years of range training and competition. Plus, at a suggested retail price of $59.95, it's a fraction of the cost of having a dedicated holster for every handgun in your safe.