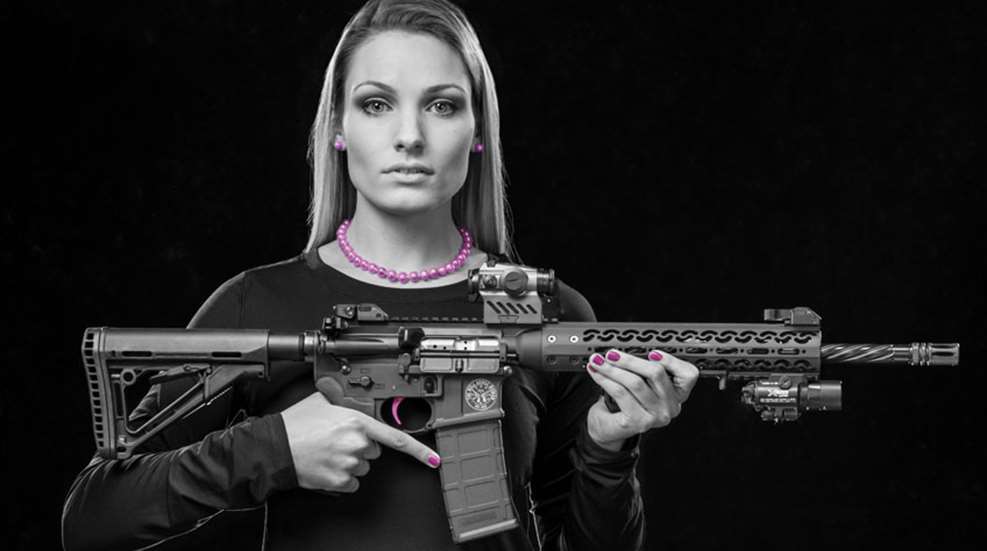 Guns come with stories. These stories create history, and history is being made with the first AR-15 built for women—per what women told engineers at LWRCI that they wanted in this type of popular rifle platform. The LWRCI Diadem is a limited-edition run of a direct-impingement (DI) rifle, produced because two guys from LWRCI met Carrie Lightfoot, founder of The Well Armed Woman (TWAW), a non-profit organization with a mission to educate, equip and empower female firearm owners. The organization boasts more than 335 chapters in 49 states, with approximately 11,500 members.
David Golladay and David Ridley of LWRCI heard Lightfoot speak on a women's industry panel at a National Shooting Sports Foundation summit two years ago. They said they were impressed by TWAW and its impressive reach, as well as Lightfoot's articulate and passionate methods for moving the organization forward. She is a go-to person in the industry for the women's gun movement and has been featured in national media—including Time, "NBC Nightly News," USA Today, Fox News and NRA News.
Further conversations ensued between the two Davids and Lightfoot. She reached out to at least 140 women within the TWAW organization, asking them for their recommendations, and the wheels for the perfect woman's AR started turning. LWRCI became involved with the women's rifle movement, supporting TWAW and its chapter leaders by sponsoring and attending conferences. At these events, they talked to women on the range about what they wanted in an AR. The result was the LWRCI Diadem.
To build the LWRCI Diadem, Lightfoot and her team compiled a spreadsheet with the results and sent it to LWRCI to use as part of the design process. Lightfoot understood that LWRCI told its engineers to "give the women what they want." The first gun rolled off the line in July 2017, with a run of 1,000 units and only available for a short time at a discount to TWAW chapter members across the country. The LWRCI Diadem now is available to the public.
I attended a media event in July 2017 at the LWRCI plant in Cambridge, MD, along with Lightfoot. For the first time, she met the team of engineers face-to-face and found out that the guys learned a few things about female gun owners throughout the process. One of the most surprising things to them was the fact that the women didn't want any color on the LWRCI Diadem, except for the trigger—which is a Cerakote-applied purple, TWAW's signature color. They did want, however, the TWAW logo embossed on the lower. Women also wanted grooves on the grip, a specially designed, slimmer compact rail, LWRCI rail panels and a hand stop.
Lightfoot said they worked on the grip for a few iterations, and particularly wanted to get the feel and balance right. "The balance is remarkable; it almost becomes weightless because it's balanced so well. And the handguard—it's been designed for a woman's hand, so that our hands can wrap the guard and control the gun. We wanted that feature," she said. Other features requested by TWAW and included on the LWRCI Diadem include fully ambidextrous controls, an enhanced padded buttpad for recoil absorption, an H2 buffer to ensure reliable cycling, an ambidextrous charging handle and LWRCI's advanced trigger guard.
The name LWRCI Diadem is a play on the LWRCI DI line of rifles, and adds a touch of royalty. "The name is a DI rifle and also is a crown jewel. It's a crown jewel of the AR-15 line," Lightfoot said.
After the plant tour, we headed out to LWRCI's private shooting range on Ragged Island. We shot a few thousand rounds through the present Diadems (as well as other LWRCI guns) on steel at 100 yards. Lightfoot was right. The handguard worked with my hand size, and the balance felt right. We sent hundreds of rounds downrange, mostly offhand and at times rapidly. The LWRCI Diadem continued to deliver, pinging the gongs with no malfunctions. The only drawback for me was the trigger. I wanted to work with this gun more to see what it delivered.


After receiving a test model to try, I took it to my range, and was illuminated. Spending some quality time with the LWRCI Diadem, I saw the rifle, as with all mechanical contraptions, was not perfect. Nevertheless, it came very close to meeting the TWAW requirements as they were explained to me. That said, guess what? All women (like all men) are different and we have our own preferences that might not perfectly match up with those of even a large group of other women.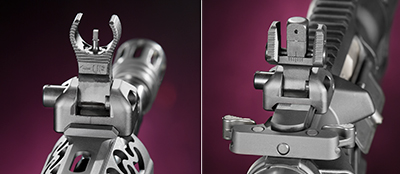 Part of the difficulties I experienced in testing the rifle came from elements of the design, which, although they were features that satisfied the apparent desires for competition-based furniture, hindered quick and consistent medium- to long-range accuracy testing. For example, the trigger seemed similar to the much-maligned triggers on other LWRCI DI rifles in that it didn't break consistently, was a little creepy and had a pull weight too heavy for accuracy testing at 100 yards.

The angle of the specially designed pistol grip on the LWRCI Diadem was too extreme for comfortable and consistent benchrest shooting, and its finger grooves were poorly spaced for my hand when shooting from the bench. The combination of a lightweight, small-diameter fore-end and heavy fluted barrel resulted in slow barrel heat dissipation, causing shot groups at 100 yards to open up unless I allowed at least 3 minutes from shot-to-shot. Once the barrel got hot (difficult to touch with my bare hand), it stayed hot much longer (of course) than a "pencil-barrel" AR-15 I was also testing.
The included back-up iron sights (BUIS) have a rotating drum peep system in the rear sight, and a front post with Heckler & Koch-type "ears" in the front sight. I like how it's like a ghost ring at its most-open setting. I didn't use the BUIS for accuracy testing, but did use them for chronograph work. Since the LWRCI Diadem did not come with a scope or mounts, I borrowed my Leupold Mark 4 8.5-25x50 mm from another rifle for accuracy testing.


The LWRCI Diadem showed a preference for certain loads during accuracy testing. I shot both .223 Rem. and 5.56 NATO commercial ammunition. With a 1:7-inch twist rate, one might expect heavier, longer projectiles to stabilize better than lighter, shorter ones, and this generally held true. The gun may have shown better accuracy if I had some ammo with 77-grain projectiles, but, alas, I did not and had to make do with bullets ranging from 52 to 69 grains.
The only operational failures during the LWRCI Diadem range time were occasional failures of the bolt to lock rearward when I was using 20-round Magpul PMags and a couple of 10-round sheet-metal variants. There were no lock-back failures with the 30-round PMag supplied with the gun. Admittedly, the smaller mags have already seen several thousand rounds each and may be a bit worn, but since only one mag came with the gun I had to dip into my stockpile for more. That brings up another point: gun manufacturers (I'm not aware of more than a few that are not guilty in this area) need to include more than one magazine with each gun, since failures with semi-automatic firearms of all types often begin with a faulty magazine.


According to my Lyman electronic trigger-pull gauge, the average pull weight over five hammer drops was 7 pounds, 2 ounces. That doesn't tell the whole story, though; the pull weight spread was nearly a pound, showing the inconsistency I noticed during accuracy testing. I shoot better when the pull is consistent and averaging at least 3 pounds less than the trigger on this rifle. I have heard and read that companies building ARs are intentionally sacrificing consistent and lighter trigger weights to the gods of safety and reliability—and, the triggers smooth-out with use. I suspect LWRCI is trying to keep the price of the rifle down since "everybody installs aftermarket triggers, anyway."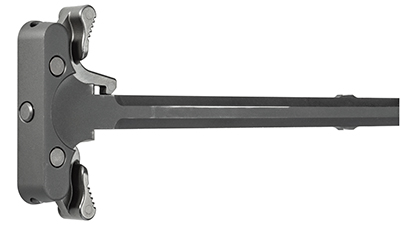 I don't know if any of these thoughts crossed the minds of the designers, but just in case, I'd like to address these concerns. First, call me an idealist, but I don't think the lawyers for the aftermarket trigger makers that produce consistent, lighter triggers are going to knowingly allow unsafe and unreliable products to ship. Next, this LWRCI Diadem came to me with more than 1,500 rounds on its odometer, so if the trigger was going to get better with use, it should have already done so. Last, I'm one of those who have replaced stock triggers in ARs, but not in all of them. At last count, of the nine AR-pattern rifles in my stable, I've seen the need to replace the triggers in two of them.

Some of my ARs have two-stage triggers, some are single stage, but none are creepy, all are consistent and their drop points range from slightly more than 3 pounds to a little more than 6 pounds. This last argument for mediocre stock triggers certainly should not have been in the manufacturer's plan for this design, since TWAW members specifically requested purple-colored triggers—it is doubtful they had any intentions to replace what came with the gun. That said, aftermarket options abound.
LWRCI did not create this rifle from whole cloth, as several of the LWRCI Diadem's features are the same or similar to other rifles from the company's DI line, including the integrated gas key on the rifle's nickel-boron-coated bolt-carrier group, a spiral-fluted NiCorr-treated barrel and LWRCI's Monoforge upper receiver. It did, however, meet the requirements for a group of women who knew what they wanted. To date, Lightfoot says feedback about the Diadem has been extremely positive. "The women appreciate that the gun is not 'girly,' and that it's in black," added Lightfoot.