Support NRA Shooting Illustrated
DONATE
SIG Sauer hosted its annual Range Day for members of the firearms media for SHOT Show 2017, unveiling a host of new products for 2017. Shooting Illustrated had a chance to examine some of the new firearms and accessories up close, and we highlighted 10 items to watch for over the next year.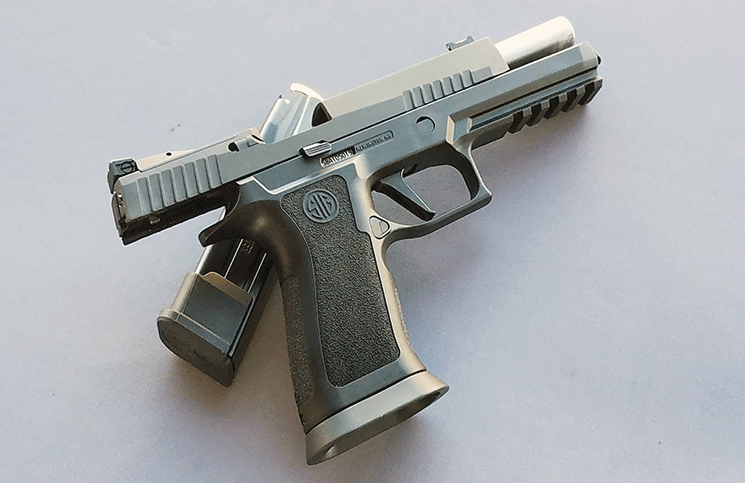 For 2017, SIG Sauer introduced the new P320 X-Series, featuring the company's enhanced X grip module with an extended beavertail, four-sided beveled magwell and a trigger guard undercut. The XFIVE, pictured here, is available in both 9 mm and .40 S&W and features a 6-inch barrel and a 21-round capacity in 9 mm. The gun also features slide-lightening cuts and an enhanced flat trigger with a short, tactile reset.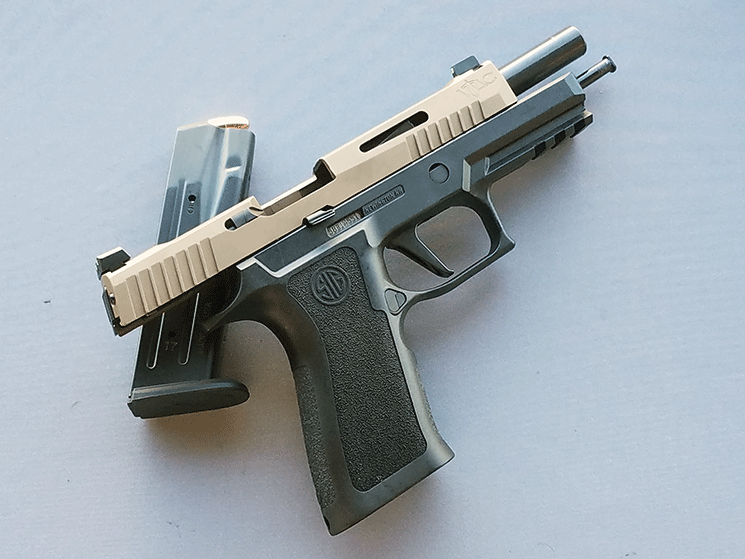 Another model of the X-Series features this Talo Exclusive, designed by Sgt. Maj. Kyle Lamb. The gun features the X-Carry grip module and VTAC night sights, along with a flat dark earth stainless-steel slide with lightening cuts. The gun comes with three 17-round magazines.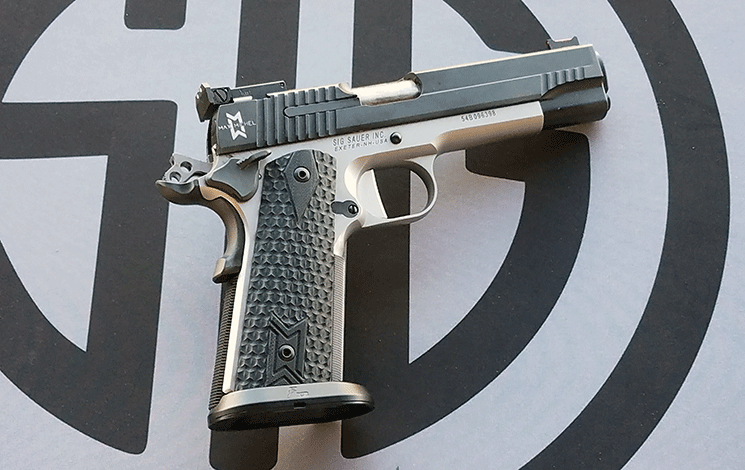 SIG expanded its 1911 lineup with this new gun inspired by Team SIG Captain Max Michel. The 1911 Max comes in 9 mm, .40 S&W or .45 ACP and includes features designed for competition. The gun features a Nitron-finished stainless-steel slide and frame and and adjustable target rear sight and a fiber-optic front sight. The gun features a Koenig Speed Hammer and Hogue G10 grips with an inset Max Michel logo.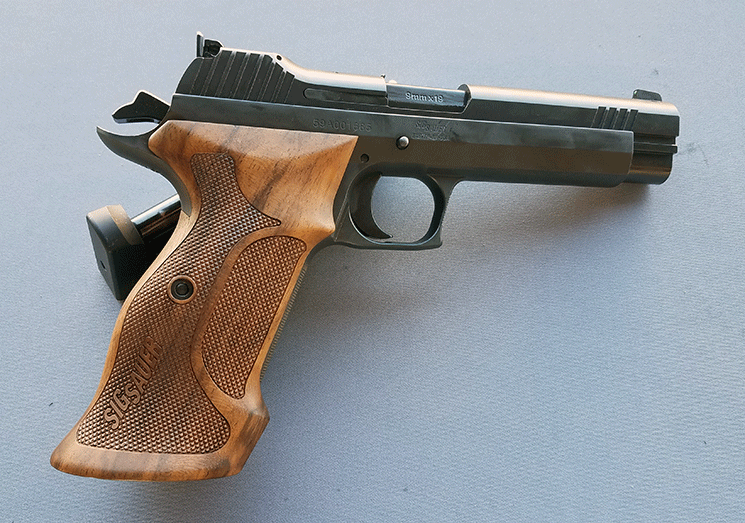 Other big news out of SIG features this P210 American, made right here in the United States at SIG's Exeter, NH facility. the P210, known for its accuracy potential, is precision-made with a stainless-steel frame and slide and features a crisp single-action target trigger.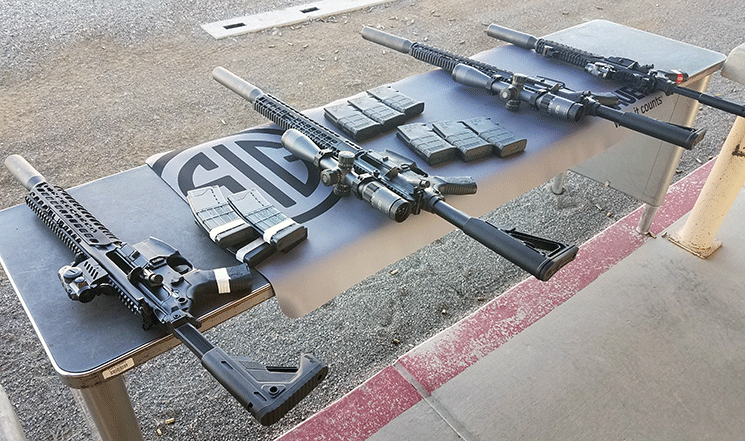 The company had a number of new rifle models on the range as well, including the new SIG MCX Patrol R, with a 16-inch barrel and a telescoping five-position folding stock. The company also launched the new SIG716G2 Patrol in 7.62 NATO, featuring a 16-inch hammer-forged barrel, a six-position telescoping stock and a KeyMod handguard.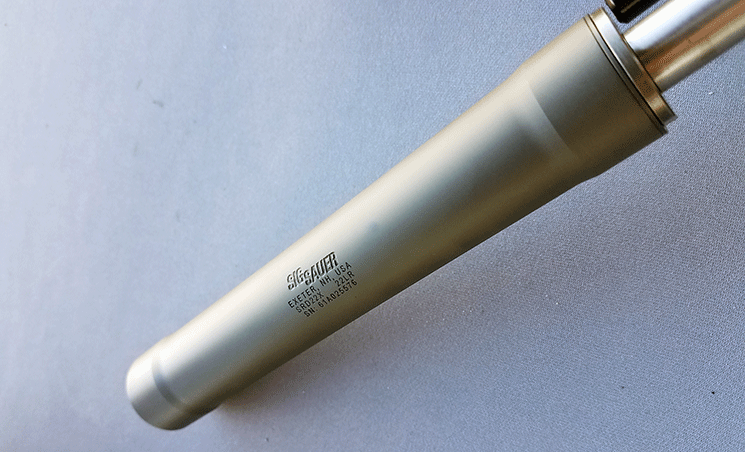 SIG also showcased its new SRD22X rimfire suppressor, a direct-thread suppressor compatible with 1/2x28 TPI thread pitches. The SRD22x features a Grade 9 titanium tube and 17-4 stainless-steel baffles and is fully user serviceable. The average decibel rating with this unit is 110 decibels, and the planned MSRP is $499.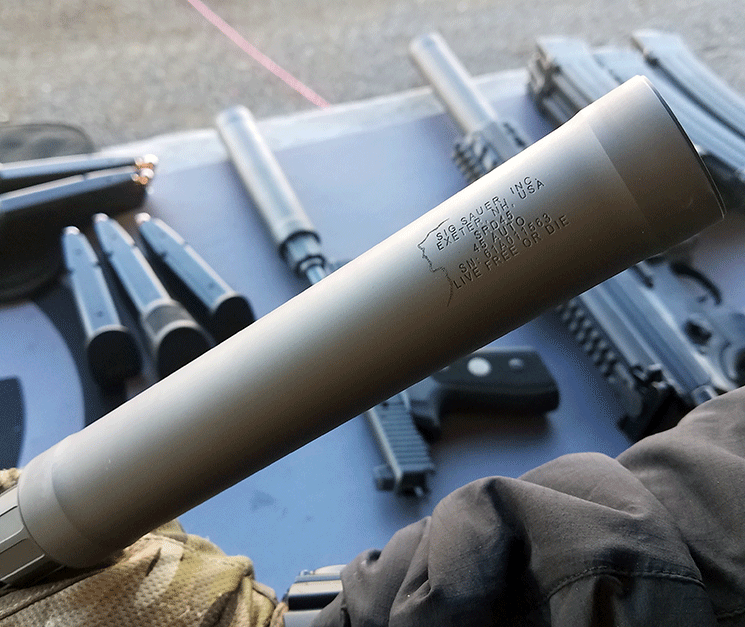 The company continued to highlight its already-popular line of pistol-caliber suppressors, including the SRD45 pictured here, a direct-thread suppressor option for the .45 ACP and features the same construction as the new SRD22X.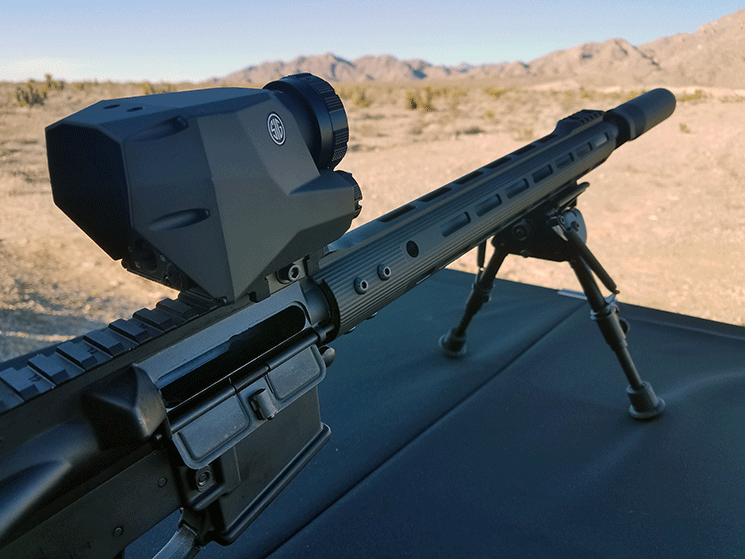 SIG also highlighted its feature-laden Echo1 thermal reflex sight, which is based on a new generation of thermal imaging sensors. The sight features a 12-micron pixel size for increased definition and resolution and features an adapter plate for a Romeo1 open reflex sight or other backup sight. A pair of supercapacitors provide continuous operation under heavy recoil.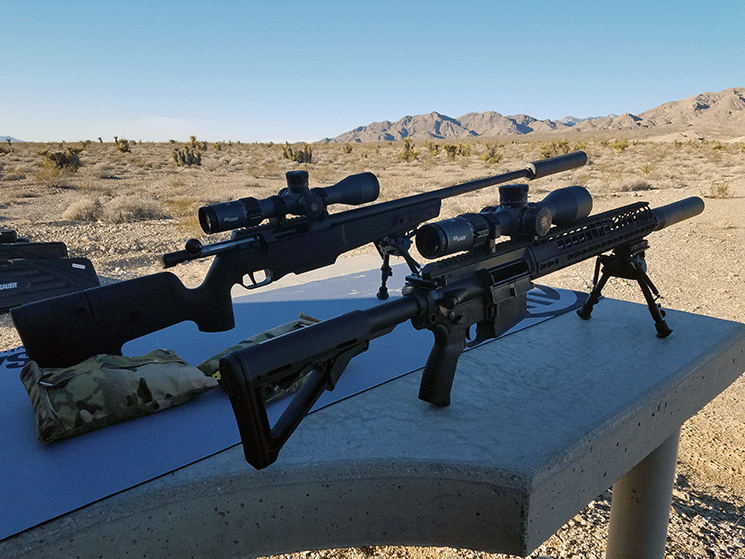 The big news in SIG's electro-optics division is the introduction of the company's Whiskey5 riflescope line with the Levelplex Digital Anti-Cant system. The scope picture features two black boxes on the left and right sides of the reticle. If the reticle is canted by more than half a degree, an arrow will illuminate the side that needs to lift, giving shooters an easy way to ensure their scopes are level.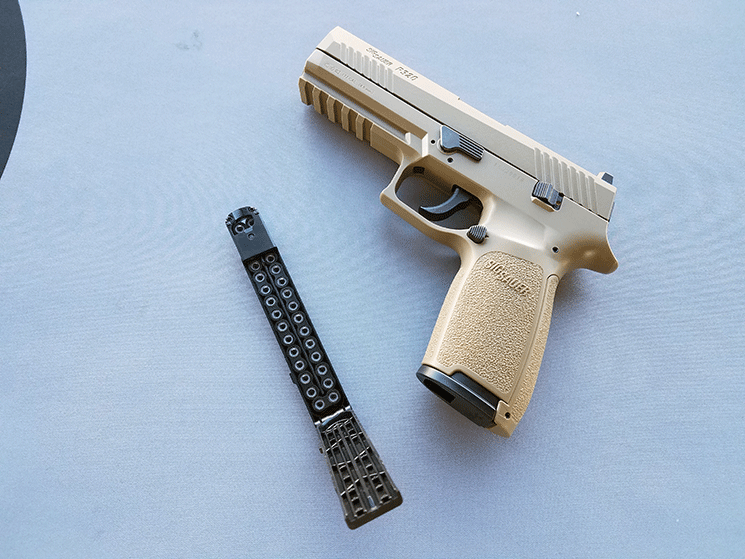 The SIG Sauer Range Day also displayed advancements in the company's ASP airgun line. The new P320 ASP in coyote tan features a 30-round rotary magazine that gives shooters a greater magazine life in order to fit in more training time with their P320 lookalike. SIG Sauer is also incorporating an easy lever-action CO2 canister loading system located in the back strap of the air pistol.