Ten years have passed since the bravery and tragedy of Operation Red Wings; a decade since the Pyrrhic victory that left good men dead and one lone survivor to bear witness. Among the dead was S02 (SEAL) Matt Axelson. In the wake of his death, his family has worked to honor his sacrifice with an ever-growing tribute: Axelson Tactical.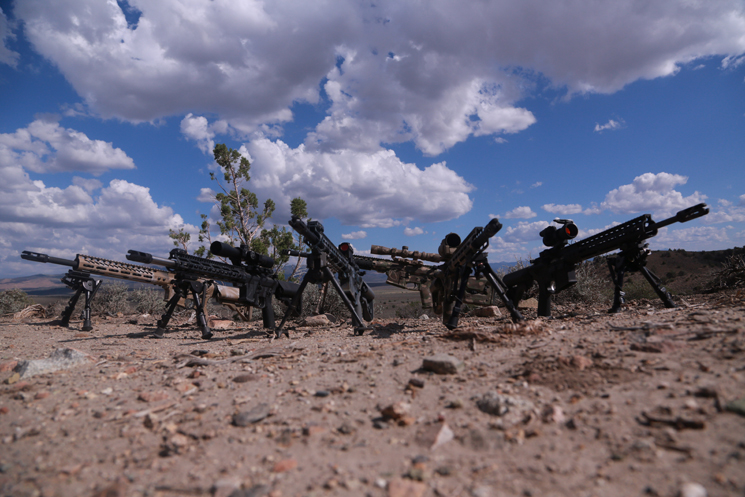 Axelson Tactical manufactures rifles with an eye for not only quality but perfection. In fact, taking a seat at the bench of their head gunsmith last summer gave me a look at more than just their building process. When a box of bolt-carrier groups (BCG's) proved to have been machined in less-than-stellar condition both the gunsmith, Dave, and company founder Jeff Axelson discussed whether or not to use them. They appeared functional but were not up to the standard of previous BCG's. In the end the BCG's were replaced and the BCG's used today are machined elsewhere. At Axelson Tactical they operate under a simple premise: when it's go time, you should be focused on the task at hand, not distracted by your gear. At Axelson Tactical, reliable performance is a must.
The company offers three rifle lines: the Warrior, Combat and Signature Series. Rifles come with the buyer's choice of either Precision or Precision Elite models. Warrior Series rifles are chambered in 5.56  NATO. Combat Series rifles come in 5.56 NATO with a choice of a standard 16-inch barrel, an SPR version, or a 12.5-inch Short Barrel Rifle. There is also a Combat Series chambered in .300 BLK available as a regular or short-barreled model and a .308 Win with a 16-inch barrel with a 1:10 twist. The Signature Series currently consists of one rifle, an AR10 called the Reaper01. The Reaper01 was designed to the specs requested by former Navy SEAL Master Chief and current professional hunter Ron Bellan of Reaper Outdoors. Rifles are offered with nearly a dozen Cerakote options including Multicam, Battleworn, and Kryptek.
I've had the opportunity to use guns from every line at significant length. For the purposes of this review I used the Combat Series .300 BLK on the range and during multiple hunts. This particular rifle utilizes a direct impingement, carbine-length gas system, meaning this rifle is powered using the original AR-15 technology designed by Eugene Stoner. The upper and lower are machined by Axelson Tactical from forged 7075-T6 hard-coat anodized aluminum which is a stronger, more durable alloy capable of withstanding greater wear. The barrel used in the Precision model is a Faxon 16-inch SOCOM 4150 QPQ made of certified Mil-Spec steel with a black nitride finish inside and out. It has a 1:8 twist. As with other components the trigger varies between the Precision and Precision Elite options: the Precision includes an ALG Combat trigger while the Precision Elite utilizes a Geissele SSA-E. My review model had the Geissele installed at my request, giving me a combination of the Precision model Faxon barrel and the Precision Elite model Geissele trigger. This proved a winning combination.
For the review I mounted a Meopta R2 1-6X24 mm RD on the rifle. Guns chambered in .300 BLK are meant for closer-range shooting and the Meopta paired well with the Combat Series rifle at distances up to 350 yards. 2,150 rounds were put through the rifle using a combination of Snake River Shooting Products / Team Never Quit 125-grain Match and 125-grain Solid Copper Tipped HP Hunter, SIG Sauer 120-grain HT Supersonic and Reaper Outdoors 110-grain Controlled Chaos. Throughout testing at ranges between 25 and 350 yards there were no failures of any kind. The rifle is accurate at closer ranges as well as distances exceeding 100 yards if the shooter simply adjusts for the cartridge's expected drop. It consistently struck center, perforating paper and delivering clean, stopping shots with various game including coyotes, armadillos, and a Blackbuck doe.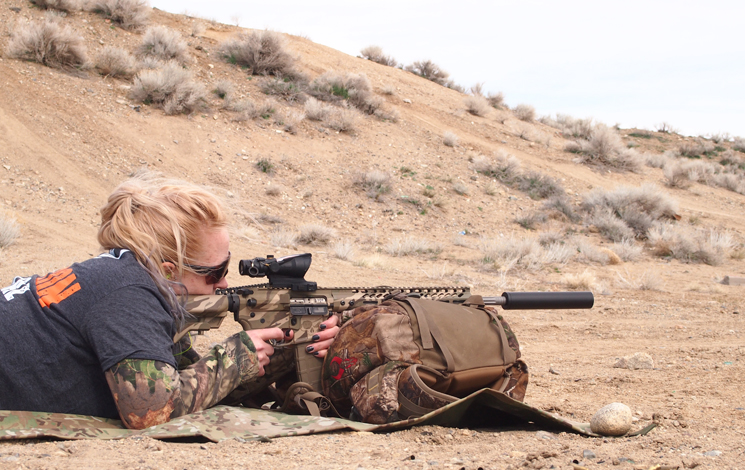 The Axelson family set out with the goal of creating a lasting tribute to Navy SEAL Matt Axelson. With their company-launching lineup of rifles they have succeeded not only in this but in giving American gun owners the opportunity to be part of something that's about more than just another AR. The Axelson Tactical rifles I've shot have all been reliable, consistent, accurate performers – yet it's more than that, too. The company is also a founding member of VFOB, a group of veteran-owned and operated firearms industry companies working to produce high-quality, American-made products. Companies belonging to VFOB are also dedicated to supporting veterans. To them this isn't just a job, it's an honor. And for Jeff Axelson, manufacturing rifles any American would be proud to own and trust just might be the most fitting tribute of all to a brother lost far too soon.
Never Quit. Never Surrender. (axelsontactical.com) 
Specifications:
Upper and Lower Receivers: Axelson Tactical forged 7075-T6 hard coat anodized aluminum
Rail System: 12-inch Guntec USA slim profile lightweight M-Lok
Barrel: Faxon Firearms 16-inch 4150 QPQ black nitride, 1:8 twist
Bolt Carrier Group: Axelson Tactical BCG, NIB, matte finish
Gas System: Direct Impingement, Carbine-Length
Charging Handle: Bravo Company Gunfighter MOD4
Muzzle Device: Axelson Tactical Talon Brake, 5/8x24
Gas Block:  Bravo Company 750 LoPro Non-Adjustable
Stock: B5 Systems, Bravo, Adjustable
Grip: Bravo Company Gunfighter MOD1
Trigger: Precision model: ALG Defense Combat Trigger Precision Elite (review model): Geissele SSA-E