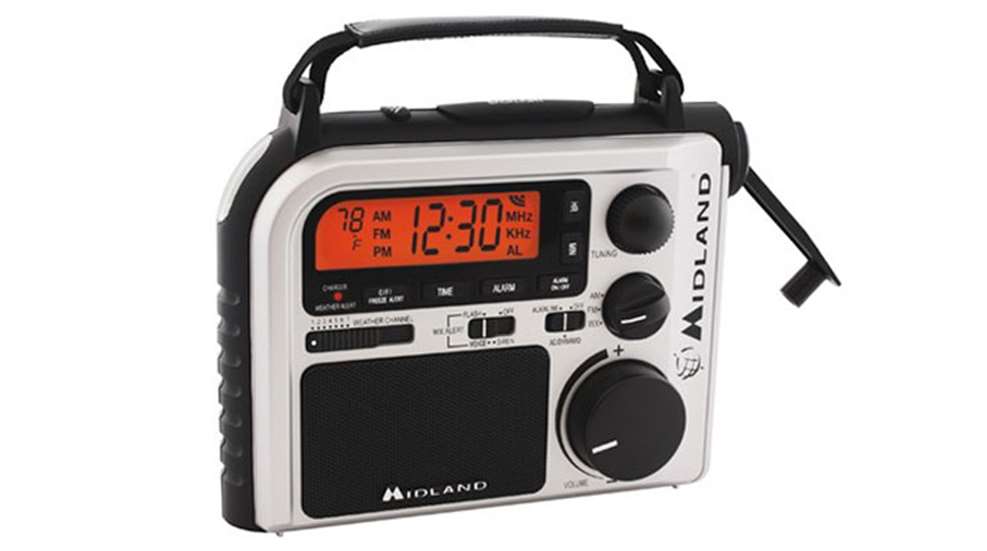 Also part of the Brownells Emergency Gear series is this Midland Emergency Crank Weather Alert Radio.
One of the hallmarks of a good piece of emergency gear is that it pull double (or triple, or...) duty. The Midland radio does this in spades: It is a standard AM/FM radio, a weather radio, it has an alarm clock, a thermometer and a built-in light.
As if that wasn't enough, it has four (4!) sources of power: It will run on three AA batteries, AC current, a built-in rechargeable battery pack or a dynamo hand crank. Not only that, it also has a built-in USB port so you can charge your mobile phone using any one of those power sources as well.
For folks living in areas where severe weather is common—which, really, is a good portion of the world, all things considered—having a radio such as this is a great idea. Whether your plans include riding out a tornado warning in a shelter, bugging-in for a week of no power after an ice storm or keeping in touch with loved ones after wildfires, the Midland Emergency Crank Weather Alert Radio is a good choice.
Keep it around the house plugged into an outlet for everyday weather information (note to the motorcyclists out there...), or leave it in a sealed tote with emergency gear. The dynamo crank means you don't have to worry about batteries going dead (although there should be batteries in your emergency kit that you rotate regularly, right?) and keeping a spare USB cable with the radio means your smartphone will also have a source of power.
MSRP: $59.99. The workout from turning the hand crank is free.