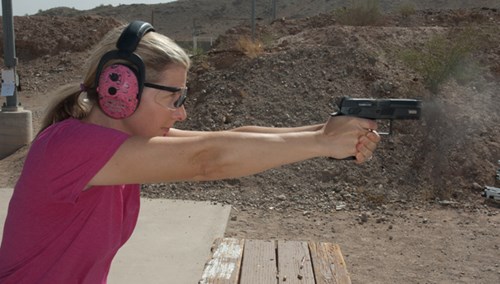 A few years ago, I was shooting at a local indoor range when a young lady nervously entered the firing area, flinching in shock with every shot. She said she was there to meet a friend of hers who had promised to help her learn to shoot, and that she'd never shot a gun in her life. The lady friend she was there to meet saw us and guided her friend to the stall next to me, where a scared, shaky young woman began her history with firearms by shooting a .38 Spl. snubnose revolver.
Flash forward to earlier this year, when another young lady found out my friends were "into guns" and wanted to learn to shoot her firearm better. We asked what kind of gun she owned, and she replied "It's a short revolver…a .38, I think. A friend gave it to me and said it was a good gun for a woman."
Well, is it? Is a .38 Spl. snubby a good "woman's gun?" Manufacturers seem to think so, building all manner of short .38-caliber revolvers with pink grips and other features thought to appeal to female gun buyers. I decided it was time to run a test.
What do women really want in a defensive pistol? Is it pink grips, small size, stopping power, or something else? To find out, I asked six women gun owners to try out a wide range of pistols because I wanted to see which general category of handgun they preferred, and not bog things down with a Glock versus XD or Kimber versus Para USA kind of argument between two different brands of the same general type of pistol.
The ladies who shot this test were all proficient shooters, but not experts with firearms. They come from varied backgrounds, from a grandmother to a college student. Some grew up around guns but didn't really shoot them, and some were only introduced to guns this year. The guns they tried out varied in size and caliber. They were:
A North American Arms .22 LR revolver
A Kel-Tec P-3AT in .380 ACP with laser sights
A striker-fired 9 mm Smith & Wesson M&P Shield
A .22 Mag. Kel-Tec PMR-30
A double-action/single-action 9 mm CZ-USA P-07
A .357 Mag. Ruger SP101 with a 2-inch barrel firing .38 Spl. rounds
A Springfield Armory Mil-Spec 1911 in .45 ACP
I asked each woman to try out each gun by sending a dozen or so shots downrange at a D-1 target about 15 feet away, and then write down their thoughts about each pistol: which one they would be most likely carry with them, which was the most fun to shoot, which they'd use to defend their home and which one was the most accurate. Some had no comments on a particular firearm, but one answer was unanimous. Perhaps surprisingly—and perhaps not—none of the women who shot all of these guns chose the short little .38 Spl. revolver as a favorite.
| | | | | | |
| --- | --- | --- | --- | --- | --- |
|   | Shooter 1 | Shooter 2 | Shooter 3 | Shooter 4 | Shooter 5 |
| Most Accurate | PMR-30 | P-3AT | P-07 | P-07 | P-3AT |
| Most Fun | NAA Revolver | NAA Revolver | All of them | 1911 | PMR-30 |
| Carry | 1911 | NAA Revolver | NAA Revolver | P-3AT | P-3AT |
| Home | 1911 | NAA Revolver | PMR-30 | 1911 | 1911 |
| NAA .22 LR comments | It was so tiny, I thought I was going to break it. It was really fun to shoot with one hand. | Very easy to pull the trigger. Very small, so it was a little hard to hold. | Small and easy to shoot. Use with caution. | Not very comfortable, but shoots well. | Liked it, but wouldn't use it for anything but a novelty at the range. |
| Kel-TecPMR-30 Comments | Really liked the gun. It's looks were deceiving—I thought would be heavier. I didn't like that it misfired two out of five rounds. Got five out of five in the chest. | Very light and easy to shoot. | Easy to handle. Very smooth trigger. Very visible sights. | Lightweight and easy to handle. Accurate. | N/A |
| Ruger SP101comments | Really liked the double-action capability. Really easy to shoot. | Easy to shoot. Trigger was hard to pull, but it was nice to shoot. | Easy to shoot single action. | Hard to pull the trigger in the double-action mode. | Hard trigger. I wouldn't buy one. |
| CZ-USA P-07 Comments | Not too impressed. It was heavy and the grip was rough. Wouldn't buy one. | Heavier and the trigger required more effort. | Loved it. | Accurate, easy to shoot. First shot was hard to pull the trigger. | Had the most kick, I thought. |
| Smith & Wesson Shield Comments | I don't like the action. I did like the sleek look. | Light and easy to shoot. | Great trigger. Fun to shoot. | Accurate for its size. | N/A |
| Springfield Armory 1911 Comments | I love the power and the accuracy I was able to maintain with the gun. Really liked it! I was able to hit 4 out of 5 in the chest. | Liked how it felt shooting, the weight was manageable. | A bit too jumpy for me, but I liked the weight. | LOVED IT! | Great for home defense, not too much kick. |
| Kel-Tec P-3AT Comments | Loved the laser. It pinches the trigger fingers after shooting. I like the size and the gun. Would be easy to carry. | Felt small in my hands at first, but the laser made it shoot the most accurately. | N/A | Very accurate, loved the laser sights. | Liked this one. Not too much kick. Would buy one. |

It turns out women know what they want in a personal handgun, and are more than capable of telling other gun owners what they like. The .38 Spl. snubby is a great little gun, but it may be time to challenge the idea that it's the best beginner's gun for a woman who wants to defend herself.