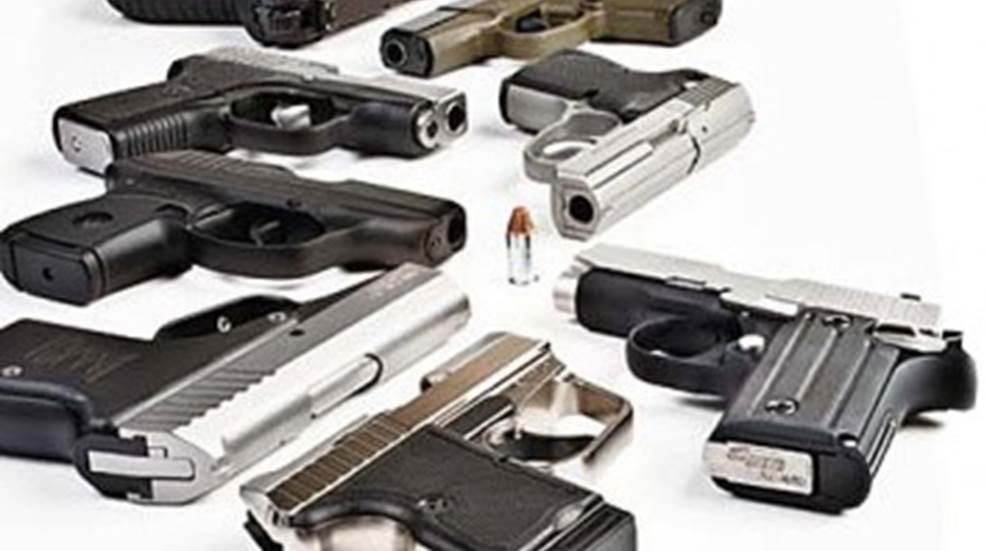 Eight semi-automatic pistols are scattered about my desktop as I begin this article. They represent a trend that developed very quickly in our fad-driven society, and only time will tell how popular they will be as the years roll on. But right now, these guns are all the rage and there are at least two prominent pistol-making plants known to be building new versions that couldn't get me one for use in this article.
The guns in question are .380 autos, little 9x17 mm pistols that carry easy and perform efficiently as defensive firearms. While .380 ACP pistols are far from new—having first seen the light of day in the early 20th century—these are all fresh. More importantly, they are all very small and very light.
So let's look briefly at .380 pistols in general and in so doing, get some kind of idea why the guns at hand are so different from the many other pistols in the .380 ACP chambering. Like other early autos, most .380s used blowback operation. This operating system contains the pressures of firing by the interaction of two factors: the weight of the slide and the strength of the recoil spring. When fired, these two forces work together to keep the action closed until pressure in the barrel and chamber drops to a lower level and the bullet exits the muzzle. It is a simple system that can be very compact.
If you want the gun to be easy to carry, however, you have to work around the fact that a blowback pistol still has to have a certain mass to the slide—so it's heavy. If you want a light pistol that is also compact, you go to some form of recoil operation. Six of our eight guns use this system, where the barrel is mechanically locked to the slide for the initial bit of slide travel. Although several kinds of recoil-operated systems exist, all six of ours use the Browning-designed tilting barrel.
One of the better known of history's .380s is the Walther PP/PPK/PPKs series. Those legendary pistols, the first of which was produced in 1929 and remains in production today, also introduced the first broadly successful double-action trigger system in a pistol. With one notable exception, all of today's new .380s use some version of a double-action system. This kind of trigger action is particularly well suited for a concealed-carry defensive pistol. Excepting the single-action SIG Sauer P238, that leaves us with seven double-action .380s to survey. They are the Walther PK380, North American Arms Guardian, Magnum Research Micro Desert Eagle, Rohrbaugh Firearms R380, Kahr P380, Ruger LCP and Kel-Tec P-3AT.
In a sense, the Walther PK380 might not fit in with the other guns because it is a bit larger and heavier. For most people, however, it is still concealable. At 19.4 ounces, it is light and it fits into a 6.5-inch-by-6.2-inch box that is 1.2-inches deep—the gun's thickness. With the extra height comes a slightly longer magazine, so the PK380 has a capacity of eight rounds, plus one in the chamber. The receiver is an ergonomically excellent polymer molding, matched with a squared, blocky slide and barrel upper assembly. Working on the recoil principle, this Walther uses the same basic receiver as the .22 field pistol the company introduced several years ago. It has large, easy-to-find sights, equipped with the typical triple-dot highlights. The trigger system is DA/SA, so the shooter can use the dynamic double-action trigger for the first shot and go single action on follow-ups. Curiously, what appears to be a typical Walther safety/decocker on the slide is really a firing pin block. A combination of greater weight, a fair trigger, excellent ergonomics and proper sights make this an easy gun to shoot. Several malfunctions during testing did not help. For a recoil-shy shooter looking for an easy-shooting, easy-carrying defensive pistol, this Walther might make a good choice.
Next up is the North American Arms Guardian, lighter than the Walther by roughly 3⁄4 ounce. It may be close in weight, but it's much smaller in size. The "box" on this little gun is 4.75 inches by 3.53 inches. It's .93-inch deep and the gun weighs 18.72 ounces. The Guardian is a pure, original-style, blowback semi-auto, which means the barrel is fixed to the receiver and its top surface is exposed. The front sight is actually milled right out of the barrel's material. Surrounding the short, 2.49-inch barrel on both sides and rear is a heavy steel slide. Along with a steel receiver, the gun weighs close to 19 ounces. There is a great deal of evidence of care in manufacturing this heavy little gun. With a capacity of 6+1 rounds, the gun is heavy enough that it doesn't jump out of your hand. It is, nonetheless, a bit difficult to handle, This is a hammer-fired gun, and part of the recoil may be absorbed by the hammer spring. If so, it doesn't help the trigger pull, which is long and heavy. The gun is tough to master and if you are working on a precise shot, the sights are not big enough to clearly see. It had several malfunctions, mostly failures to chamber, a problem that seems endemic in these .380s.