Over the last ten years, there's been an explosion of popularity in small, easily-concealeable semi-automatic pocket pistols. From the Ruger LCP to the Kel-Tec P3AT to the Smith & Wesson Bodyguard to the SIG Sauer P238, there's a pocket pistol for every budget and every kind of shooter. One thing all of those pistols have in common, though, is they need to be carried in a pocket holster when you're carrying them.
Carrying in a holster when your gun is in your pocket is essential because your pockets are designed to carry your wallet, car keys and loose change, not a compact pistol. A good pocket holster complements your pocket pistol in many important ways.
First off, if you need to draw your gun, you'll want to avoid fumbling around for the gun and slowing down your draw, so a good pocket holster will keep your roughly the same location inside your pocket, ready for you when you need it.
Secondly, a pocket holster should release the pistol and stay in the pocket when you draw your gun when you draw it out. Because pocket holsters rely on their shape to catch on your clothing during the draw and on the friction between them and your pocket lining, that's not an easy task to accomplish 100 percent of the time.
Lastly, a good pocket holster should cover the trigger of your gun to prevent accidental discharges, and you should further reduce the chance of a negligent discharge by not carrying keys or anything else in the same pocket as your gun and holster.
The range of choices in pocket holsters for compact guns has grown right alongside the popularity of pocket guns themselves, with a wide variety of materials, shapes and sizes available. Here's a quick run-down of ten of the options available for one of the newer guns out there, the Ruger LCP II.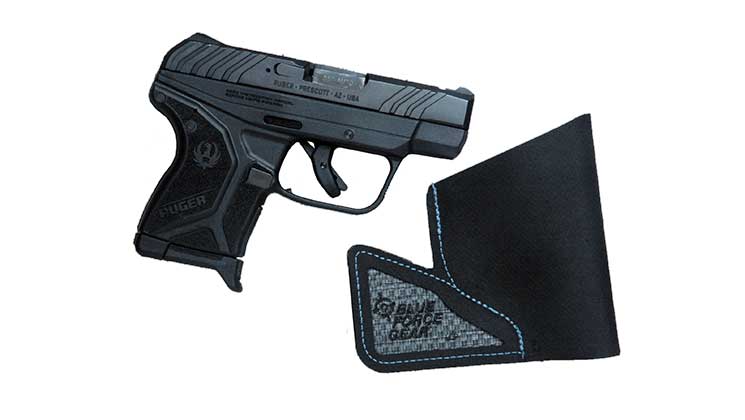 Blue Force Gear ULTRAcomp Pocket Holster
The UltraComp is a new offering from Blue Force Gear. Blue Force bills this as the thinnest pocket holster on the market, and it uses the ULTRAcomp material to form a tight grip on the gun and pocket interior alike. The holster is built well, with a cutout on it to help it stay in the pocket when you draw your gun. This is Blue Force Gear's first pocket holster, and I'm eager to see it come out for other guns as well. MSRP: $20


The Desantis Nemesis is  popular option for pocket carry, and with its practical styling and grippy fabric, it's easy to see why. The model I received hid the shape of my gun well in my pocket and quickly released the gun on the draw. MSRP: $25.99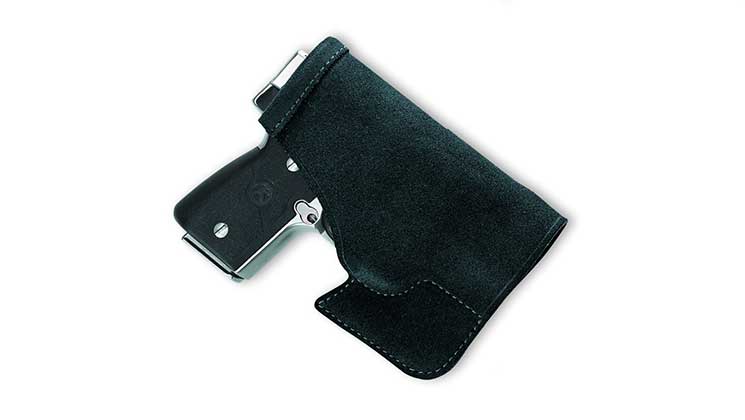 Galco's Pocket Protector is made from steerhide and has a reinforced top for an easier draw. The holster has a notch on the bottom to help it stay in your pocket when you draw your gun. Simple and tough, it's been a favorite of mine for years. MSRP: $29.95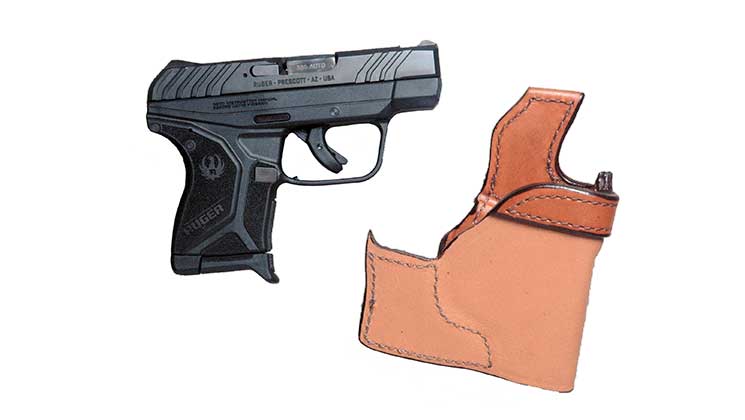 Probably one of the best-looking pocket holsters I've seen. It's a shame you have to hide in a pocket to use it. The leather on this really holds the gun in-place, so a little maintenance work to loosen the gun in the holster might come in handy before you use it to carry your gun. MSRP: $29.75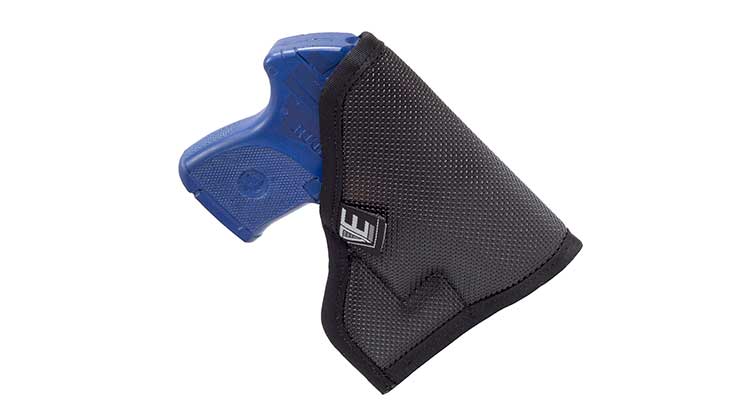 Elite Survival Systems Elite Pocket Holster

The Elite Pocket Holster uses a textured, padded rubberized material that does an excellent job of holding your gun in the holster. One thing I like about this holster is that it comes with a small nylon pouch to hold a spare magazine. I really like this feature as it keeps the magazine easier to reach when I carry one in a separate pocket. MSRP: $15.95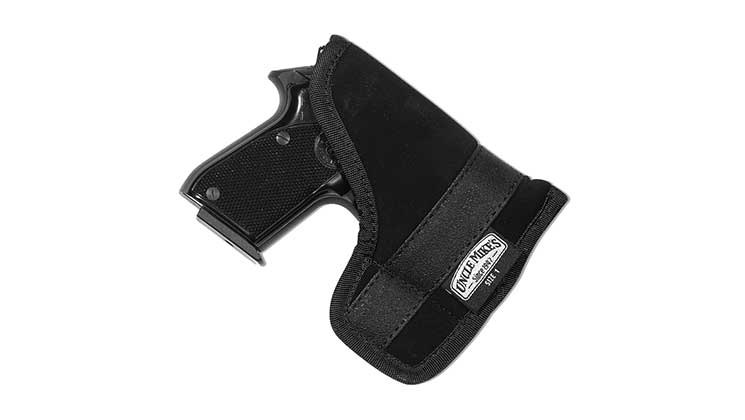 Uncle Mike's Inside The Pocket

Cushioned and padded, this is an inexpensive holster maker from quality materials that will do the job of holding your gun securely inside your pocket without breaking the bank. MSRP: $12.95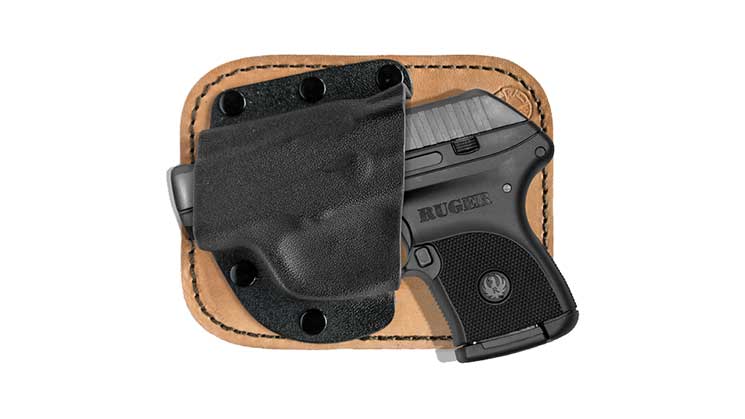 Crossbreed Pocket Rocket

The Pocket Rocket continues the kydex and leather hybrid that Crossbreed is known for. This model held my LCP II very securely and reduced the outline of the gun in my pocket down to that of a wallet or similar pocket content. MSRP: $32.95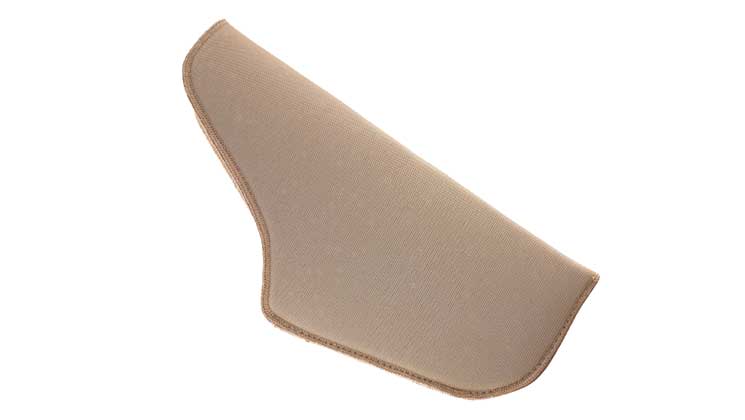 Built from a unique closed-cell foam, the Tecgrip holster holds your gun a little bit higher-up in your pocket than other options, allowing you to get quick, easy grip on your gun. MSRP: $18.95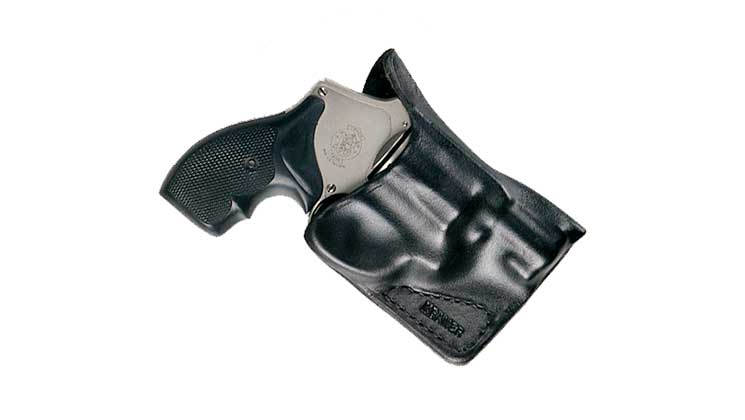 Kramer Leather Pocket Gun Holster
The slick smoothness of leather seems like the last thing you'd want in a pocket holster that needs to stay in your pocket during the draw, but this holster has a texturized, rubbery front panel that grips your pocket lining like it's been stapled to he inside. MSRP: $99.95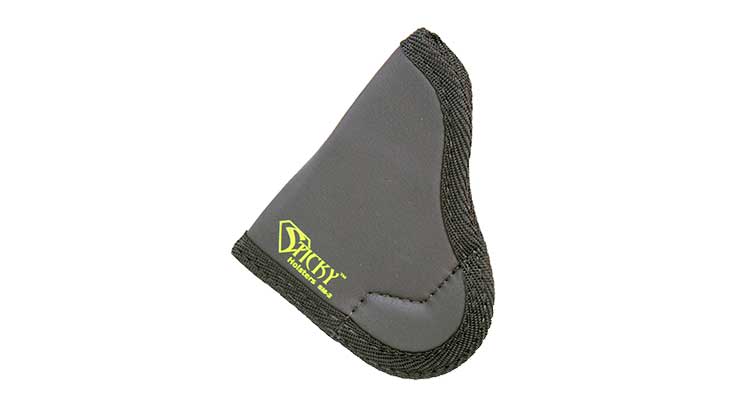 Sticky Holsters uses a rubbery non-slip material that clings to the fabric in your pocket and stays where it's put during the draw. Even though the word "sticky" is right there in the name, the holster releases the gun smoothly and easily with every draw. MSRP: $29.95
Which one of these will work best for you will depend on what you carry and what you wear, However, between models made from traditional materials and styles to cutting-edge fabrics and designs, there's clearly a pocket holster out there that's right for your gun.