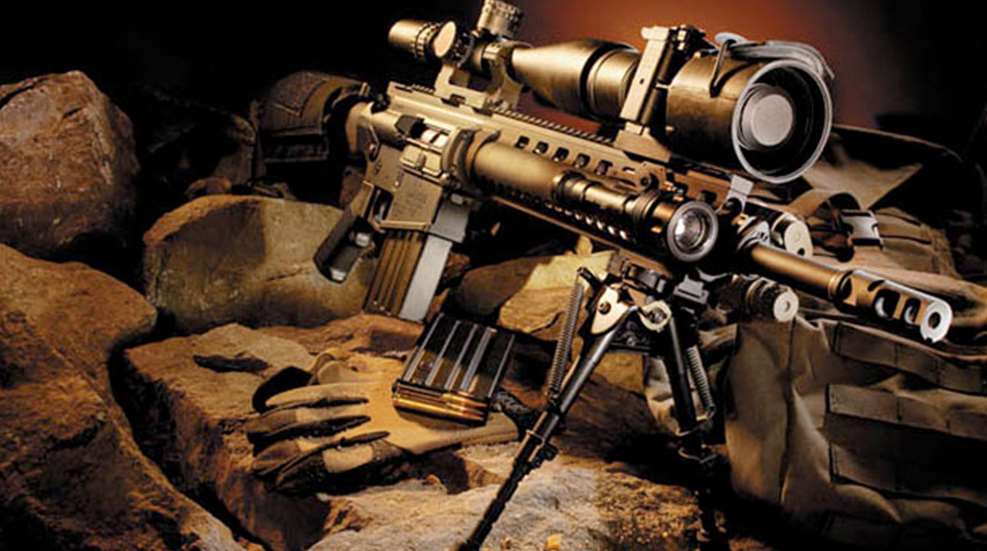 At the beginning of the firearm age, guns were custom-only options. Good gun makers, like Jacob and Samuel Hawken, established a reputation for building a rifle rugged men could count on to perform in rugged conditions. The ability to mass produce firearms changed the way guns were made and often compromised performance for affordability. True craftsmen continued to painstakingly put together really good guns because serious shooters demanded them. Some, like the Hawken, became iconic.
Bill Wilson is one of those gun builders. Over the last 30 years, he and his company, Wilson Combat, have become well known for crafting aesthetically delightful, scary accurate and supremely reliable 1911s. As an accomplished competitive shooter and hunter, he also appreciates another iconic American firearm—the AR-15. Under his tutelage, the craftsmen at Wilson Combat apply the same level of labor-intensive alteration they dedicate to the 1911 to ARs.
Wilson Combat offers six custom AR-15s. The Urban Tactical, a standard and a lightweight M4, a Super Sniper with a 20-inch barrel, a model in 6.8 SPC and the Special Purpose Rifle (SPR). Last spring I visited the Wilson Combat shop to see how these ARs were made. Surprisingly, there are just two guys who build every AR that ends up with the Wilson Combat name on it.
Regardless of which Wilson Combat AR you examine, the upper and lower receivers are machined from 7075-T6 aluminum forgings. These are precisely fitted together by hand, and you won't find any mill or tool marks or sharp edges and burrs—even on the inside of the action. Wilson Combat calls the process that produces this crisp, clean look "prepping." What it represents is that a man with a file and emery cloth has worked over every surface of the receivers to eliminate imperfections even the best CNC machines in the world produce.
One thing irritates me with many ARs—the difficulty associated with pushing out the takedown pins. Some require a punch or the tip of a bullet to pop these pins from their moorings. With every Wilson Combat AR I've handled, I could start the pin and pull it free with my fingers. This is just another testament to the precision fitting performed by the two AR gurus at Wilson Combat.
All Wilson Combat ARs are built with one of the company's barrels, which are button-rifled. They are all fully free-floated, and every gun—even the M4 models—comes with a quad-rail handguard also manufactured and machined by Wilson Combat. The free-floated barrels help provide superior accuracy and the quad rails allow mounting a variety of accessories at multiple points.
Other stand-out features on these rifles include Armor-Tuff coating applied to the metal surfaces and the Wilson Combat Tactical Trigger Unit (TTU). Wilson offers two versions of its TTU: a single- or a double-stage model. This is a true drop-in trigger unit, designed to provide a crisp 4-pound pull weight. The TTU does not require any tuning or adjustment.
I like these triggers and I like the idea they are installed without any screws that might work loose. The hammer and sear are manufactured from tough H13 steel and heat treated for maximum life. I'm told the TTU's hammer will reliably ignite military and surplus ammunition, and the installed units meet or exceed military specifications for drop safety. Wilson Combat TTUs do not just come in Wilson Combat rifles; they are available as an aftermarket accessory for any AR.
After returning home from my visit to Wilson Combat, I had a serious urge to order one of the company's exquisite handguns. I thought maybe if I could find a distraction the urge would pass, so I called Sales Manager John May and asked if I could get one of the company's ARs on loan for testing. Collapsible stocked, 16-inch-barrelled ARs are great in close-quarters-battle situations and they fit young shooters very well, but I'm becoming less fond of them all the time. I find the standard, A2-style fixed stock much more comfortable, and I like the higher velocities from—and the better balance of—an AR with an 18-inch barrel. So I asked for the SPR.
The SPR came about as a needed tool for American special operations forces deployed in the Middle East. Originally conceptualized as an upper receiver modification to attach to a standard an M4 lower, the idea was to provide a 5.56 NATO designated marksman rifle to small operational units. The concept has transcended its origins to become a stand-alone weapon system. It is classified by the U.S. Navy as the Mk 12.
The Wilson Combat SPR has a flat-top upper receiver with an integrated, 13-slot mil-std Picatinny rail. This rail mates perfectly with the upper rail on the aluminum, quad-rail handguard, which itself has 31 slots. According to Brownells, the center-to-center slot measurement on a mil-std rail is .394 inch, so you can calculate rail length by multiplying the number of slots by .394 and adding .394 to the result. Obviously, the actual rail will be slightly longer due to the first and last lug thickness on either end. The handguard's top rail measures 12.6 inches.
The bottom rail on the SPR's handguard is identical to the top rail, but the rails on either side of the handguard are configured differently. Recognizing a shooter has to have someplace to comfortably grasp the handguard with his support hand, Wilson Combat smartly engineered the side rails with a 5.4-inch smooth section. The edges are as smooth as butter on a hot biscuit, and there is slight ramp where the smooth section transitions to the Picatinny rail. This provides a comfortable place to rest your thumb and index finger while shooting.
The .74-inch-diameter, chrome-lined barrel on the SPR has a rifle-length gas block positioned 5.5 inches back from the end of the flash hider. This is a low-profile gas block that only protrudes .40 inch above the barrel. Gases are directed through the gas tube back to the mil-spec, NP3-coated bolt carrier assembly. It would appear this is accomplished in a very effective manner. Using five different factory loads, I fired 160 rounds through the SPR without a single malfunction or hiccup. Bullets ranged in weight from 55 to 69 grains.
One hundred of these shots were fired from the bench using a sandbag rest to determine accuracy potential. Four, five-shot groups were fired with each load for an overall average of 1.31 inches. Wilson Combat guarantees the SPR will provide 1 MOA or better accuracy for three-shot groups with at least one of four factory loads. A test target proving this precision is shipped with each rifle. I didn't have any of the loads listed in the guarantee, so I grabbed two boxes of new Wilson Combat ammo and three other, random loads.
The Wilson Combat 69-grain load met the 1 MOA three-shot-group guarantee easily, averaging 1.06 inches for four, five-shot groups. The other Wilson Combat load would probably have done the same, had I measured the first three-shots of every group. I believe all loads tested would meet this benchmark of performance with a better marksman than me yanking the trigger.
Another feature of the SPR deserving mention is the soft, rubber Falcon Industries ERGO grip. It is a very nice touch to the SPR and provides comfortable purchase. This is only a $25 modification anyone can apply to any AR, but it will be appreciated if for no other reason than the patented gapper feature that fills the void at the bottom of the trigger guard. Regardless of the AR, if this space is not dealt with, it will be a real pain in the first knuckle of the middle finger on your shooting hand. I'm talking excessive redness for you operators and blisters for girlie-men. If you plan to do any extensive shooting with an AR, fill this gap, wear gloves or you can always cry to mommy when you get home.
Tastes in ARs run like tastes in women, cars and cigars. I can't think of a thing that needs to be changed on the SPR or anything that would make it better. It's accurate, it works and it looks like a professional put it together. You may have a different opinion on exactly how an SPR should be configured, and that's OK. May said some customers opt for a collapsible stock, and since Wilson Combat is a custom house, you can ask for special treatment—even, maybe, an SPR chambered in 6.8 SPC. According to May, all Wilson Combat ARs should soon be available in 6.8 SPC and a rifle in .30 Rem. AR is in the works. Bill Wilson has been very impressed with the performance of the .30 Rem. AR—especially from the short-barreled, suppressed rifles he uses to whack wild hogs.
One thing you can be sure of: If it goes out the Wilson Combat door, it will be accurate, reliable and one more gun to add to the legacy that Wilson Combat is building. The old days of men looking through magnifying glasses while they meticulously assemble and hone firearms to supreme perfection are not gone. Those who still buy these guns may not be using them to fight marauding Indians or to tame the West, but they for sure select them because they want the best gun money can buy.
Wilson Combat ARs are not inexpensive. They'll run about twice the cost of similarly configured ARs built in mass production houses. But you know what? The Hawken rifle wasn't cheap either. They brought top dollar back in the day and are worth a mint now. Needing to depend on a rifle gives it value. A rifle you can always depend on is, well, almost priceless. Just ask any mountain man or soldier.
Manufacturer: Wilson Combat; (800) 955-4856
Action Type: Gas operated, semi-automatic
Caliber: 5.56 NATO
Capacity: 20-round Magpul PMag; accepts STANAG magazines
Barrel Length: 19 inches
Rifling: 6 grooves; 1:7-inch RH twist
Trigger: Single-stage Wilson Combat TTU
Trigger Pull Weight: 4 pounds
Sights: None; Picatinny rail for mounting optics
Length: 37.8 inches
Weight: 7 pounds, 11.4 ounces
Accessories: Nylon tactical case
MSRP: $2,450