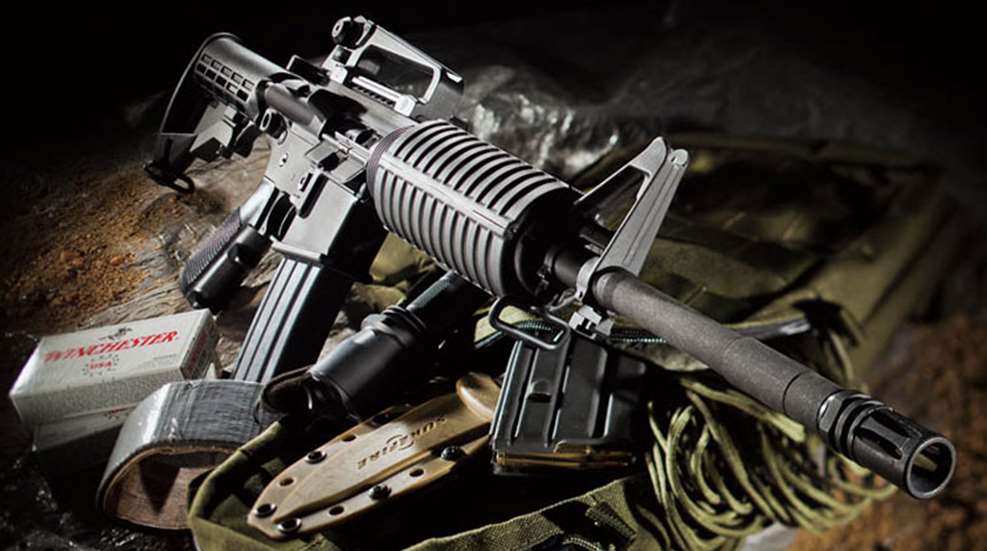 I am going to render an opinion that may make me unpopular with custom gunsmiths or anyone associated with the tactical firearm accessory market: Tricked-out guns will not make you into a good shooter. Can they enhance skills and tactics or help reduce the negative effects of poor technique? Yes, but they are not going to transform a novice into a pro. (For a gallery of photos of the M400, go here).
I say this as a guy who spends a lot of time transforming basic rifles into tuned, accurized and customized tactical platforms, so I think I speak objectively here. In reality a simple, well-built firearm reliable enough to bet your life on is the perfect foundation upon which to build all successful shooting. In the world of AR rifles and carbines, SIG Sauer's M400 is the perfect example of just such a solid base.
SIG Sauer's name has become well-known throughout the tactical firearm industry. The quality and reliability of the company's pistols and rifles is evidenced by their use by police agencies and military forces around the world.
Prior to the introduction of the M400, SIG's tactical semi-automatic rifles were all piston-operated and generated quite a loyal following. Naturally the company raised a few eyebrows when it unveiled the M400, due to its direct-gas-impingement (DGI) configuration. This traditional AR operating system takes a beating, and certain aspects of that criticism are valid. But from a marketability standpoint, a DGI system on the M400 makes a lot of sense. Police departments and other agencies that already have DGI carbine fleets may not have the resources needed to switch to piston-driven rifles. DGI usually involves fewer moving parts and is both lighter and slightly less expensive than piston-driven rifles. This no-frills carbine is a definite candidate for individuals and organizations needing high-quality, cost-effective, simple to operate and maintain 5.56 NATO firearms having parts compatibility with other standard ARs already on hand.
The M400 is a civilian-legal version of the M4 carbine with a few minor upgrades built into the lower-receiver assembly. Most noticeable to me as I removed the M400 from its hard case were a pair of quick-detach (QD) sling-mount receptacles milled into each side of the lower receiver. This is a logical addition to the basic design, because QDs are very popular and, when not needed, they leave only an empty socket without the added bulk of an add-on mount.
Rear sling-attachment points at the junction of the receiver and buffer tube is not for everyone, but it gives M400 shooters two ready-made options. The six-position collapsible buttstock is of standard M4 design and is mounted on a commercial-diameter receiver extension.
Its pistol grip is a standard A2 model, but any AR-compatible grip can be retrofitted. A very handy divergence from run-of-the-mill ARs is an ambidextrous magazine release. The simplicity of the ambi design caused one of those "Why didn't I think of that?" moments to bounce around my empty head. A simple textured button is affixed via a roll pin to the long metal bar portion of the magazine release normally protruding through the left side of the receiver. When pressed, this button cams against the lower receiver's exterior wall, pulling the mag release out from right to left, just as if the normal release button were pressed on the right side of the receiver. I am a lefty, so I found this feature to be very handy. There is no truly efficient way to drop the mag out of a traditional AR with the left hand when in a firing position. SIG's M400 design changes that, while still leaving the normal right-handed magazine release intact. Heavy protective fencing is present on both sides of the lower receiver, shielding the mag releases. Guns intended for rough duty use often suffer from unprotected releases. If you have never brought your unexpectedly magazine-less rifle to bear one on a target, please take my word for it: extra magazine-release protection is a welcome addition to any tactical rifle.
Additional metal relief is also evident in a nicely flared magazine well to aid with rapid mag changes. In addition, the magazine well's leading edge has grip lines milled into it to provide an additional gripping surface for those shooters who prefer a choked-up support-hand position. The last minor difference on SIG's lower receiver is a raised rib on the right side of the non-ambidextrous selector lever that serves as an extra visible and tactile indicator of the gun's "fire" or "safe" status.
The M400 uses a flattop upper receiver with the ejection-port cover, brass deflector and forward-assist assembly in familiar places. M4 feed-ramp cuts are present inside the upper, mating nicely with the barrel extension's ramps.
Hidden inside, just aft of the chamber, is a protrusion that lines up with the extractor when the bolt is in battery. This button-like addition supports the extractor body when the gun is fired. Only 1⁄3 of an AR's extractor is contained within the barrel extension when the bolt is fully in battery, leaving the remaining length retained only by the extractor pin that also acts as a hinge for normal function. The extractor is a common first point of failure when a cartridge case head ruptures due to excessive pressure or lack of sufficient support. Since it is the weak point in the bolt's encirclement of the case rim, the extractor takes the brunt of excess gas pressure and is typically pushed outward far enough to break or bend both the extractor and the extractor pin. This can result in a ruined bolt-carrier assembly and possibly even destroy the upper receiver. While the level of pressure necessary for this type of failure often ruins other parts of the firearm, supporting the extractor adds an extra element of support to help contain pressure at the case head by preventing the rear of the extractor body from being pushed away from the bolt and into the upper-receiver wall.
A removable carrying handle comes standard and uses an A2-style adjustable rear peep sight. I noticed the handguards were large in diameter, like those on a military-issue M4, but slightly oval in shape. The resulting feeling is of a full-but-slim handguard. I never liked the jump in handguard size when my old Army unit switched from the CAR-15 to the M4, so I consider the M400's handguards a step back in the right direction.
A peek inside the handguard revealed double shielding via two metal inserts between each handguard half and barrel. The 16-inch barrel is chrome-lined from chamber to bore, as any non-stainless steel/non-match duty AR barrel should be. Its barrel's profile is close to that of an M4 with additional metal removed in front of the gas block. The carbine-length gas system is fed through a standard, carbine-height front-sight assembly/gas block. An A2 flash suppressor/compensator is found at the muzzle. Of course the 1⁄2x28 tpi threads will accept other common AR muzzle devices.
Initially I planned to test the M400 using a magnified optic. However, this handy carbine's simplicity quickly reminded me it was designed for tactical use out of the box, so I decided it made more sense to shoot it that way—using the iron sights. The M400 has a stock trigger, so I knew going in I would not be driving any nails, however, the trigger was actually quite good for a run-of-the-mill AR, easing into a 5-pound sear release. I have used many stock triggers that were far heavier in both creep and weight.
I decided to shoot groups from the prone position, off of 30-round magazines instead of a bag rest. Over the years, I have found this position to be very stable (when executed correctly) and as it turned out, the SIG did not let me down. The M400 handled very well and reminded me that even without a fancy stock and muzzle brake, the basic AR is very shootable. (For a look at the SureFire Mag5-60 that was function tested on this gun, go here.)
The 2 MOA overall average for two types of factory ammunition was better than expected, especially considering the carbine's fat front-sight post covered up most of my targets at 100 yards. I shot several reference groups at 200 and 300 yards that also averaged 2 MOA.
Once I finished with my grouping exercise, I loaded several magazines with 55-grain Winchester FMJ target loads and headed for the 25-yard line. The only surprise I encountered while shooting close-range drills was when I learned the M400 handled as well as heavier carbines and rifles. Over the years, I have convinced myself that the heavy weight and muzzle adornments on my own rifles are required for smooth shot-to-shot transitions, but the M400 handled this task very well. I found the double-shielded handguards controlled the barrel's heat during rapid-fire strings, even with an ambient temperature of 98 degrees Fahrenheit. It was actually fun to work through shooting drills with nothing more than iron sights.
Finding a flaw in something that adheres to basic mil-spec configuration is really a critique of the overall specification, not one manufacturer's execution. If I had to recommend one change to an AR that strives to remain as true to the basic configuration as possible, it would be for rail-equipped handguards should be used instead of slick ones. The average self-defense rifle shooter understands the value of a weaponlight, so not including at least one section of rail on an inexpensive handguard seems to be an oversight. This criticism is not unique to SIG by any means. I think any basic AR carbine and rifle should come with a short rail section on the handguard.
The current AR in its simplest forms remains true to Eugene Stoner's original intent to provide a lightweight, shoulder-fired long gun that goes bang each time you pull the trigger. When built to meet or exceed U.S. military specifications, stock ARs are solid, multi-purpose rifles that shoot a cartridge suitable for plinking, varmints, competitive shooting, defensive purposes and close-range offensive combat. SIG's handy little M400 falls squarely into this category. Putting one through its paces reminded me I have too much stuff strapped to my own ARs and how sometimes getting back to basics is a good thing.

Manufacturer: SIG Sauer; (603) 772-2302, www.sigsauer.com
Action Type: Direct-gas-impingement operated, semi-automatic
Caliber: 5.56 NATO
Capacity: 30 rounds
Barrel: 16 inches; chrome-moly, chrome-lined chamber and bore
Rifling: 6 grooves; 1:7-inch RH twist
Trigger Pull Weight: 5 pounds
Sights: Detachable carry handle with A2 close- and long-range apertures; front post
Stock: Six-position, M4 collapsible
Length: 34.6 inches (extended), 30.4 inches (collapsed)
Weight: 6 pounds, 7 ounces
Accessories: Manual, hard case, magazine
MSRP: $1,065