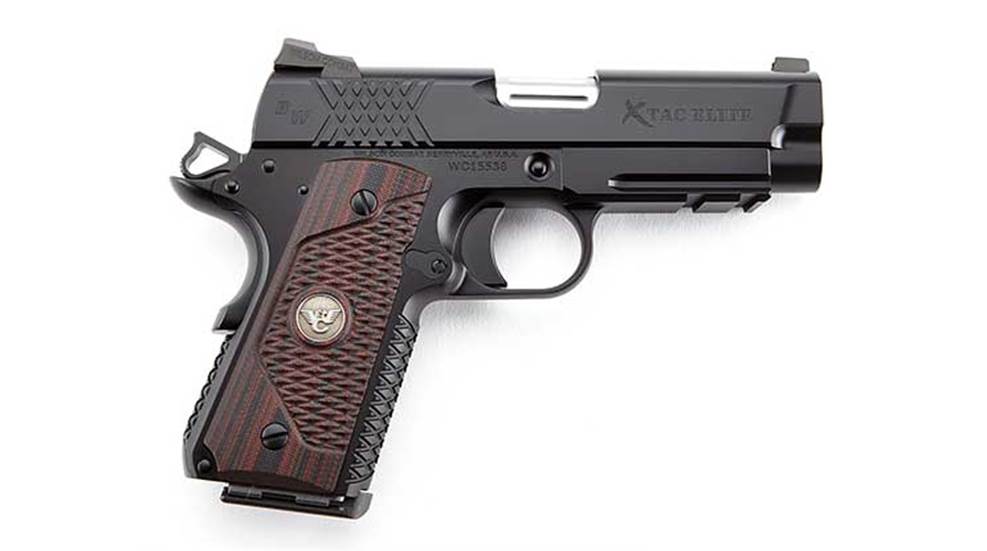 According to
Wilson Combat,
one of the most common questions asked of the company is, "What custom gun does Bill Wilson carry?" The company answered that question with the introduction of the new
Bill Wilson Carry II 1911.
Wilson Combat claims that the Bill Wilson Carry II is an exact clone of the pistol that the company founder carries on most days in the office and around down. The pistol is available in .45 ACP and 9 mm and is designed to be comfortable to shoot and easy to carry. Wilson prefers to carry the gun inside of a Lo-Profile II OWB holster, which allows the pistol to conceal easily under a vest or shirt.
The gun features the company's compact X-TAC grip frame, along with the lightweight integral light rail and the gold-bead front sight, set up exactly the way Wilson outfits his carry pistols. The X-TAC frame is made from aluminum and is 60 percent lighter than a comparable steel frame.
Magazine capacity is seven rounds in .45 ACP, and the gun features a 4-inch barrel with an overall length of 7.6 inches and a sight radius of 5.6 inches. The total height of the gun is 5.1 inches, and the width is 1.3 inches, while the gun weighs 29.6 ounces empty.
The pistol is available with several additional options. Owners can choose an Armor Tuff finish color, front sight options, single or ambidextrous safety and an optional magwell. The gun comes with Wilson Combat's accuracy guarantee of 1.5 inches at 25 yards.
The base price of the new Wilson Combat Bill Wilson Carry II is $3,850.