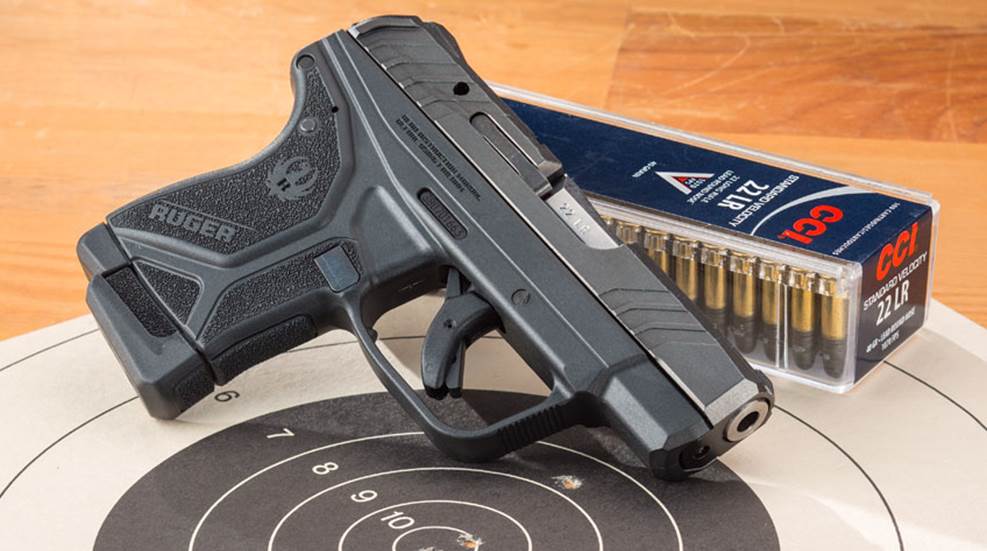 Rimfire pistols that are counterparts to centerfire carry guns, like this Ruger LCP II, can make excellent training tools.
A common practice that had fallen by the wayside in recent years was having an "understudy" for one's carry gun; basically, a duplicate—or as near a duplicate as one could manage—but chambered in .22 LR.
There were many ways to do this, via rimfire-conversion kits from Ciener or Advantage Arms, virtual rimfire clones like the Smith & Wesson M&P22 or even complete pistols like the Ruger 22/45, which was designed to mimic the Government Model 1911 in grip angle and control placement.
These pistols allowed one to get useful reps in on basic skills such as the presentation, acquiring a sight picture, performing a correct trigger press and even transitioning between multiple targets. In fact, about the only thing they didn't allow one to practice was recoil control in multiple shot strings. It was for this reason that the practice was sometimes referred to as "ballistic dry-fire," (differentiating it from practice that did not involve firing).
Actual dry practice would let one train all these things, too, but using the rimfire pistol added the component of a bullet hole on the target, and the bullet hole doesn't allow one to lie to one's self about whether it was a good shot or not like you can (and most do) when dry practicing.
The decline in popularity experienced by "rimfire understudy" guns was due to a combination of factors. First and foremost was an extended drought in .22 LR ammunition supplies caused by one of the cyclical Great American Election Year Panic Buying Jamboree Freakouts coinciding with one of the major manufacturers suffering teething problems after relocating the plant that produces its rimfire ammunition. The second was a long period of decent availability of 9 mm at low prices, coupled with its increasing popularity as a defensive and carry caliber.
Simply put, a .22 LR trainer looked like a good deal when comparing .22 at 3 cents a round to .40 or .45 at 30 cents a round. When comparing it against inexpensive imported 9 mm that could be bought in bulk at not much more than 10 cents a round, it lost a lot of its appeal. Some people in my online circles were even jokingly referring to 9 mm as "the new .22."
Then 2020 happened.
Suddenly, 9 mm became scarce on dealer shelves, a situation that shows no signs of letting up at the time of this writing. When it is available, it is often double (or more) the price it commanded in the previous year. Rimfire trainers are relevant again, all of a sudden. How convenient that Glock got the Model G44 to market in time for all this.
With this in mind, it's probably worth a deeper look at what makes for a good rimfire practice gun.
Probably the ideal example would be a conversion kit that substitutes a rimfire slide on the frame of your normal carry pistol. This allows for the use of all the regular controls on your centerfire frame, right down to having the same trigger pull. I've even had friends shop for burned-out night sights at online auction sights so they could replicate their carry gun's sight picture on a Ciener rimfire slide. Alternatively, a Glock G44 pistol or Smith & Wesson M&P22 could be configured to closely approximate its centerfire equivalent in terms of both controls and feel.
When using the rimfire understudy, it's important to understand what it can't replicate, which is the recoil of even a 9 mm centerfire pistol. You can practice the draw to the first shot and transitions between multiple targets, you can polish your skills at reloads and malfunction clearances, but you're not going to have the ability to work on your recoil control and placing rapid follow-up shots on the same target.
It's important to not let the ability to shoot a .22 blazingly fast let you get lulled into thinking it's a skill that necessarily translates to a centerfire pistol. To quote the late trainer Todd Green on the matter: "Far too many people sacrifice grip and proper sight tracking while simply going spasmodic on the trigger of a .22. Then they falsely believe they can shoot a serious duty or carry gun faster, as well. Instead, that person has started to form bad habits that will actually diminish his speed when handling a centerfire pistol."
It's probably best to structure practice with the .22 understudy pistol around specific skills and save going full cyclic for fun with a separate plinker pistol. Training your hands into bad habits would defeat the whole purpose of using the training gun.
I should probably close this out by noting that the concept of a rimfire understudy is doubly valuable if your normal carry piece is a gun like an Airweight J-frame or a Ruger LCP. Not only do these guns feature recoil that discourages extended practice sessions, but the ammunition is even more expensive than 9 mm these days. The existence of rimfire alternatives like the Smith & Wesson Model 43C and Ruger's new LCP II .22 LR mean that there are now practical alternatives for inexpensive and easy-shooting practice that a wise and frugal shooter can take advantage of.
Practice is a good thing, and practical, penny-pinching practice is even better—especially in the current ammo-poor environment.