by
posted on October 16, 2023
Support NRA Shooting Illustrated
DONATE
I recently found myself touring the Sierra Bullets factory. The company refers to its employees as "Bulletsmiths" for a reason—the care and precision that goes into the creation of its ammunition and components is nothing short of amazing. Now, yes, to be fair, most ammunition companies invest a great deal of time and effort in ensuring that everything produced works as expected; what I saw at Sierra Bullets was definitely next-level stuff.
There's a combination of high-tech wizardry and old-school craftsmanship at work here. Employees are the first line of defense against out-of-tolerance items; multiple inspection points, both visual and measured, help spot potential wear on tools and dies before components are out of specification. It may seem like a small thing: changing out a press at the first sign of wear rather than waiting for items to fail safety checks definitely shortens lifespan, to be certain; however, it avoids variations that might mean the difference between exceptional and acceptable performance.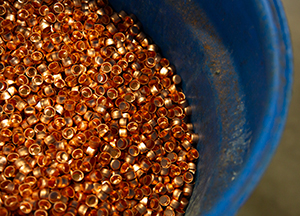 At all stages, we saw craftsmen who honestly and truly care about the work they perform. It was a badge of honor to have a demonstrable record of excellence; each workstation proudly bore both personal and professional touches that clearly showed workers enjoy what they do, have pride in ownership of their specified task and endeavor to have the greatest precision in their work. It reminded me of a childhood friend who works restoring old cars: he loves what he does, takes immense pride in the finished product and relishes sharing his successes with those close to him. The employees at Sierra were very much the same and couldn't have been more willing to explain the most minute facet of their particular station.
We saw how the final ammunition is quality-checked, too: There's an underground firing facility with a state-of-the-art Oehler chronograph and a range that goes out to 300 yards. All rifle ammunition is tested for accuracy at 100 yards, and when I say these folks are sticklers for accuracy, I'm not kidding. They consider 1 MOA to be grossly underperforming, and that's calculated using 10-shot groups. I'm glad they weren't critiquing my 100-yard targets.
As part of the event, we were invited to try some of the finished product at a local range. Targets varied from 100 to 1,200 yards, with prone and improvised shooting positions used to get us on target. Not content to simply hand us one rifle and a box of ammunition, Sierra provided a number of different rifles in different calibers, along with range cards for each offering. We had Weatherby model 307 rifles in 6.5 Creedmoor, Savage Model 110 rifles in .308 Win., Ruger Precision rifles in 6.5 Creedmoor and even some of the specialty offerings for the Sierra shooting team. We warmed up at 100 yards and quickly progressed as far out as 1,200 yards, all with first-round hits on target with factory rifles.
Rounding out the event was some PRS-style shooting with both bolt-action rifles and gas guns. With coaching from the Sierra sponsored shooters, first-round hits at distances out to 900 yards with off-the-shelf AR-15-platform rifles in 6.5 Grendel were achieved, from positions ranging from truck hoods to standing platforms. I'm by no means an accomplished rifle shooter, especially in improvised positions at long range, but even I had a great deal of success from all positions with a wide variety of rifles. Two common factors played a role in this: first, excellent coaching from knowledgeable folks who guided us carefully on target; and second, top-rate gear that made any (rare) misses easily traceable to the person pulling the trigger (and maybe an errant wind call here and there).
Bringing things full circle, there is definitely a reason to opt for high-end gear up to and including the ammunition you select for your endeavors. Whether its defensive ammo designed to perform consistently to stop a threat, or precision projectiles engineered to fly straight and fast to get you on target, the best results will be achieved with known components assembled by true artisans. And, yes, that often costs more. Save pennies in other areas.