I'll state it right up front: I'm a big fan of lights on a self-defense gun. I've gone through some basic night-shooting classes at my local range, and even basic those basic classes have taught me that there is no substitute to a weapon-mounted light when it comes to lighting up your (potential) target when it matters most.
The trade-off with a weaponlight is size and bulk. Adding the extra weight and bulk of a weaponlight to your daily carry gun might make it too big and uncomfortable to have with you every day, and it will probably force you to buy a new holster for your gun. However, a weapon-mounted light is perfectly suited to a home-defense gun, as long as you understand you are pointing your gun at the same places your are pointing the light that's on your gun.
It's important to remember that a weapon-mounted light is not a flashlight, and should not be used for all the tasks for which you would normally use a hand-held flashlight. Use your weaponlight if you want to make sure your gun is pointed at an actual threat, and use your flashlight if you want to find your car keys.
There's a wide selection of lights you can mount on a gun, with many different prices, features and sizes to chose from, so I've tried to narrow things down to lights suitable for use on a pistol from three well-known manufacturers, the Crimson Trace CMR-202 Railmaster LED light, the SIG Sauer STL900-WLL LED light/laser combo, and the SureFire X300 Ultra LED light. MSRP on these lights ranges from $159 to $299, and they offer a wide variety of features and power to chose from. Each of these lights also offers easy-to-follow instructions for mounting on just about any gun with a Picatinny or similar accessory rail.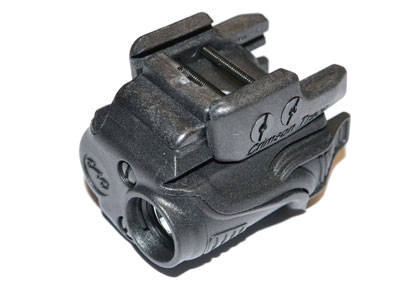 Crimson Trace is well-known for its laser sights, and the Railmaster LED light continues that tradition of helping people hit their target under less than ideal conditions. The CMR-202 light is the smallest of the three lights I tested and weighs just 1.5 ounces including the battery. The light easily attaches to the rail of a pistol or rifle and is powered by a single CR2 lithium battery that Crimson Trace says is good for 2 hours of continous use. It has paddle activation switches on either side that control its operation. The CMR-202 has three operating modes:
Continuous - Press the on/off switch, and the light will stay on until you press it again.
Momentary - The light will stay on only when you are pressing the activation switch.
Strobe - Pressing the activation switch causes the light to rapidly blink on and off until the switch is pressed again.
I found the CMR-202 easy and simple to operate. Switching between operating modes was easy to accomplish, and once a mode was selected, it stayed selected until I chose another mode.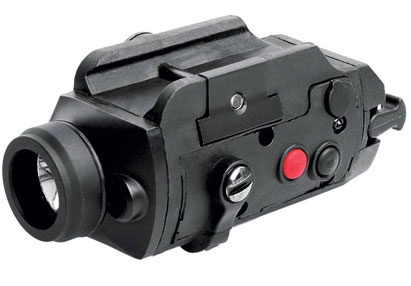 SIG Sauer is one of the world's top firearm manufacturers, and it offers a diverse line of lights, lasers and tactical accessories under its SIGTac brand. The STL900-WLL differs from the other two lights in this test in that it also has an integrated laser sight. The STL900 weighs 3.4 ounces without its single CR123 lithium battery. The laser aiming point is adjusted with two screws, one on the left side of the unit and one on the bottom. There are two paddle switches on either side of the back of the STL900 that control operation of the light: When either is moved up, the light is turned on until the switch is moved down. A light touch downwards on the same switch will turn the light on as long as it it pressed, allowing for momentary operation of the light. The laser is activated by a red button on left side of the light and behind that is a button that toggles the LED light mode between a steady light or a disorienting strobe effect.
Using the STL-900 was fairly straightforward: I really liked the simple "Up for continuous, down for momentary" nature of the light switch, and the on/off button for the laser and strobe switch for the light fell naturally under the thumb of my off hand when I held my pistol in my usual, thumbs-forward grip.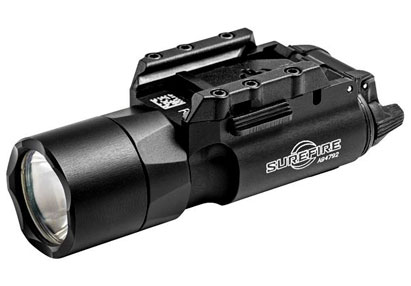 SureFire is a leader in professional grade flashlights, and its weapons-mounted lights have a well-deserved reputation for ruggedness and reliability, and the X300 Ultra exemplifies this commitment to professional-grade firearms accessories. Unlike the other two lights, which are made from high-strength polymer, the X300 is machined from aluminum and has a pleasant, well-built heft to it. It's the largest of the three lights I tested and at 4.0 ounces, also the heaviest. The X300 uses two C123 lithium batteries that are good for 1.5 hours of continuous use and has options for additional switches that make it ideal for long-gun use.
Like the other two lights, the paddle activation switches for the X300 is at the rear of the light and is also ambidextrous for right or left-handed use. A quick touch up or down on either switch turns the light on for as long as you hold it, and a firmer push switches on the light and keeps it on until the switch is turned off.
The manufacturers list the output of these lights as follows:
CMR202 -100 Lumens
STL900 - 140 Lumens
X300 - 500 Lumens
Rather than rely on just these numbers, though, I decided to test them against each other, using another commonly-available as a control element in the test. I set my camera on a tripod about 40 feet away from white rollup garage door, and the set the exposure for 1 second at f5.6, ISO 400. To give you an idea of how much light these kick out, that exposue is is about 1/1000th of what's needed for taking photos in broad daylight. These lights aren't going to overpower the sun, but they do a good job lighting up the dark places of the world.
The X300 was easily the most powerful of the three, and is in fact so powerful the shell of the light can heat up under continuous use. The bulb inside CMR-202 did not produce a noticeable spotlight effect, but rather bathed everything with a soft wash of light, lighting up objects on the periphery that might have otherwise gone unnoticed. I was pleasantly surprised with the light from the STL-900: I found it gave a nice combination of spotlight and edge lighting, and the addtional laser gives it a formidable 1-2 punch when it comes to choosing an accessory for your defensive handgun.
A good portion of our lives is lived at night and other dark places. It makes sense, then, that we have the edge we need to come out on top of any potentially dangerous or lethal encounter with the things that go bump (or worse) in the night. With these three great weapon lights from SureFire, Crimson Trace and SIGTac on your gun, the dark should be afraid of you, not the other way around.