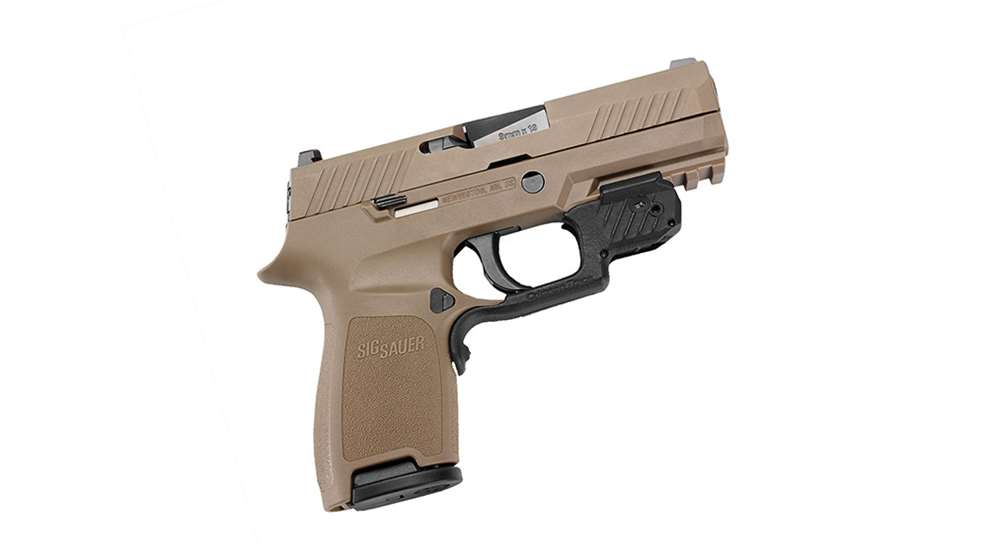 Crimson Trace's line of handgun Laserguard laser sights saw an expansion in early 2018, bringing a number of new fits to the company's collection. One of the latest offerings is the all-new
Crimson Trace
SIG Sauer P320 Laserguard, designed for use on the commercial P320, M17 and M18 handguns.
Two models of the Laserguard are sized to fit the P320, one with a red laser and the other with a green laser. Each laser-aiming module clamps securely onto the Picatinny accessory rail located on the underside of the pistol frame. Combined with this anchor point is a section of the Laserguard specifically molded to the contour of the P320 handgun's trigger guard, clamping onto the gun and providing an especially secure mount. One element to note is that the P320 Laserguard model will fit every P320 grip frame except for sub-compact options.
Underneath the trigger guard is the company's trademarked Instinctive Activation pressure pad, which automatically activates the laser once a secure firing grip is obtained. Each Laserguard model is equipped with a master on/off switch that enables users to control whether or not the laser is automatically activated by the activation pad located on the front strap of the grip. Additionally, windage and elevation adjustments are also provided, allowing users to customize their laser sight's zero to fit their personal-defense needs.
Each Crimson Trace Laserguard sight is built with a durable polymer housing, and the sides of the P320-specific Laserguard model have a number of angled striations designed to match the serrations found on the slide of the P320. The instinctive-activation pad is constructed from overmolded rubber designed to withstand the daily wear and tear of concealed carry. Each unit is powered by a single 1/3N lithium battery or two 357 silver-oxide batteries, and the P320 Laserguard sight is covered by Crimson Trace's Free Batteries for Life program. Battery life on this laser lasts for slightly more than two hours.
The Crimson Trace SIG Sauer P320 Laserguard ships with a factory zero of 50 feet, providing a 0.5-inch aiming dot at that distance. The suggested retail price on the LG-420 red Laserguard model starts at $229, while the green-laser model retails at a suggested price of $309.