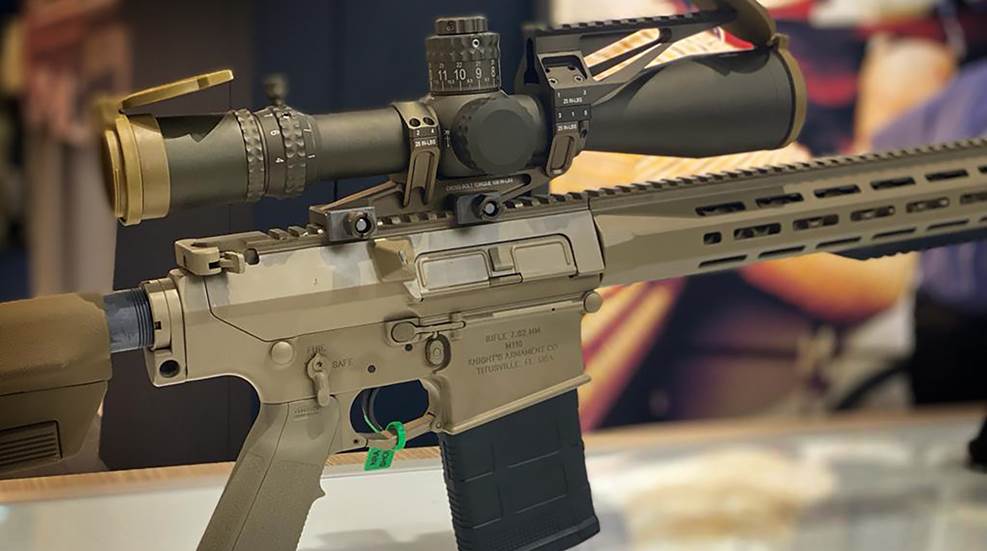 Nowadays, it's common to see a rifle with some type of optic mounted on it. Whether it's an electronic red-dot sight, a Trijicon ACOG or even a first-focal-plane LPVO with a Trijicon RMR embedded on the same mount at an angle, finding an optical shooting aid mounted to a rifle today is practically the rule and not the exception it was in the past. A couple of centuries have passed between the time when gunsmiths began cutting grooves and lands inside a gun's bore and the time when inventors and creative shooters fastened the first practical riflescope to a rifle. Although shooters and engineers continue innovating and iterating upon riflescopes since their debut during the 1830s and 40s, the way we tether these optics to a gun should not be ignored or taken for granted, as they've also followed the innovation of the scope itself. 
During the dawn of the riflescope, shooters attached their early optics by means of rudimentary clamps or metal hoops with stems of various lengths. Not long afterwards, scope rings began to evolve and were designed with a myriad of creative attachment methods. Such methods included standard dovetails, dual dovetails, tip-off rings, side-mounts, special proprietary mounts with built-in rings, and similar things. Though many of these scope rings and their mounts are still serving hunters and shooters the same way they did a century ago, they do come with challenges and limitations. Legacy mounting systems designed in the context of rifle technology and shooting trends from the last century may bottleneck optic-mounting versatility, ease-of-manufacture and can require more gunsmithing in terms of installation. Bill Weaver, the founder of the legendary American riflescope company of the same name, recognized the challenges and limitations of then-current scope mounting methods and began implementing his own solutions to this engineering problem. His Weaver rail is one such result. 
At its core, the Weaver rail is a flat piece of metal with a trapezoidal cross-section and with perpendicular slots measuring .18 inches across its top side. This piece of metal forms a base that is usually drilled and tapped directly to the receiver of a firearm. Scope rings or mounts with claw shaped protrusions can then be clamped over this trapezoidal cross section, and typically are lined up over one of the perpendicular slots. These "claws" are then torqued against the cross section and in conjunction with the screw that rests in the perpendicular slot, will brace whatever scope or accessory they hold snugly against movement and recoil.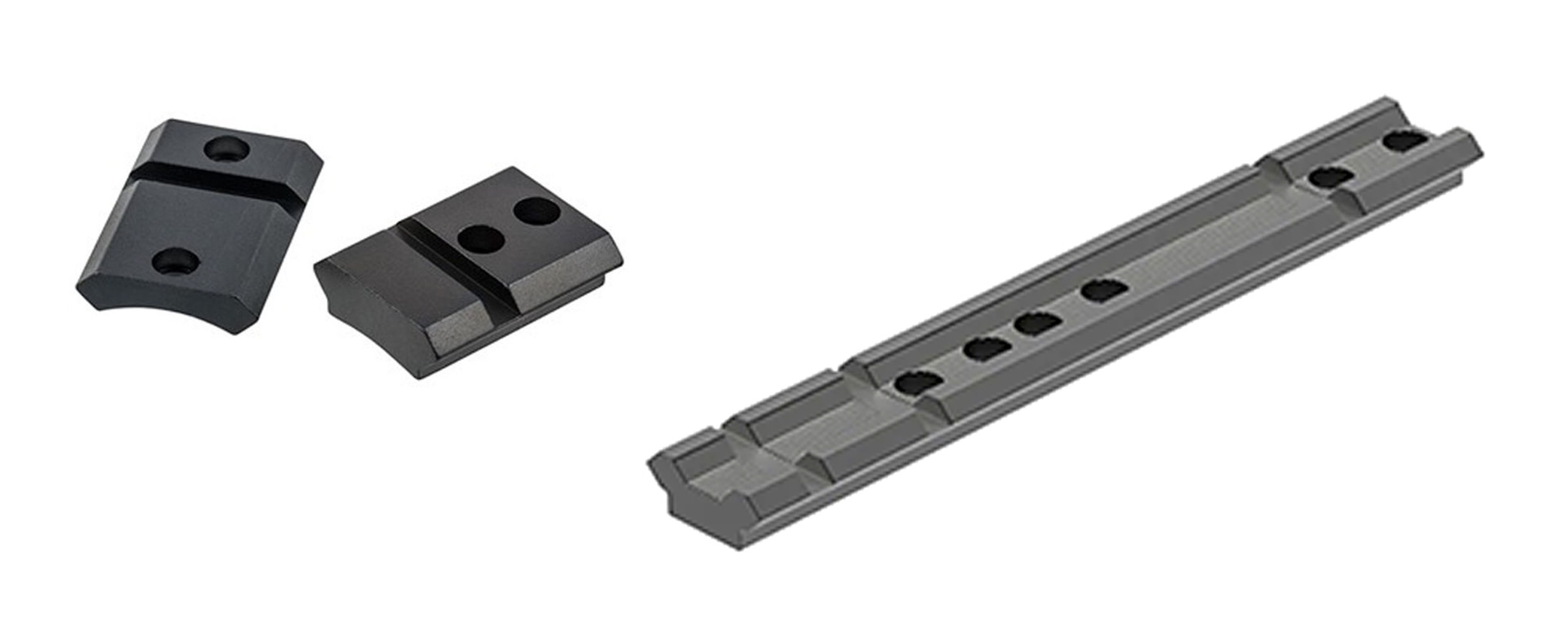 Weaver Rails are typically available in single piece spans or in base pairs—both of these examples are produced by Leupold. Notice the smaller quantity of perpendicular .18-inch slots. 
Picatinny rails are quite similar to Weaver rails in execution and concept, as Weaver's concept actually inspired the improvement and refinement of what eventually became Picatinny rails during the early 1980s. However, they also possess many subtle differences and refinements. The actual designation for this rail is the MIL-STD-1913 rail, however, it's typically referred to as "Picatinny" or "Pic" rail. This name is a reference to Picatinny Arsenal in New Jersey where their development took place under engineer Gary Houstma and his team. Like a Weaver rail, a Picatinny rail has an angular cross section that gets clamped over by the matching protrusion on an accessory mount or scope ring. Unlike a Weaver rail, the perpendicular cross slots are machined to be squared and uniformly spaced from beginning to end at regular intervals throughout the entire length of a given piece of rail. Specifications state that the center-to-center points in between Picatinny rail slots must measure .394 inches. 
As far as direct differences are concerned, the single most obvious difference is that the slots in Weaver rails are .18 inches wide and as such are narrower than the slots on Picatinny rails, whose width measures .206 inches. This means that mounts suitable for Weaver rails are also suitable for Picatinny rails; however the reverse is not true. As previously mentioned, all Picatinny surfaces within specifications will have a .394 inch center-to-center distance between each slot, but Weaver rails carry no such requirements and individual manufactures decide where they will mill slots on their Weaver compatible rails and bases. Many Weaver rail bases are machined with only a few perpendicular slots near the front and rear of the rail span and may not include a regular interval of perpendicular slots. Therefore, shooters requiring flexibility and versatility in their mounting solutions need to keep this in mind if they consider going the Weaver route. 
Perhaps a bigger and more significant impact in the firearms world than merely improving Weaver's rail concept is the fact that MIL-STD-1913 set a consistent standard for accessory-attachment surfaces. Naturally, this caused the Picatinny system to take hold across all branches of the American armed forces and other Western/NATO military groups. Many of these organizations use Picatinny rail surfaces to attach scope mounts, scope rings, tactical lights, laser/IR aiming modules and other accessories to virtually all modern small arms, machine guns or related equipment. Even modern handguns make use of the Picatinny pattern as small sections are found milled into the frame of many modern handguns. This wide level of adoption and distribution has morphed military and tactical small arms design parameters in a big way, and Picatinny rail sections have now become so ubiquitous that they are a standard feature on all manner of firearms. 
The downstream effect of this ubiquity is also the fact that the Picatinny system has also become prevalent in the commercial firearm space, for nearly the same reasons and with the same logic as the military realm: convenience, modularity, consistency, and adaptability. Picatinny rail sections are found milled into the upper receivers of modern semi-auto rifles and carbines, and all manner of handguards and fore-ends designed for modern rifles have built in Picatinny rail sections. Some designs such as those that use the M-Lok pattern for example, even have various slots that allow the choose to pick and choose the exact spot where they wish to install sections of Picatinny rail. The fact that most modern sporting rifles now ship with flattop, railed areas on their upper receivers brings huge conveniences not typically enjoyed by the shooting public of yesteryear, as in the past, someone would have to drill and tap each and every gun to take any pair of rings or mount.
As far as shooters making a choice in Weaver vs. Picatinny rails, it ultimately will depend on the shooter and what they wish to accomplish as well as which type of gear and firearm they plan to use to accomplish these goals. Mission drives gear, after all. As discussed, modern military and commercial firearms have fully implemented the Picatinny system to the extent that it now considered standard. Therefore many mounts, rings, and other accessories on the market follow suit and cater to the Picatinny system. And since things designed to attach to Picatinny surfaces are not backwards compatible with Weaver rail systems, this is certainly something to keep in mind. On the other hand, Weaver rails, bases, and accessories are also still being produced and sold, such as the Leupold items pictured above. Using a Weaver mount will not prevent a shooter from ringing that gong at 800 meters or bagging that trophy, but they must be aware that they are shooting in a Picatinny universe.